S'mores French toast is a crazy decadent way to start your weekend. Luckily, it's also crazy easy.
Golden Grahams is easily in my top 3 cereals of all time. Right up there with Pops and Cookie Crisp.
In fact, I just had to stop writing and go have a bowl, that's how much I love them.
There's just something about that golden crunchy flavor that is completely, totally, undeniably irresistible.
I can't take credit for the concept of cereal-coated French toast.
I'm pretty sure there's some sort of Cap'n Crunch version taking over the internets, and recently The Brit and I watched a Diners, Dine-Ins and Drives that featured a PB&J French toast with Frosted Flakes on the outside.
That's honestly what prompted the ridiculousness you see on your screen.
I don't often buy cereal. I much prefer a hot breakfast, and as far as The Brit is concerned, if his meal isn't hot, he didn't eat.
That's right, he simply doesn't count it as a meal if the food's not cooked. So there's not a whole lot of cereal-for-dinner happenin' around here.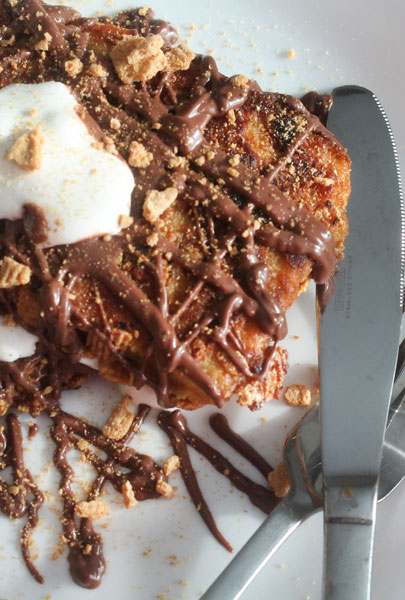 Sometimes though, I wander down the cereal aisle just for the nostalgia.
And then a box of Golden Grahams ends up in the cart before I can really think it through.
So.. S'mores French toast is what happened after, with big farmhouse white bread slices, Hershey's new chocolate almond spread, and dollops of marshmallow fluff.
Kind of insane. No.. completely insane.
This recipe makes enough for just 4 slices of French toast, enough for two people.
It's pretty decadent, so if you're putting eggs, bacon, or sausage on the side, this could easily feed four people too.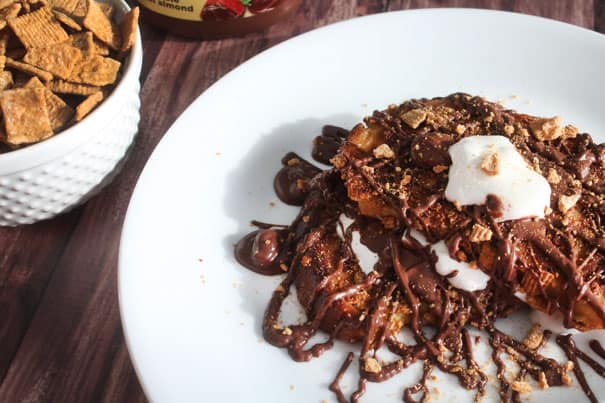 A perfectly sweet little addition to your savory breakfast, if you asked me.
Feel free to swap in Nutella, or any of the other Hershey's spreads. This chocolate almond one is by far my favorite.
It tastes exactly like a Hershey's Almond Kiss without the crunch.
If you want to add that almond crunch back into your S'mores French toast, top each slice with some slivered almonds.
This is a dish that works as well for breakfast as it does dessert. I can't wait to hear what you think!
This post is in no way associated with Hershey's. I have not been compensated for the post, or asked to write it. The opinions are my own.