If you follow me on any social media, you may have seen my very freaked out statuses a few weeks ago. My dad had a heart attack on a quiet Wednesday, and survived, despite the odds being 98% in the favor of him not doing so.
Since that quiet Wednesday, I have been taking stock of my life. I've owned up to some mistakes I've made, and apologized to a few people. I've taken extra time each day to tell my husband just how very much he means to me.
And I've taken more time to be silly, spontaneous, and enjoy moments of quiet respite with a cup of tea.

Being one half of a British-Texan household, tea is pretty ubiquitous here. The one thing I regretted not taking to Texas? My electric tea kettle.
But it had been a long time since I forced myself to slow down and really enjoy a cup of tea, and a biscuit, as the Brits are so fond of saying, and to simply relish the moment.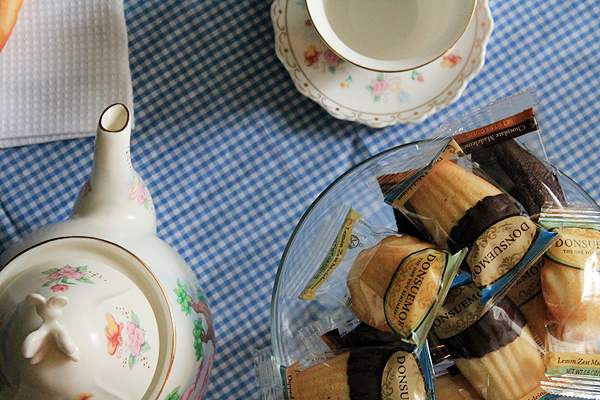 When Donsuemor contacted me and asked me to help them celebrate tea time, it couldn't have been more aptly timed. We've been doing a lot more celebrating around here – tea, life, survival.
So to celebrate tea time served up with delicious madeleines in chocolate, chocolate dipped, traditional, and lemon zest, Milo, Connor and I decided to invite you over. Especially because it's Mother's Day, and these guys love the ladies.
You see more of these two if you follow me on Instagram (BluebonnetBaker) or Twitter, but they are very much a part of our lives. Milo is a full-bred Maine Coon cat, and Connor is a rescue half Maine Coon. They are both FULL of personality, and anyone who has met them will tell you that they're talkers.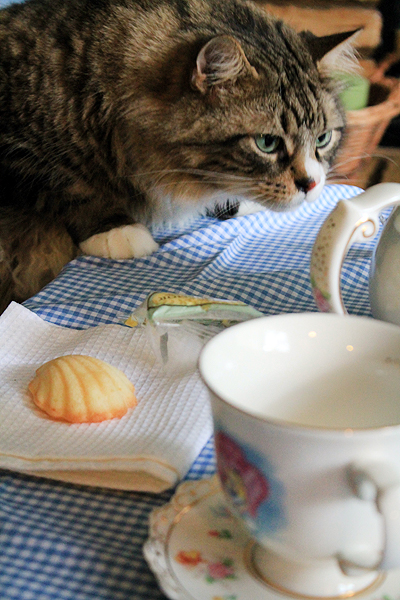 Connor is my hugger. He will wrap his paws around your neck and give you a cuddle. He kisses your forehead if you ask, but he's also the more devious and vindictive of the two. James and I often joke that if Connor had thumbs, we'd all be done for. In this Pinky & the Brain pairing, Connor is definitely the Brain.
Milo is a lot like having a 3 year old. He weighs 28 pounds (quite normal for a pedigree) and measures 4 feet long from tip to tail. Oh, and did I mention he loves cookies?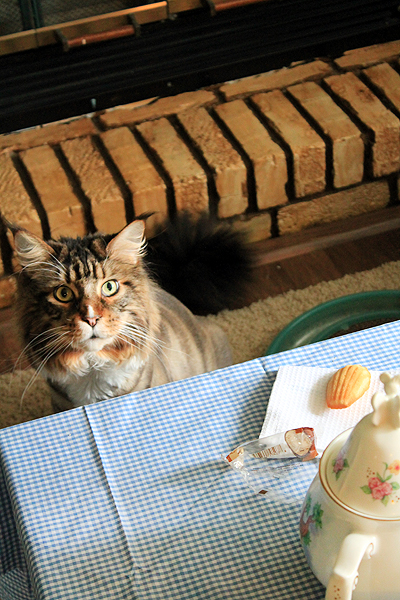 For me? Really?

Oh, it smells so good!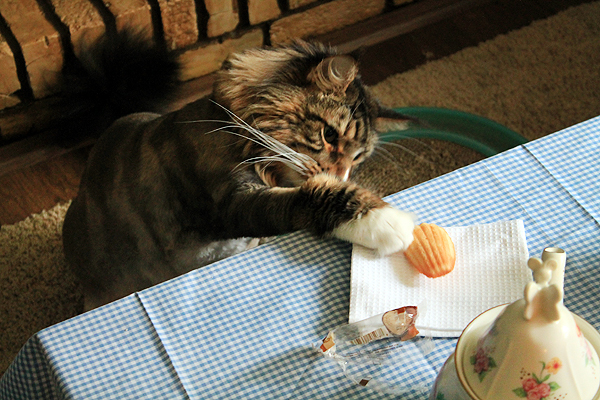 Nom.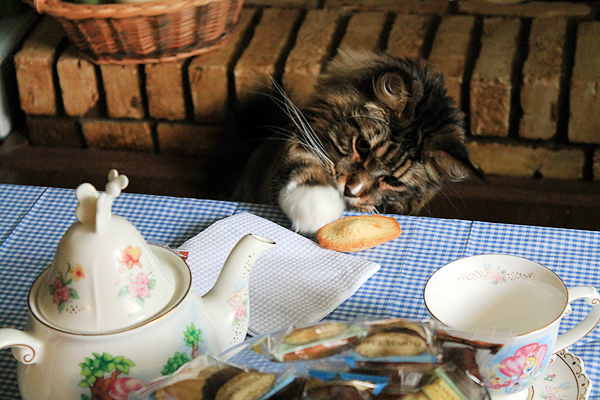 How could you not love that face?
Through all that cuteness, I really hope that you'll get the message behind Donsuemor's Tea Party.
Take a moment, every day, to relish the blessings in your life.
And do it with a cookie.
---

Disclaimer: Donsuemor provided me with a box of madeleines and some wonderful organic teas free of charge. I was not compensated for this post. All opinions about Donsuemor are my own, formed in my experiences with their product.
Second Disclaimer: The boys did not really eat cookies. They got treats after the photo shoot, but I am quite aware that human food is not good for them. Though Milo may have had a crumb of a madeleine. I can't resist that face. Connor was much more interested in his cat treats.

[wpurp-searchable-recipe]Tea Time with Donsuemor – – – [/wpurp-searchable-recipe]