I have a secret love affair with muffins. Ever since I started making them with pancake mix, that love affair has deepened into something dark and dangerous – I'm making muffins more often than I ever have, and they are flat out decadent.
We arrived in San Antonio on December 24th, just in time for all the family's celebrations and some really spectacular weather. Just the other day, it was 70 degrees here while back home in New Jersey, it was a balmy 15 degrees!

All this sunshine and warm weather has made me so cheery, I can't help but bake. There may be crappy things going on in my life (side note: being laid off kinda blows), but right now I get to spend tons of time with my family. My incredible husband is supporting me through everything, and I couldn't be more grateful for the love of my life, or the love in my life.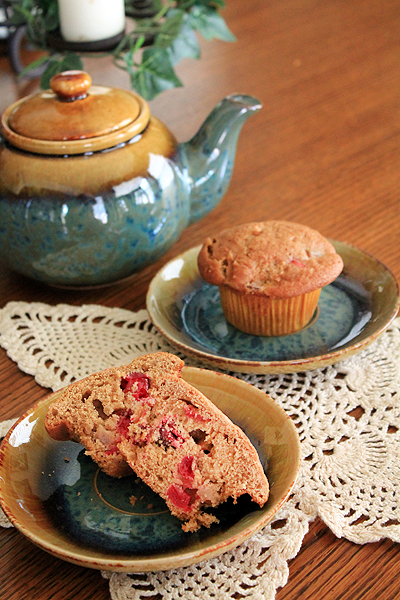 So I baked muffins. Lots of muffins. Starting with ginger, fresh cranberry, and caramelized pear muffins. There's just enough ginger for a zing that will make you go, "ooh!". The cranberries are tart and slightly sweet, and the pears reign everything back in with their mellow butter-sugary goodness.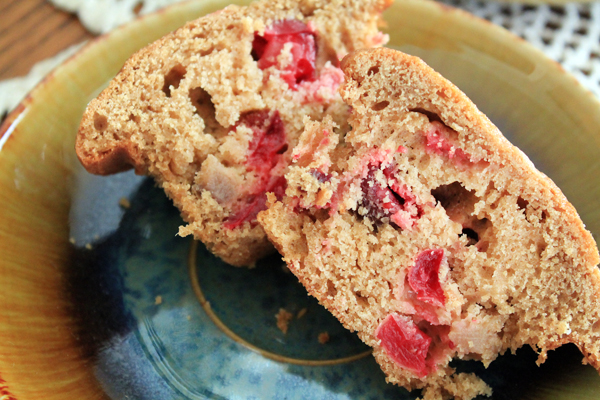 Ginger, Cranberry and Pear Muffins
Makes 12 muffins
Ingredients
1/2 cup (1 stick) room temperature butter
1 cup brown sugar
3 eggs (room temperature)
3 cups pancake mix (I used Pioneer Baking Mix)
1/2 cup 1% milk (You can use whatever you have on hand)
1/2 cup fresh cranberries, or dried cranberries reconstituted
1 teaspoon minced ginger
1 Anjou Pear, diced to 1/2″ pieces
1 tablespoon butter
1 tablespoon brown sugar
1 teaspoon cinnamon
Directions
Preheat the oven to 325F.
Combine butter and brown sugar in a large mixing bowl and cream on high until well combined.
Add eggs, one at a time, mixing after each addition, until completely incorporated.
Slowly add in pancake mix, one cup at a time. Mix after each addition, and mix until just incorporated.
Add milk and ginger and mix on low.
In a skillet, heat separate tablespoon of butter on medium heat. When the butter has melted, add diced pear pieces to the skillet and stir. (No need to peel, just cut core.) Add the separate tablespoon of brown sugar and teaspoon of cinnamon, and continue to stir often.
Watch closely so that the caramel doesn't burn, but so that the sugar completely dissolves and the pears get a little bit soft. When they are, remove pan from the heat and set aside.
Add cranberries and the entire ingredients of the pan to the batter, and stir by hand or mix just until well mixed in.
Line a 12-count muffin tin with paper liners. Fill each cup 3/4 of the way full. Bake for 25-30 minutes until golden brown. When poked with a toothpick, the centermost muffins should come away clean.
Allow to cool for 10-15 minutes. Store at room temperature in an airtight container for up to 4 days.

[wpurp-searchable-recipe]Ginger, Cranberry and Pear Muffins – – – [/wpurp-searchable-recipe]