I hope you guys enjoyed all the guest posts last week. I am so grateful to have such good friends willing to offer up their hard work to fill in. That's really what life is about, isn't it? Good friends, there for you during the tough times.
One thing about going home to San Antonio in late July that I should have been prepared for, was just how dang hot it is! I haven't been home in late July since probably 2004, and I think I just plumb forgot the deep, dark heat that wafts its way through the city at that time of year.
As only a foodie will understand, I threw the best darn party/wake/remembrance for my Nanny that you can imagine. It was just like a party she would have thrown when she was alive – full bellies, lots of laughter, music, and because Nan never turned down a good cocktail – drinking.
It really helped to dive into all that hands-on work, and especially so in her kitchen. When you've got the ugly green bowl she's used since before you were born in your hands, full of party dip to be mixed, suddenly things come into perspective.

To quote the poem the pastor read to us at the graveside, "You can remember her and only that she's gone or you can cherish her memory and let it live on."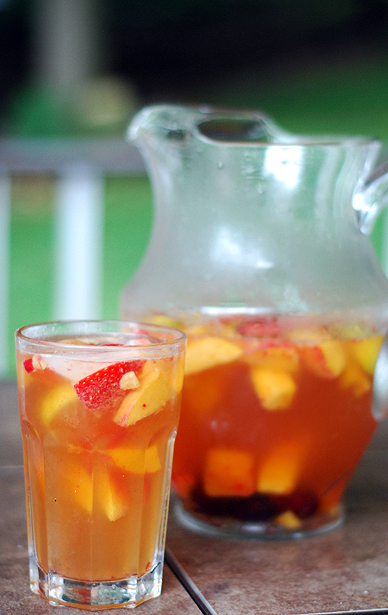 Well guys, that's what I'm going to do. And Nan would definitely approve of this Sangria. She adored plums in any fashion. A few weeks ago, James and I were at the farmers market, and my favorite farmer says to me, "Would you like my last pint of sugar plums? They're super sweet," something inspired me to say yes. I don't normally gravitate toward plums, though I always enjoy them.
Then started a search for "sugar plum" recipes, which only resulted in cookie recipes. I was so confused! Luckily, I know that crazy smart foodie over at Good.Food.Stories. Casey to the rescue, she asked a few friends, and we realized that they were in fact, baby plums.
During that trip I had also purchased peaches to make Amanda's Peach Bread, and a pint of organically grown strawberries that were the sweetest I've tasted yet outside of Poteet. Of course, ever over enthusiastic, especially when it comes to peaches, I'd bought way more than Amanda's peach bread called for.
I decided I should use the peaches and plums together. And wouldn't it be rude not to invite strawberries to the party?
The wonderful thing about Sangria is you can add any sort of fruit you'd like to it, especially white wine sangria. We also added limes, a little ginger beer, and a bit of Pimm's to liven things up. If you can't find Pimm's, it can be left out.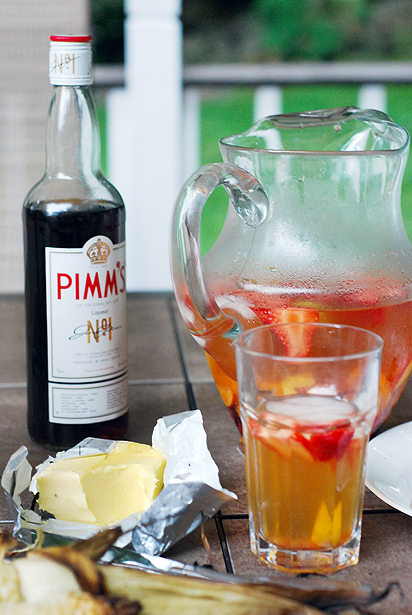 Please excuse the butter and spare corn in this shot! Post barbecue, I was full of good food and good sangria, and for some reason, thought it was arty!
Peach, Strawberry & Baby Plum Sangria
Ingredients
1 bottle of sweet white wine (we used a riesling)
2 oz Pimm's No. 1 (2 shots)
1 liter of carbonated water or lemon-lime soda
1 can of ginger beer
Sliced peaches, baby plums, strawberries, and limes or lemons
Directions
In a large pitcher, add as much or as little sliced fruit as you desire. Baby plums can be pitted similar to cherries. You can also substitute full size plums if you cannot find baby plums. Zest any citrus you add before slicing and adding it to the pitcher.
Add 2-4 handfuls of ice to the pitcher, then add the wine and Pimm's. Stir with a large spoon to combine, then add the carbonated water or soda, and ginger beer. Stir gently to combine (but not destroy carbonation) and then serve.
If you'd like to make this an hour or two before serving to give the fruit more time to develop, do not add the ice until just before serving, and refrigerate until ready to serve.
Enjoy with the people you love most. And tell them so.

[wpurp-searchable-recipe]Peach, Strawberry and Baby Plum Sangria – – – [/wpurp-searchable-recipe]