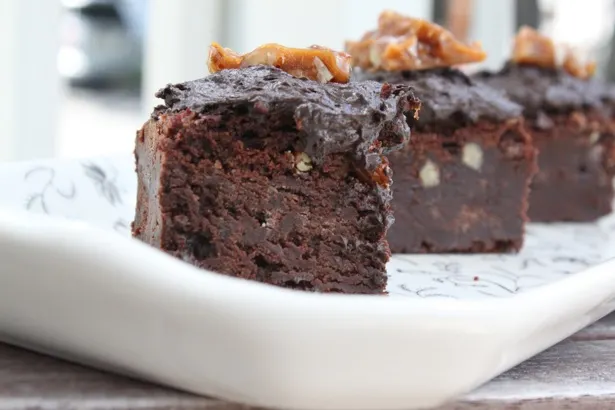 Casey tells it better than I do, so I'll let her tell you how we met. Every piece that I read on her blog blows me away. She's an excellent, articulate and thought provoking writer – who just happens to write about food. It makes me happy to read Good. Food. Stories. because of just how well written it is, but luckily there's also really great recipes and, well, good food stories! Thank you, Casey, for guest posting. I hope you guys enjoy her journey into Southern Decadence. – Amber
---

Casey from Good. Food. Stories. here, spinning a little tale of booze, bacon, and chocolate. I use those things quite frequently to cope with life's slings and arrows, so it's rather convenient that we can combine them into one densely sweet package, eh?
Agreeing to carpool for five hours with someone you've just met is a risky proposition. You're either going to have slumber party-level bonding on wheels or suffer through the most mind-crippling 300 minutes of your life. So let's take a moment to pity poor Amber, who was stuck playing passenger/navigator to my talkative speed-demon self on our way from New Jersey to Blog & Bake in Norwich, VT.

Oh, who am I kidding? Amber is just as talky as me and from the minute I stepped onto her doorstep and saw an enormous, debonair Maine Coon cat staring at me through the window, I knew we'd be getting along like gangbusters.
Flying up I-91 in our rented Nissan Versa (aka The Plastic Box, as we quickly nicknamed it for its unnervingly flimsy construction), we covered all the bases in record time. Between nonstop tangential blathering, I found out pretty darn quick that Amber loves Texas. And brownies, duh. And some good brown liquor (but not beer!). And pecans.
So now that I know Amber, I pay closer attention to things like the brownies by Kat Kinsman (incidentally, someone who's also probably a hell a lot of fun to take on a five-hour car ride) accented with bourbon, bacons and pecans in last month's Food & Wine. To illustrate the difference between the way my mind works versus Amber's, I almost flipped right past them in my haste to rip out the recipe for Kat's tomato lemonade. But I'm learning.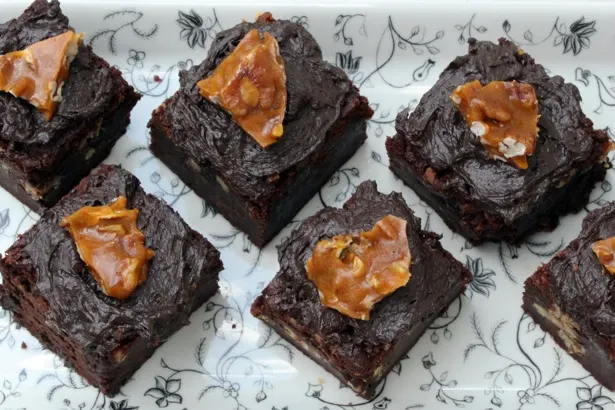 My version of the brownies somehow got gussied up with extra pecans in the batter, a generous spread of fudgy frosting, and a tiny hat of pecan brittle on top. What can I say? Amber inspires me to take my desserts a little over the top. The brownies' taste and texture improve vastly overnight, so delay gratification if at all possible.
Despite the inclusion of bourbon, I have a feeling these wouldn't be a bad addition to our next road trip. Whaddya say, Amber? You, me, a pan of brownies, a trip to Cabot Creamery?
Pecan, Bourbon, and Bacon Brownies
adapted from Food & Wine
Brownies
Ingredients
3-4 slices bacon
2 cups all purpose flour
2 tablespoons cocoa powder
1 teaspoon kosher salt
8 oz. semisweet or bittersweet chocolate, coarsely chopped
2 oz. unsweetened chocolate, coarsely chopped
1 stick (8 tablespoons) unsalted butter
4 large eggs
1 cup granulated sugar
1/2 cup brown sugar, firmly packed
3 tablespoons bourbon (replace with milk if you're not an imbiber)
2 oz. roughly chopped pecans (about 1/4 cup)
Directions
Cook the bacon using your preferred method (skillet, oven or microwave), reserving 1/4 cup of bacon fat. Chop the bacon into a fine dice and set aside.
Preheat the oven to 350? and grease a 9-inch baking pan (alternatively, line the pan with foil, leaving an overhang on two sides, and spritz lightly with baking spray.)
Whisk the flour, cocoa powder and salt together in a small bowl.
In a large heatproof bowl set over a small pot of simmering water, melt the two chocolates and the butter together, stirring constantly. Remove from the heat and allow to cool slightly.
With an electric hand mixer or the paddle attachment of a stand mixer on medium-low speed, beat the the eggs with the granulated and brown sugars until frothy and thickened, about a minute. Beat in the melted chocolate and butter as well as the bourbon and bacon fat.
By hand, gently fold in the flour/cocoa powder/salt combo until just incorporated, then stir in the pecans.
Pour the batter into the prepared pan and sprinkle the bacon on top (saving a little bacon if you want to sprinkle some on top of the frosting). Bake for 45-50 minutes, or until a toothpick or knife jabbed into the brownies still has moist crumbs sticking to it when removed.
Cool the pan completely on a rack before lifting the brownies out of the pan and cutting. Frost and adorn with extra bacon or pecan brittle as desired.
Fudge Frosting
Ingredients
1 oz. semisweet or bittersweet chocolate, melted
4 tablespoons (1/2 stick) unsalted butter, at room temperature
1/2 teaspoon kosher salt
1/4 cup cocoa powder (try Hershey's Special Dark cocoa powder for extra richness)
1 1/4 cups powdered sugar
2 tablespoons milk
Directions
In a large bowl, blend all ingredients together with an electric hand mixer or the paddle attachment of a stand mixer, starting at low speed and increasing the speed as the ingredients incorporate. Blend until the frosting is light, fluffy and shiny.
Pecan Brittle
Ingredients
1 cup sugar
1/2 cup water
4 tablespoons (1/2 stick) unsalted butter
2 tablespoons Lyle's Golden Syrup or light corn syrup
1/4 teaspoon baking soda
1 pinch cream of tartar
4 oz. pecans, roughly chopped
Directions
Place a piece of parchment paper or a Silpat on a jelly roll pan.
In a heavy-bottomed pot or Dutch oven, bring the sugar, water, butter and syrup to a boil over medium-high heat, stirring frequently as the butter melts and sugar dissolves.
Continue to boil, stirring occasionally, for about 15 minutes or until the mixture turns from buttery yellow to light gold to deep amber.
Remove the pot from the heat, stir in the baking soda and cream of tartar, then stir in the pecans. Pour the brittle onto the parchment/Silpat. (Be extremely careful when working with molten sugar!) and quickly work with a spatula to spread it as evenly as possible.
Allow to cool and harden completely, about a half hour, before breaking into pieces.