Remember the other week when I made those crazy good strawberry scones? Well, I managed to find the same brand of strawberries here on the East Coast, and they were just as flavorful.
When my Southern Living magazine arrived this month with an alluring headline on the cover: "Luscious Strawberry Desserts", I had to flip right to it. From Fresh Strawberry Meringue Cake to Strawberry Curd, I was captivated.
Don't you just love it when you clock a new recipe and already have all the ingredients? I love that feeling. It's like instant gratification. That's what happened with the recipe for Strawberry Lemonade Muffins.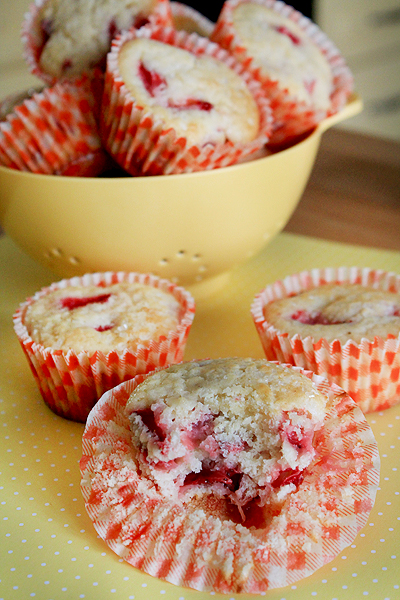 I adapted the Southern Living recipe slightly. Even though I have plenty of sour cream on hand, I wanted to up the "lemonade quotient". So instead of the sour cream Southern Living called for, I used a pot of Lemon Chobani. If you've never had Lemon Chobani, it's pretty much like lemon meringue pie filling in non-fat, good-for-you form. (a.k.a. Amazing!)
I'm so glad that I did. The lemon Greek yogurt kicks the lemonade overtones into overdrive. They play perfectly against the fresh strawberries, and these muffins are also tender and have a wonderful crumb.
As you know, I normally make my muffins with pancake mix. I've never before made them with self rising flour. I'm definitely a fan. These muffins are so perfectly tender, light, and airy.
They're made using the well method – meaning that you mix the sugar and flour together, then form a well in the middle. To that, you add the wet ingredients, and then mix until just combined.
A dough whisk is ideal for this, as it prevents overmixing, which can result in tough muffins.
Summer is coming, folks. You're going to know it the minute you bite into a Strawberry Lemonade Muffin. Sunshine in your breakfast, for sure!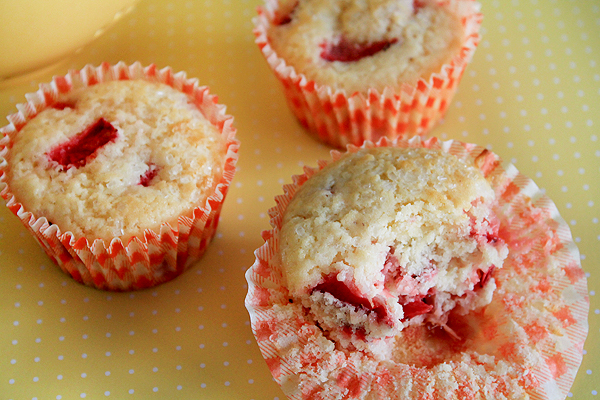 Strawberry Lemonade Muffins
Adapted from Southern Living, April 2012
Makes approximately 22 muffins
Ingredients
2 1/2 cups Self-Rising Flour
1 cup granulated Sugar
1 6 oz container of Chobani Lemon Greek Yogurt (or substitute 8 oz Sour Cream)
1/2 cup Unsalted Butter, melted
1/4 cup Lemon Juice (I used Key West Lemon Juice)
2 large Eggs, beaten
2 cups fresh Strawberries, diced finely
White Sparkling Sugar to top (optional)
Directions
Preheat the oven to 400F.
In a large bowl, combine the self rising flour and granulated sugar. Mix well with a whisk to evenly combine and distribute. Form a well in the middle of the dry ingredient mix and set aside.
In a medium bowl, add together the Greek yogurt, melted (and slightly cooled) butter, lemon juice, and eggs. Whisk together to break eggs and make sure everything is evenly distributed.
Add the wet ingredients to the dry by pouring them into the well you created. Mix gently until just combined, using a dough whisk if you have one.
Add the strawberries and mix them in gently. Line a muffin pan with paper liners.
Using a large cookie scoop, fill each paper lined muffin well with one scoop. This should fill the cups approximately 3/4 of the way full.
Once all the batter is distributed, top each muffin with sparkling sugar if desired.
Bake for 18-20 minutes, until the muffins are golden brown and when poked with a toothpick, it comes out clean.
Allow to cool for 1-2 minutes, then remove to a cooling rack to cool completely.
Enjoy with strong coffee, strawberry curd, and your favorite person.

[wpurp-searchable-recipe]Strawberry Lemonade Muffins – – – [/wpurp-searchable-recipe]