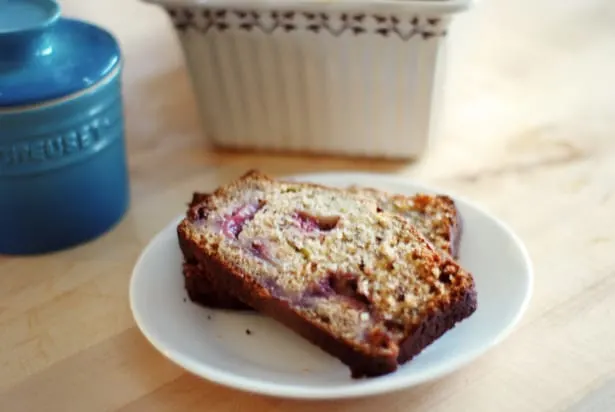 I'm always on the quest for ways to use black bananas. We have this problem where our grocery store gets really really green bananas, and they seem to go from deep green to black, without a middle stage. We really should stop buying them like that, but it's a hard habit to break. For us, bananas are a staple of every grocery trip.

This last trip, I also bought strawberries for a separate recipe I was making that will appear in the coming weeks. I only ended up using a few of them though. Now, strawberries are not going to go to waste in this house, but when StumpleUpon drops you on a recipe for Strawberry Banana bread, and you just happen to have black bananas and strawberries in your kitchen at the same time, I think the Universe is trying to tell you something.
I really really like this bread. Sometimes, banana in baked goods can get overwhelming and sickly. However, for this bread, the strawberries are an equally flavorful component, and balance the bananas perfectly. The bread is incredibly moist. Almost too moist, so I've actually dialed back the total amount of strawberries in the recipe from the original. Especially if you use frozen strawberries, you need to watch the liquid quotient of the recipe so that you don't end up with gummy bread.
Strawberry Banana Bread
adapted from Angie McGowan of Eclectic Recipes
3 bananas, overripe
1 stick (1/2 C or 8 tbsp) melted butter
2 eggs
3/4 c. sugar
2 tsp vanilla
3/4 c. all purpose flour
3/4 c. whole wheat flour
1/2 tsp. baking soda
1 1/2 tsp. baking powder
1/2 tsp. salt
3/4 c. sliced or chopped strawberries
Preheat oven to 350F. In a large mixing bowl, mash bananas until there are no large chunks left. Add cooled melted butter and mix, then eggs and mix, then sugar and vanilla and mix again.
In a second bowl, whisk together flours, baking soda, baking powder, and salt both to combine and aerate. Add flour mix to wet ingredients and stir slowly by hand until just combined. Do not overmix or the bread will be tough.
Fold in chopped or sliced strawberries until distributed well. If using frozen strawberries, I suggest bringing them to a complete thaw and then pressing lightly with paper towels to remove some of the liquid so as not to compromise the integrity of the bread.
Bake for 60 minutes or until a toothpick inserted into the center of the bread comes out clean.
Enjoy with toasted with butter and a hot cup of coffee.

[wpurp-searchable-recipe]Strawberry Banana Bread – – – [/wpurp-searchable-recipe]