This is probably one of the hardest posts I will ever write. I had planned to post the recipe for this High Rising Sandwich Bread on Sunday. But at 4 a.m., we received a call from my parents that my beloved Nanny had passed away. I spent most of Sunday in a fog. I know I was awake from 4 a.m. to 10 p.m., but I think I spent most of the day drinking cups of tea brewed by my wonderful husband, or playing Angry Birds to calm my mind.
I don't know if I can ever adequately explain my relationship with my Nan, but if you're a regular reader of this blog, you know that she's pretty much the entire reason I even started blogging. I missed her, I missed her cooking, and I wanted to catalogue my journey to perfecting all the recipes she spent a lifetime teaching me.

She taught me how to be strong, and how to fight for what's right. She taught me how to love, in the face of adversity. You see, my Nan, she had a lot of adversity in her life. Her mother wasn't very nice to her (and could be downright abusive), and then her family walked out of her life for good when she chose to marry my grandfather. I think when she watched him go off to war 4 times in ten years (Korea, then three tours of Vietnam), it must have been the hardest thing she ever did. Welcoming back a war-torn man must have been the second hardest.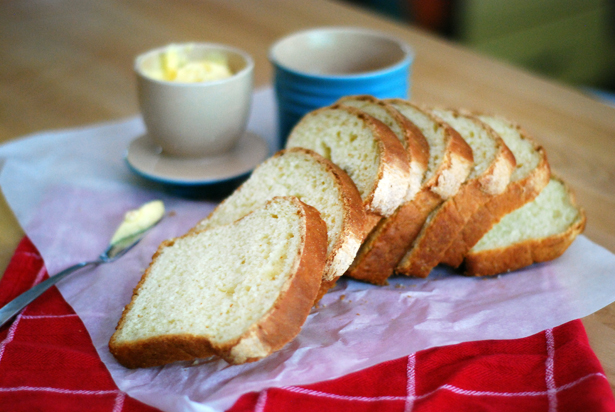 My Nanny was the strongest person I have ever known, and she carried our family. She was the heart. I only hope that we can pull together and be strong for her the way she was for us throughout her life.
One of the first things Nanny ever baked with us girls was homemade bread. She didn't do it often, and in later years she used a bread machine because kneading became too hard for her. I didn't use anything but a dough whisk and my own two hands to pull this bread together, and so can you.
Before I went to King Arthur Flour last month, I'd only once baked bread on my own, using a bread machine. The other times, I'd left the duty to my husband, because "yeast scares me". Not anymore, folks. I'll tell you something: Nanny may have been scared of things in her life, but she never EVER backed away from a challenge. I know it's easy to get all retrospective now that she's gone, but honestly – if I can live to nearly 80 and have someone say that about me, I think I'll be able to die happy.
King Arthur Flour helped my confidence as a baker so much that I have baked, not bought, our sandwich bread every week since I returned. Baking that loaf of bread each week has quickly slipped into my weekend routine and doesn't even feel like a chore. Kneading the bread on Saturday afternoon actually put me into a zen like state of relaxation.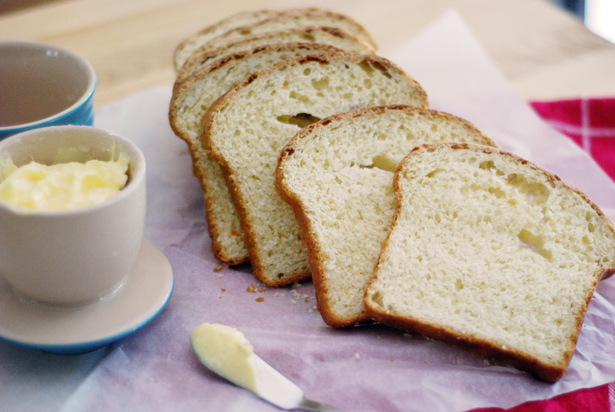 So bake this bread, without a breadmaker. Challenge your fear of yeast. Eat a slice of buttered toast dipped in your milky coffee if you like – that's how Nanny did it.
I'll be away all of next week. There may be guest posts if I can pull them together, but if not, please know that I will be back soon, and stronger than ever. I started this blog for love of my Nan, and I'll keep on writing and cooking and baking for love of my Nan.
-Amber

High Rising Sandwich Bread
From King Arthur Flour, found on the back of their Baker's Special Dry Milk
Ingredients
3 cups King Arthur Unbleached All Purpose Flour
2 tablespoons sugar
1/4 cup Baker's Special Dry Milk (or any dry milk, but you will get a higher rise with the KAF)
2 teaspoons instant yeast
1 1/2 teaspoons salt
2 teaspoons vegetable oil or butter (I have used both butter and grapeseed oil)
7/8 to 1 1/8 cups water
1 large egg
Directions
Combine flour, sugar, dry milk, instant yeast, salt, egg, and oil or butter together in a large bowl. Add 7/8 cup of water and mix until you have a shaggy mass. Allow to rest for half an hour.
Sprinkle flour on a flat, clean and dry worktop and then knead by hand until the dough is soft and supple. The best way to knead is to fold the dough in half towards you, then push into the dough away from you with the heal of your palm. Turn the dough by a quarter turn clockwise, then fold and push again, repeating until the dough is soft and supple. Add flour to the board whenever the dough sticks, and add additional water to the dough in tiny increments if it becomes too dry.
Place the dough in a lightly greased bowl, and cover with plastic wrap, tucking it closely to the dough. Allow to rise for about 1 1/2 hours until the dough is puffy.
Transfer the dough back to your work surface and press into it to get a rectangle, using the flat of your hand. This will expel any bubbles. It is not necessary to punch the dough.
Fold the dough and form a rectangle to fit in a standard bread loaf pan. Spray the bread loaf pan with baking spray, then press the dough into it, making sure to press into the corners of the pan.
Cover with plastic wrap again, and allow to rise in the pan until the dough has risen 1-2 inches above the rim of the pan. Then bake in a preheated 350F oven for 35-45 minutes.
Remove from oven and allow to cool completely before slicing.

[wpurp-searchable-recipe]High Rising Sandwich Bread – – – [/wpurp-searchable-recipe]