Today marks another Secret Recipe Club installment. For November, I have been assigned the lovely Paulchen, a food blog by a blogger named Astrid based in Vienna, Austria.
I've had the good fortune to visit a few European countries, but Austria is sadly not one of them. It's definitely on the must-see list though!
Astrid has many wonderful recipes to choose from on Paulchen's Food Blog, from Apfelstrudel Pie to Buttermilk Bread.
Astrid collects cookbooks (yup – it's nearing 12-step program levels for me too). She also has "two beloved cat boys", just like me! Kindred spirits, I tell you.

I had a really hard time choosing a recipe from everything on her site, and in the end, it was an ingredient in my own fridge that steered me in a particular direction. I had picked up a butternut squash at the farmer's market a few weekends before, and it was begging to be transformed.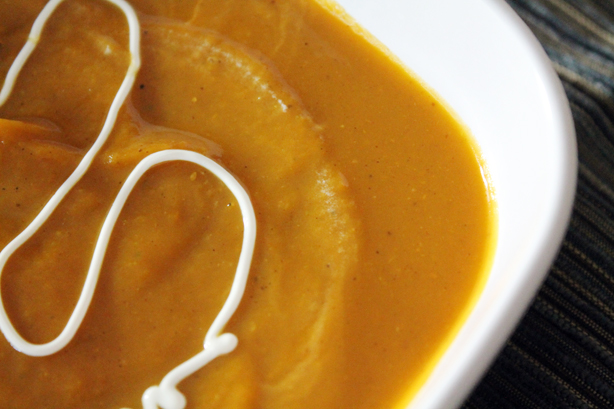 I used Astrid's recipe for Butternut Squash and Pumpkin Soup to transform it, adding a British flair for my hubby by adding some curry powder and black pepper. Perfect for the surprise snow storm we got just before Halloween.
Because we were told to stay indoors due to the storm, I used what I had on hand – canned pumpkin and chicken stock instead of fresh pumpkin and vegetable stock.
The soup was incredibly delicious and hearty, and exactly what we needed on a unseasonably cold night.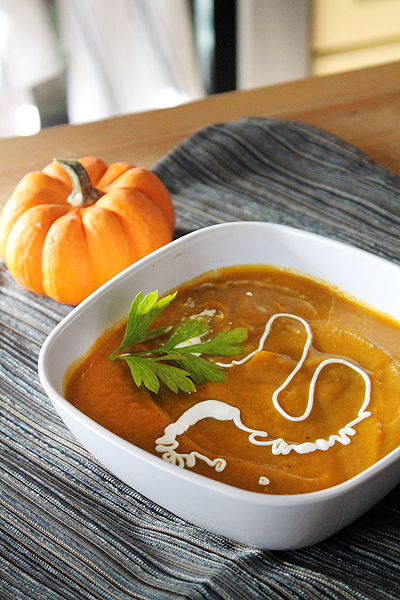 Butternut Squash and Pumpkin Soup
Adapted from Paulchen's Food Blog.
Ingredients
1 Medium Butternut Squash
2 cans of Organic Pumpkin Puree (not pumpkin pie mix)
1/4 cup brown sugar, divided
2 tablespoons butter, divided
Ground Cloves
Ground Cinnamon
Ground Cardamom
Ground Ginger
Olive or Canola Oil
1 box Organic Chicken Stock
1 cup Milk (I used 1%)
Salt
Pepper
2 tablespoons Maharajah Curry Powder
Directions
Preheat oven to 400F.
Slice the Butternut Squash in half. Scoop out the seeds and guts, and place on a parchment lined baking tray.
Rub the squash with olive oil, then in the bowl of each squash half (where the seeds and guts were) place 1/8 cup of brown sugar and 1 tablespoon of butter each.
Liberally sprinkle each squash with cinnamon, cardamom, ginger and cloves.
Roast for 45 minutes.
Allow squash to cool, then peel skin from squash and place meat of the squash in a large soup pan.
Add milk, stock, and both cans of pumpkin puree.
Using an immersion blender, blend all ingredients in the pot until they create a smooth puree.
Add additional salt and pepper to taste, as well as the curry powder. Stir thoroughly with a flat whisk and allow to cook over low heat until soup is heated through and flavors have had time to develop.
Serve with fresh sour cream, crema fresca, or yogurt. I also threw in a bit of Parsley for looks!
document.write(");
[wpurp-searchable-recipe]Secret Recipe Club: Curried Butternut Squash and Pumpkin Soup – – – [/wpurp-searchable-recipe]