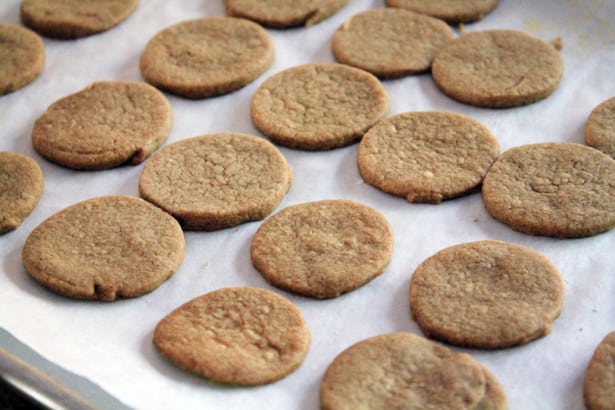 I don't really remember the first time I had a Biscoff biscuit clearly. I know it was on a Delta flight, but where or whence I'd come or gone I've long since forgotten.
That happens when you spend two years in a long distance relationship plus work travel, I think. The flights start to blur together, the checkpoints and passport stamps seem blasé.
Sitting here now, working from home, having not traveled abroad since last October, no flights anywhere since May – well, I think maybe I was a bit spoiled back then! Biscoff cookies, though, they take me back to that time.
To the flights and the longing for my guy on the other side of the world, and of having so many adventures together. Kinda fun, right?
Not long ago I posted a recipe for Biscoff Bites using Biscoff Spread. When I posted it to my facebook page, some lovely person (I wish I could say exactly whom – FB won't let me go back that far in posts) linked me to a recipe for the original cookies.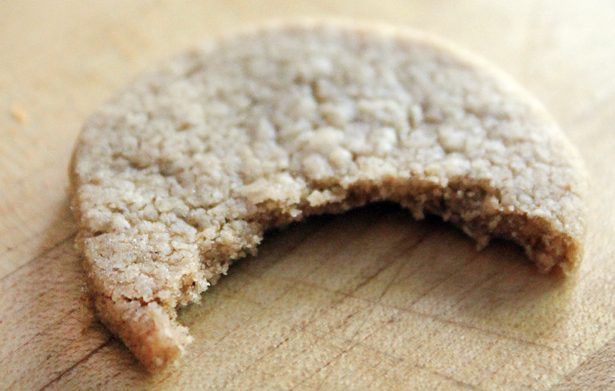 The original post appears on Mum in Bloom, a blog written by Sarah, but I don't think it was Sarah that left the comment. Regardless, my thanks to both Sarah and that commenter for pointing me at these delicious little homemade morsels of WIN!


The homemade Biscoff Cookies are wonderful soft and hot out of the oven, but if you allow them to cool for at least an hour, you get the crispness you expect from the store-bought cookies.
The dough is very similar to a shortbread. When Sarah blogged them, she baked them in a casserole dish and ended up with a rather thick cookie, which I imagine had a very shortbread like texture.
But I love the thin, crunchy, melt in your mouth texture of store-bought Biscoffs as much as their brown-sugar-cinnamon flavor, so I rolled the cookies out like pastry dough and used a small biscuit cutter to make perfect little crunchy disks.
Make sure the dough is nice and thin – no more than 1/4″, so that you get a crispy cookie.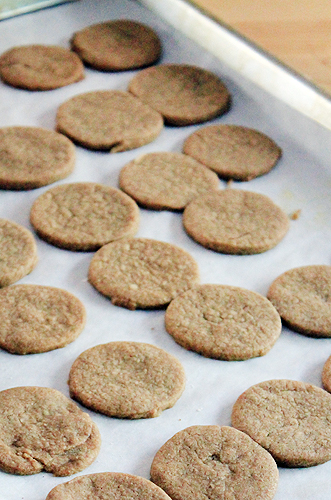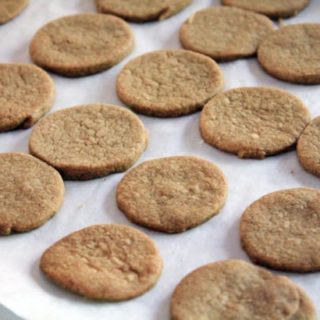 Homemade Biscoff Cookies
Ingredients
2 cups King Arthur All Purpose Flour
1 tablespoon Cinnamon
1/4 teaspoon freshly ground Nutmeg
1/2 teaspoon Kosher Salt
1/2 teaspoon Baking Soda
1 cup (2 sticks) Unsalted Butter, softened
1/2 cup Granulated Sugar
1/4 cup firmly packed Dark Brown Sugar
1 teaspoon pure Vanilla Extract
Instructions
In a medium bowl add the flour, cinnamon, nutmeg, salt, and baking soda together. Whisk together thoroughly to combine and aerate. Set aside.
In a large bowl or the bowl of a stand mixer, cream the butter together with the sugar and brown sugar until light and fluffy. Add the vanilla extract and mix again.
With the mixer on slow, add the flour mixture a little bit at a time until the dough is fully combined. Make sure to scrape the sides of the bowl often.
Refrigerate the dough for at least half an hour.
When the dough is thoroughly chilled, preheat the oven to 350F.
Lightly flour a large surface and roll out the dough to 1/4" thick as best you can. Using a small biscuit or cookie cutter of your preference, cut as many cookies as you can out of the rolled out dough.
Combine the leftover dough into a ball again, and roll out again. Only do this once, as reworking the dough too many times will result in tough cookies.
Bake cookies for roughly 9-10 minutes. Watch the oven very closely after the 7 minute mark. Because of the thinness and high sugar content, the cookies are a lot like caramel and can go from perfect to burnt in a flash.
Allow to cool before enjoying. They're pretty amazing on a vanilla ice cream sundae instead of nuts.. not that we tried that or anything..