Chocolate Chai Pound Cake with Chai Cream Cheese Frosting is a dream come true. If you love chocolate and you love chai, this dessert will put you over the top.
I've been seeing chocolate chai everywhere these days. It started at Starbucks, with their Chocolate Chai Latte, and then it started popping up all over the blogosphere.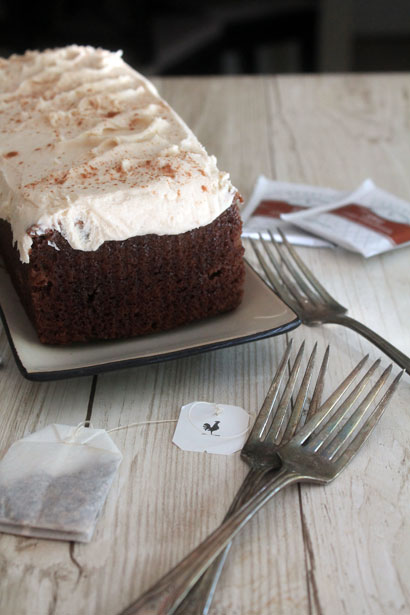 Christina's Chocolate Chai Donuts, for example. This Chocolate Chai Pound Cake grew out of my obsession with all those beautiful spices, and tea.
Anyone who knows me knows that since living in England, I'm obsessed with a perfect cup of tea. Usually I go for a strong every day tea, or Earl Grey, but I'll certainly admit that a milky chai has its place. Add chocolate? I'm sooooo there.
And as much as I love tea? The Brit is even more obsessed. He loves chai in all its many forms.
When this Chocolate Chai Pound Cake emerged from the oven, he could barely contain his excitement.
Then I covered it in his favorite kind of frosting, cream cheese frosting filled with all the spices you'd find in chai.
As he will tell you, this cake is diet breaker worthy.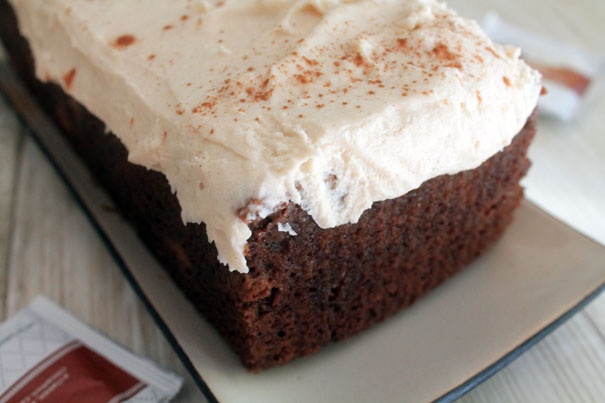 James preferred his slices directly out of the refrigerator, and the cake is so dense that I'll tell you, even 5 days later, it was moist and flavorful, and full of happiness.
Serve a slice alongside your favorite brand of chai and you've got one excellent afternoon pick-me-up.
I baked my cake in a pullman loaf pan to get a perfectly flat, rectangular cake. It's not necessary though.
Bake it in any shape you like. Even cupcakes, though I don't know how many it would make.
I also think this cake would be a holiday potluck superstar.
The flavors are just different enough from the usual holiday table flavor to make people take notice, while still highlighting all the toasty favorite spices of the season.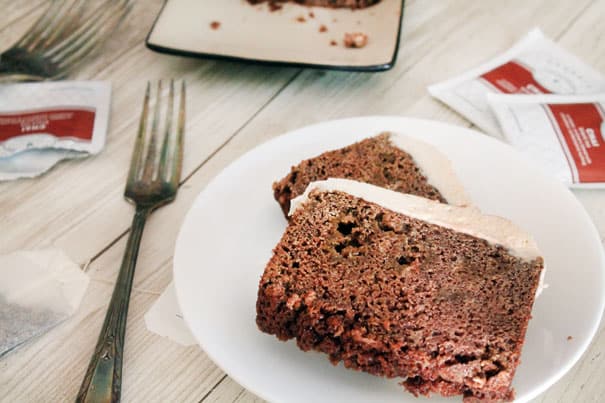 Enjoy!