It's true. We're nearly at the end of September, and most schools have been back in session for a month already. Not having kids returning to school to mark the occasion, it's almost scary to me how quickly the month flew by.
Not long ago, I was enjoying one of my favorite snacks – apple slices dipped in peanut butter – when it occurred to me that the flavor combination might make a pretty phenomenal cookie. Once an idea like that gets into my head, well, there's no stopping it. I could think of nothing else!
Peanut Butter and Apple Oatmeal cookies were born. The addition of oatmeal gave these cookies the body they need, while the peanut butter and apples come together in that same perfect after-school-snack union that I love so well.

When I make them again, I think I might try the recipe with chopped dried apples instead of fresh, because after a day or two, the cookies became super soft and crumbly – though at that point they'd probably be pretty tasty toasted up with some butter and layered on top of some cooked apples. (I wish I'd thought of it at the time!)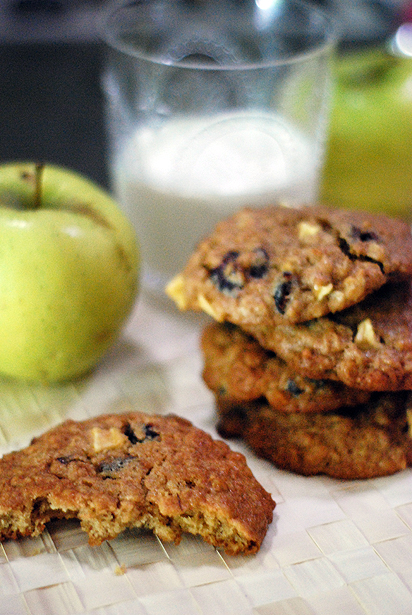 Turns out, I'm not the only one that apples in cookies on the brain. I guess great minds think alike! Tracy over at Sugarcrafter made her Oatmeal Apple Cake Cookies around the same time I made these cookies. She's a lot more organized at publishing in a timely fashion, clearly. And pretty awesome to boot.
These cookies are perfect tucked into a little one's lunch box for a special treat, or with a cup of tea for a mid-afternoon respite.
Peanut Butter & Apple Oatmeal Cookies
Makes approximately 24 large cookies
Ingredients
1 1/2 cups all purpose flour
2 cups rolled oats
1/2 tsp salt
1 teaspoon baking powder
1/2 teaspoon baking soda
3/4 cup butter, room temperature
1/2 cup peanut butter with honey (I used Skippy)
1 cup granulated sugar
1/2 cup packed brown sugar
2 eggs
1 teaspoon pure vanilla extract
1 tablespoon boiled apple cider
1 green apple, peeled, cored and diced
1 cup dried cranberries (optional)
Directions
Preheat oven to 350F. In a medium bowl, combine flour, oats, salt, baking powder and baking soda. Whisk well to combine and aerate.
In a large bowl or stand mixer bowl, beat butter on high until light and fluffy. Add peanut butter and repeat, scraping the sides of the bowl often until butter and peanut butter are completely combined. Add sugar and brown sugar and beat again until both sugars are fully incorporated.
Add eggs, vanilla extract and boiled apple cider and beat again until well mixed.
Add flour mixture in increments, mixing on medium speed and scraping the bowl often. Mix until all flour mixture is completely incorporated.
Fold in diced apple and dried cranberries by hand.
Using a large cookie scoop, drop onto a lined baking sheet – 6 to a sheet.
Bake for 11-13 minutes or until cookies are golden brown around the edges.
Allow to cool slightly on the baking sheet, then remove to a cooling rack and allow to cool completely.
After 2-3 days, cookies keep best in the freezer or refrigerator.

[wpurp-searchable-recipe]Peanut Butter and Apple Oatmeal Cookies – – – [/wpurp-searchable-recipe]