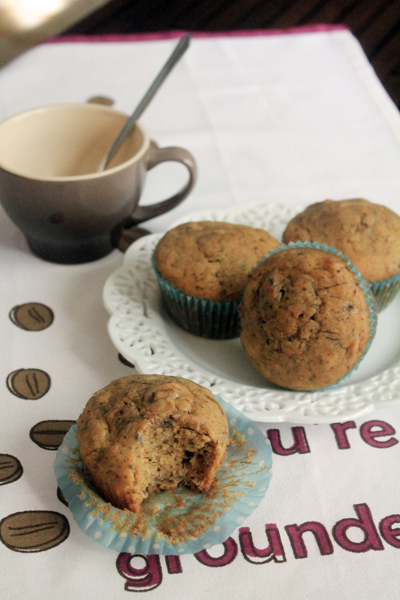 Not gonna lie. These Whole Wheat Banana Muffins are a bit of a departure from my normal baking routine. I'm not normally one to skip the butter, or use sweetener instead of sugar (except in my coffee and tea, where Splenda reigns supreme). But, when your husband comes home with instructions from his doctor to cut out as much sugar as possible, well, here's what you do:
Flounder and don't bake anything for weeks. Then, you get moving. You make something he can truly enjoy, and is doctor approved. And then you make a peach pie. Because honestly, guys, I'm still me. It's just all about balance. And the simple solution is that James will have a *bite* of pie, and the rest of it will go to friends while he continues to nosh on these muffins all week.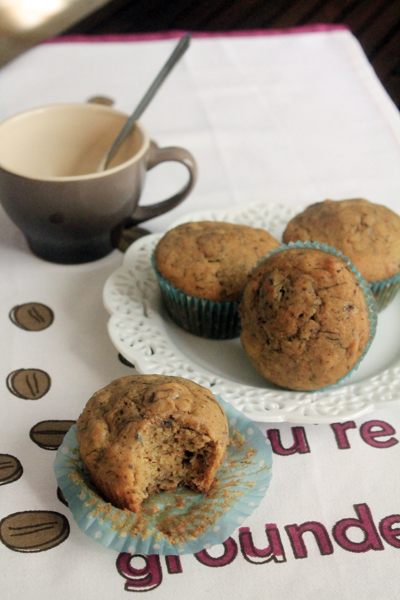 Let's talk more about these banana muffins. They're made with olive oil. Don't give me that face – I was just as dubious. Combined with the white whole wheat, what you get here is an incredibly nutty muffin, whether you put the pecans in it or not.
I was terrified of ending up with little hockey pucks, because, you know, whole wheat – but the texture is perfection. Light, even.
I promise if you give 'em a shot, you'll really enjoy them. Bonus: they come together in about 15 minutes.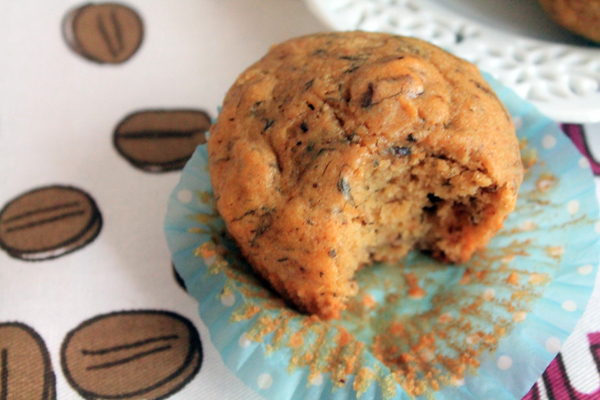 Whole Wheat Banana Muffins
makes 12 muffins
adapted from Food.com
Ingredients
1 3/4 cup King Arthur Flour White Whole Wheat Flour
1 teaspoon baking soda
1/2 teaspoon kosher salt
1/3 cup olive oil
1/2 cup Truvia Baking Blend
2 large eggs
1 cup mashed ripe bananas
1 teaspoon vanilla extract
1/4 cup hot water
1 cup chopped pecans (optional)
Directions
Preheat oven to 325°F.
Combine flour, baking soda, and salt. Use a whisk to evenly combine them and aerate the flour.
In the bowl of a stand mixer, combine olive oil, Truvia Baking Blend and eggs. Beat well.
Mash bananas in a measuring cup until you have 1 full cup. Add to the wet ingredients in the stand mixer, and beat again.
Add dry ingredients to the wet in increments, mixing after each addition, and alternating with hot water.
Add one cup chopped pecans, stirring in by hand.
Line a 12 muffin cup pan with paper liners, and spray both the liners and pan lightly with non-stick cooking spray.
Bake for 19 minutes, or until the muffins are golden brown and slightly firm to the touch. A toothpick inserted into the center of a muffin should come away cleanly, with no batter.
Allow to cool for 5 minutes in the pan, then remove to a cooling rack and allow to cool completely.
Enjoy!
Note: You may substitute 1/2 cup honey, sugar, or maple syrup for the Truvia Baking Blend. I used Truvia because my husband asked me to.

[wpurp-searchable-recipe]Whole Wheat Banana Muffins – – – [/wpurp-searchable-recipe]