How do you say thank you adequately to friends that make a secret, silent dream come true?
I'm not really sure there is a way, but if there is, I think I'd start with this Peach Crisp.
It also has nectarines and plums, and is made with a whole lotta butter and love.
Over the last two weeks, friends – all brought into my life through food blogging – threw baby showers for me in person and online.
I have to tell you guys, I've long felt about baby showers the way others might feel about being a bridesmaid – very much, "Always the bridesmaid, never the bride".
I've thrown them, I've attended them, I've baked for them, but really and truly, I didn't think I'd ever have one myself.
Not only because we weren't sure we'd have kids, but because when we moved to New Jersey back in 2006, we did not know a soul in this area.
I worked from home, all of James's coworkers were years older than him and in a very different life stage.
It was so difficult to meet new people for the first few years we lived here.
Baby showers are such an intimate thing, it was hard to imagine ever making local friends that would throw a party for my baby and me.
And then I started Bluebonnet Baker, and I can honestly say, our lives changed for the better.
The people this little blog has brought into my life – each and every one of you – has been a gift I never could have expected.
I know I'm extra sappy right now because of all the pregnancy hormones, but I do mean what I say. The friendships I've formed through food blogging have been immeasurable.
And so, I'll tell you about this crisp. Karen made the original version, from Ina Garten, for the baby shower Mary Kay, Kate, and Stephanie held, (under guise of a pool party!), a couple weeks ago.
While their kids splashed in the pool, jumped on the trampoline, and held tea parties, we sat in the shade, catching up with each other and enjoying every kind of delicious thing you'd imagine a group of food bloggers would bring to an in-person shower.
Sweet, extra fruity from in-season plums, with crumbly topping that you could just tell was abundant in butter – you can bet I fell hard and fast.
Also of extremely special mention, the cupcakes Mary Kay made – from my best friend Jamie's site. It was like having her there too, and I think Mary Kay knew it. What a way to make a girl feel special!
It wasn't until the next day, when Karen's husband, Chris, posted a link to the recipe on Facebook, along with the fact that his coworkers were tripping over themselves to get more of that crisp, that I became determined to make it.
Especially once I looked at the ingredients list.
No wonder I was so in love! There's booze in it. To a pregnant girl who has abstained for the last year, baked in booze with the alcohol cooked off is like a dream come true.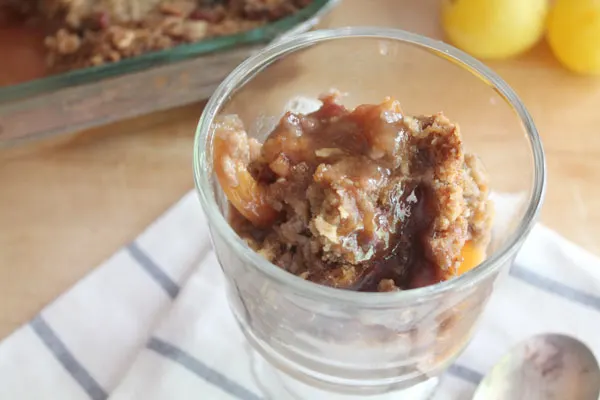 Enter my CSA, and the copious amounts of peaches, nectarines, and plums we've received over the last few weeks.
White, yellow, purple, and golden are all colors used to describe the fruit that went into the casserole dish. Ina's original recipe calls for Creme de Cassis, which is definitely a great match for just plums.
But the lighter taste of peaches called for something else, something lighter itself. Enter my one true liquor obsession, St. Germain.
If you've never had St. Germain, you must try it. It's described as an Elderflower cordial, a flavor that's very popular in England as both a fruit squash (kind of like kool-aid) and soda flavor.
It's flowery, but not perfume-y. Sweet, but not cloying. And by far my favorite thing to pair with prosecco, so why not peaches, plums and nectarines?
Chris and Karen will tell you (as they received our extras), this is one bubbly baked dessert not to be missed.
Use all of summer's bounty. Toss your favorite stone fruits into a casserole dish, and then bask in the glory as everyone who takes a bite falls head over heels the way I did with my first bite of Karen's version.
As a bonus, this recipe takes about 15 minutes from start to finish. I didn't peel my stone fruits – there's no need.
The thing that took the longest was slicing the fruit into 1/2″ slices.
Before we get to the recipe, do me a favor? Visit each of the tear-inducing posts below (though that may just be applicable to me).
These wonderful women took the time to celebrate James, me, and the baby we're expecting. I would be so grateful if you'd show them some love.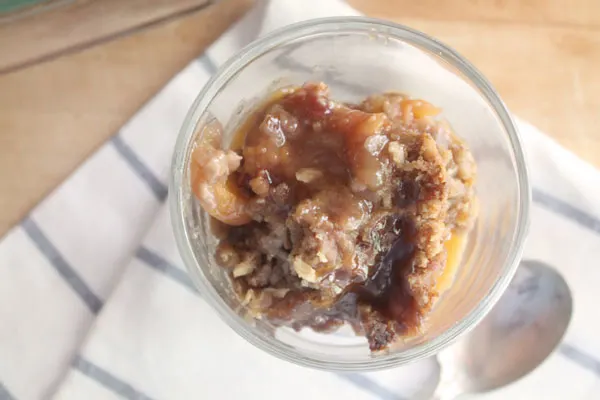 Tracy, Jen, and Jamie – thank you for organizing something I will remember for the rest of my life.
Aimee, Megan, Shaina, Christina, Kristan, Cheryl, Miss, Jeanne, Wendi, Kate, Emily, Callye, Amanda, Steff, Shelly, Brenda, and Steph – thank you for being the friends I can't imagine my life without, and for celebrating Evan.
It means so very much to me. I love y'all to pieces.
Sugarcrafter | Breakfast Tostadas
My Kitchen Addiction | Baby Texan Cookies
My Baking Addiction | Texas Sheet Cake
Simple Bites | Grilled Shrimp Tacos with Charred Corn Salsa
Stetted | Queso Mac
Food for My Family | Texas Pepper Barbecue Sauce
Dessert For Two | Frito Chocolate Chip Cookies
Confessions of a Cookbook Queen | Coconut Tres Leches Layer Cake
TidyMom | Pizza Bread Sticks
Miss in the Kitchen | Blackberry Milkshakes
Art of Gluten Free Baking | Peach-Pecan Pie, Gluten-Free
Bon Appetit Hon | Cheddar Ranch Crackers
Food Babbles | Southern Pecan Pie
Jelly Toast | Peach Iced Tea
Sweet Adventures of Sugarbelle | Decorated Elephant Cookies
i am baker | Texas Brownie Cake
The Kitchen Trials | Dranny's Banana Pudding
Cookies & Cups | Sticky Toffee Pudding Cookies
A Farmgirl's Dabbles | Peanut Butter Bonbons the Size of Texas
Steph Chows | Fiesta Dip