I'll admit, I've been slow to jump on the Pinterest bandwagon. It seemed like one more social network thing to keep up with (I already gave up on Google+ for just that reason), and to be honest, the older I get, the more I realize time away from a digital screen is important.
But I couldn't ignore the traffic Pinterest sends me thanks to kind people pinning my photos, and I've seen some really fabulous ideas pinned by friends that have inspired me for decorating when I get back home, and recipes I want to make.
Then someone showed me how to see what pins have been pinned for your domain name (http://pinterest.com/source/yourdomainname.com/).
I was astounded and dismayed to see a bunch of pins with my entire recipe (ingredients AND directions) copied into the pin text.

I had two problems with this:
1) Repins of pins with the entire recipe in the pin text give little reason for someone to visit my site for the original content, meaning lost traffic
2) While ingredient lists aren't copyrightable, recipe directions are. My copyrighted material was being taken, with little regard for me, or the fact that by doing that, both Pinterest and I might get into issues with Google and duplicate content.
There has been quite a lot of controversy surrounding Pinterest lately with regards to how they store photos, how repins work, and whether it's copyright infringement to pin a photo at all without emailing the photo owner first.
On that last point, I'll say this – I'm providing a "Pin It" button on my most recent posts. As far as I'm concerned, that's my blanket permission for you to pin my photos. But if another blog doesn't do that, you might want to refrain from pinning their photos, and bookmark the page instead.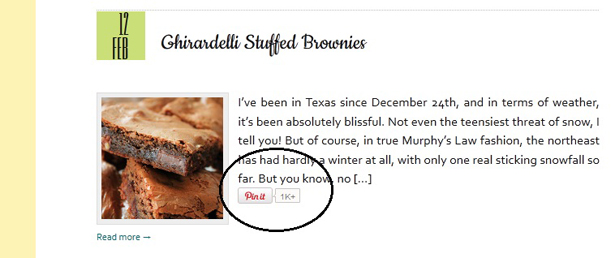 Hoping to address this issue in a proactive way, Pinterest just this last week introduced a way for you to prevent people pinning from your site. Check out this article for more info.
But my main issue was those pin texts. It really got my goat that the posts I spend hours on were being copied and pasted willy-nilly, with little regard for me or my feelings, or the cost of maintaining this blog.
I don't make much off Bluebonnets & Brownies – enough to cover my hosting and some ingredients. If you calculate in the cost of my new laptop (my old one literally DIED a death), my nice camera, the baking supplies outside of flour, sugar, butter and vanilla extract – I'm in the hole quite far.
I'm okay with that for the most part because B&B has been a hobby for me for quite some time. But since I've been laid off, money is tight, and any little bit I bring in from B&B is vital.
So yeah, it really – frankly – pissed me off that someone would think it's okay to copy and paste my recipe into the pin text.
Just like it's never okay to copy an author's work word for word into your research paper without attribution, it's never okay to copy and paste an entire blog post for your own uses either.
After a few tweets about the issue, I saw that a lot of my fellow food bloggers were feeling the same way. My personal solution (and I'm not the only one to think of it) to the issue: a character limit on the pin text.
I get that a lot of people on the internet just don't know better. But Pinterest does (or should, it's their responsibility as a company to know). So it's in their best interest – in terms of time spent policing pins and copyright infringement lawsuits – to help us out.
A quick poll of people out in internet land found that while some people got quick responses and removals of pins, others did not. Back then, I didn't know if this was because of Pinterest's incredibly fast growth, or simply a lack of caring that caused the inconsistency.
Which is why I logged on to SignOn.org and created the "Character Limit on Pinterest Pins" Petition.
Some folks actually felt I was being ungrateful to Pinterest by creating a petition, and told me so. (I guess because petitions have a negative connotation?)
In my opinion, if an entity is making money off your content, you have a right to ask for limitations to protect your own interests. That's not ungrateful, that's just good business.
It's also really hard to organize that many bloggers without a central location for sentiment – a petition seemed like the easiest solution.
Following my mantra for life, "First you must always be nice", I did my best to word the petition politely and thoroughly, simply asking that Pinterest help us protect our content by imposing a character limit.
I started the petition around 10 p.m. on Sunday night, February 12th. By 10:30 p.m. on Monday night, we had reached just over 500 signatures from bloggers around the world. I downloaded a PDF of the petition then and there with everyone's signatures and comments and sent it to Ben Silbermann, CEO of Pinterest.
As of February 15th, Pinterest instituted a 500 character limit on pin text.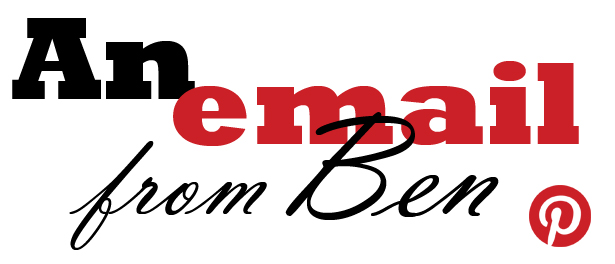 With Ben's permission, I am sharing the response I received this past Saturday:
From: Ben Silbermann
Date: Sat, Feb 18, 2012 at 11:15 AM
Subject: Re: Copyright Infringement in Pin Text
To: "Bracegirdle, Amber"

Hi Amber,

Thanks a lot for your thoughtful note. I just wanted to let you know that there is now a character limit in place on pin descriptions. We think it goes a long way to addressing the concerns you brought up.

We noticed that really long descriptions were bad for everyone. They interrupted the visual flow of pinboards and, as you point out, reduced the need to click through to the original source of a pin. A goal of Pinterest has always been to help people discover new things out on the web and out in the world that they've never seen. It's so exciting for us to hear that that Pinterest is driving meaningful traffic to publishers.

To create a character limit we weighed a lot of factors. We reviewed pins that had generated complaints and also looked at longer descriptions that were written by thoughtful pinners. We took a look at other character limits on Google search results, News descriptions, and Twitter (It was cool to learn that Twitter picked 140 partially because it let people SMS every single tweet!)

A few days ago, we put in a 500 character limit. We thought this was a good starting point. For instance, the recipe section of your Ghirardelli Brownies (which I totally want to try) is about 2,400 characters. So, I could write about how delicious they look, where I want to eat them, and who I want to make them for, but couldn't paste in the whole recipe.

It's only been a few days but we think it's a good start. So far, it helps address the individual pins that site owners were concerned with, but also preserves longer descriptions that Pinners are writing about why they love a particular pin.

We really appreciate the feedback. Thanks so much for using Pinterest and have a nice weekend.

Ben
My thoughts:
Pinterest is clearly a user-driven company. They care about the user experience, and want to resolves any conflicts that arise. The Pinterest team took the time to read our petition and evaluate the best possible solution for both content creators and Pinterest users. Any lack of response was probably down to an overwhelming amount of emails.
They did not take offense at the petition, but rather were happy that we cared enough to tell them how important this issue is to content creators. By using a petition, we were able to be one voice, one email, one message, making it easier for Pinterest to act on our behalf.
I'm so happy that Pinterest is a company that appreciates their growth as something that was, in part, driven by content creators who are also users.
As with any start up company, there will be growing pains – issues that arise that you couldn't foresee when you started.
I'm happy to see Pinterest facing those growing pains head on and head up.
If you'd like to read more about this from Ben, check out the Pinterest Blog.[wpurp-searchable-recipe]On Pinterest – – – [/wpurp-searchable-recipe]