Last week was pretty crazy around here. Between celebrating B & B's anniversary, and dealing with a very sick cat that ended up in the Vet ER for several days, I thought I might lose a little bit of my mind.

Milo before he got poorly sick, on his favorite blankie. It used to be my Nan's.
This week, Milo is back home and well again, thank goodness. But I was definitely still feeling a little frayed around the edges. I definitely needed a minute to myself, just to indulge and take a breath.
At the same time, I got an email about the new International Delights look, and remembered back to those gorgeous Caramel Macchiato Scones I made last November. They're still one of my favorites.
It's been a few weeks since I've been able to commit to some hard core baking. I think this is part of what contributed to my edginess. Baking is a form of stress relief for me. Yup, pretty weird, I know.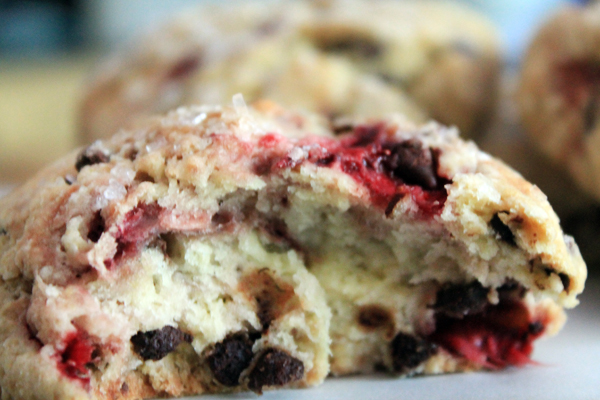 So I took to the kitchen. Combining fresh strawberries we picked at the weekend, mini semi-sweet chocolate chips, and International Delights French Vanilla coffee creamer, the resulting Neapolitan flavored scone absolutely made my day.
The strawberries burst with sweetness, and the chocolate chips bring out the mellow undertones of the French Vanilla. It's everything you love about Neapolitan ice cream in a happy little scone.
I took my stolen moment of coffee bliss (Green Mountain Coffee Vermont Country Blend) with a spot of French Vanilla creamer and a Neapolitan scone. Exactly the time I needed to regroup and take on the week.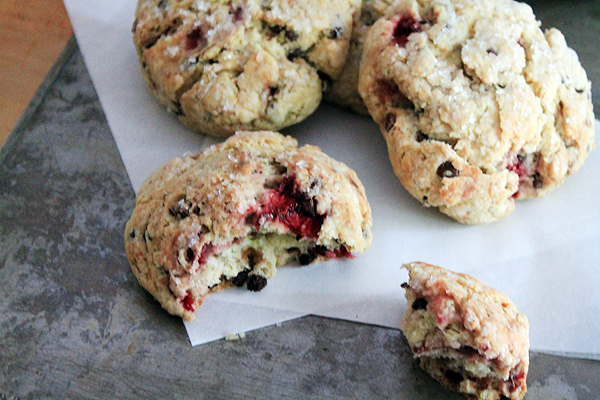 Check out International Delight's new Coffee Creamer packaging on Facebook!
Enjoying a coffee at home will be even more special for 4 lucky winners! Enter to win $1000 toward your dream kitchen and an International Delight Coffee break Kit, by completing these two steps:
1) Re-pin my coffee moment photo on Pinterest
2) Come back! In the comment field below, tell me you pinned and share your special coffee moment.
This is a sponsored conversation written by me on behalf of International Delight June Sponsored Conversation. The opinions and text are all mine. International Delight Sweepstakes and Rules.
Neapolitan Scones
Combining strawberry, vanilla, and chocolate into one delicious treat.
Ingredients
4 cups all purpose flour
1/3 cup sugar
1 teaspoon baking powder
1/2 teaspoon baking soda
1/2 teaspoon kosher salt
8 tablespoons (1 stick) unsalted butter, frozen
1/2 cup fresh strawberries, diced small
1/2 cup semi-sweet mini chocolate chips
1/2 cup International Delights French Vanilla Coffee Creamer
1 egg
Sparkling Sugar for garnish (optional)
Directions
Preheat the oven to 350°F.
Combine flour, sugar, baking powder, baking soda, and kosher salt together in a large bowl. Use a whisk to mix well.
Using a box grater, grate frozen butter onto a plate, then pour into the flour mixture. Whisk again to evenly distribute the butter throughout.
Add strawberries and chocolate chips and use a spatula to mix in gently.
Measure out creamer into a large measuring jug. Crack egg into the creamer and whisk to break the egg and completely mix it into the creamer.
Add the egg-creamer mixture to the flour-butter mixture and lightly stir until just combined.
Turn out the dough onto a floured surface and pat into a disc about 8″ in diameter and 3/4″ thick. Using a knife dipped in flour, cut the disc into 8 triangles.
Separate the triangles. You can shape them into rounds like I did, or bake them as triangles. Entirely your preference.
Bake for 27-29 minutes, until scones are slightly golden.

[wpurp-searchable-recipe]A Stolen Coffee Moment – – – [/wpurp-searchable-recipe]