You know what's really awesome? Being friends with super smart people. I don't claim to be the smartest person on the block, but I do claim to know some of them. Case in point: Shaina Olmanson.
Shaina and I've been friends for a while, meeting in person for the first time at BlogHer Food in 2010. I noticed her out of the corner of my eye, and kid you not, thought she was 18. I know it drives the mother of four crazy, but she really does look like a gorgeous girl no older than 20.
So let me tell you about my friend Shaina. She's wicked smart. She was once a musician, though I've never heard her play (it's on my bucket list, actually). She has four great kids, and her youngest, Magnus, may have stolen my heart entirely. (Don't tell David, Ava, Noah, Mateo, Clara, or Reese!)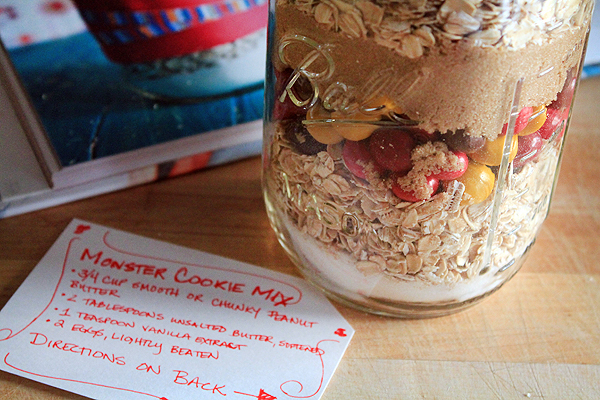 And quite simply, she's one of the best food writers there is. Seriously. Have you read her posts? If you're one of those folks that eyes the recipe and glances at the editorial, I beg you – don't do that over at Shaina's blog, Food For My Family. Every post is filled with beautiful prose that has inspired me, brought me to tears, or made me smile ridiculously (and sometimes all in the same post!).
You might have heard that Shaina wrote a book, called Desserts in Jars: 50 Sweet Treats that Shine. You might worry that 50 recipes of desserts in jars would get repetitive, or the writing a bit monotonous. I'm here to tell you unequivocally: Desserts in Jars is a book you want in your cookbook collection. Each recipe is unique, and each page is a pleasure to read. The photos are gorgeous, and I want to eat every single thing in it*
*I reserve the right to refuse to eat anything containing blueberries, of which there are only two recipes in the book. A win in my anti-blueberry column, if I do say so.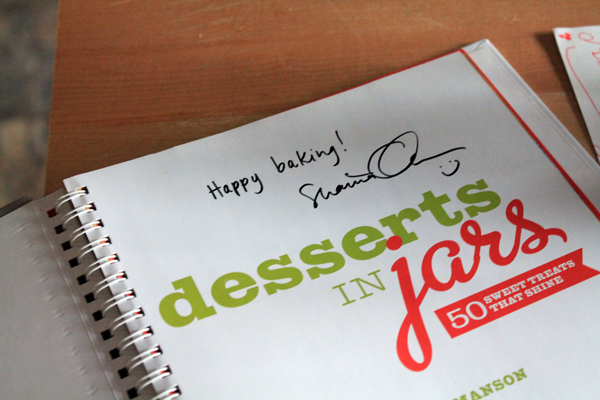 All that being said, one of my favorite things about the book is the section on make ahead mixes that can be given as gifts. Nothing says love like a homemade gift, and they aren't so hard on the pocketbook either. Combined with Shaina's book, you've got an excellent hostess gift or gift for a fellow cook in your life that they'll be delighted to receive.
How'd you like to win a signed copy of Desserts in Jars, plus the Monster Cookie Mix from the book, made by yours truly?
Now for the recipe so you can make your own Desserts in Jars gift!
Monster Cookies Mix
Ingredients
1/2 up granulated sugar
1 teaspoon baking soda
1/2 teaspoon salt
2 1/4 cup rolled oats
3/4 cup candy-coated chocolate candies or chocolate chips (I used Peanut Butter M&Ms)
1/2 cup packed light brown sugar
1/4 cup chopped walnuts
Directions
Wash and dry a 1 quart Mason jar.
In a small bowl, combine granulated sugar, baking soda and salt. Mix well, then pour into the Mason jar.
Top with 1 1/8 cup rolled oats. Add the candies in one layer, then the brown sugar. Add the remaining 1 1/8 cup rolled oats, and then the walnuts.
Close and seal the lid, and attach a label with the following instructions:
To Make Monster Cookies
3/4 cup smooth or chunky peanut butter
2 tablespoons unsalted butter, softened
1 teaspoon vanilla extract
2 eggs, lightly beaten
Preheat oven to 350°F. Combine peanut butter, butter, vanilla, and eggs in a large bowl. Add the contents of the jar. Use a cookie scoop to scoop 2″ balls, and set them on a parchment lined cookie sheet 2 inches apart. Bake for 12-14 minutes or until the tops of the cookies begin to brown. Cool on a wire rack.

---

-This giveaway is open to USA residents only and will run until Tuesday, December 18, 2012 at 11:59 pm EST.
-Winner(s) will be generated via a random number generator software program. Winner will be notified via the contact email provided on the comment contact form.
-Winner(s) will have until 12/20/12 to claim their Desserts in Jars giftpack or we will choose another winner.
-Winner will receive (1) autographed Desserts in Jars: 50 Sweet Treats that Shine book (1) quart jar recipe of Monster Cookies Mix made by Amber Bracegirdle. Product will be shipped by Amber Bracegirdle.
-This giveaway is in no way sponsored, endorsed or administered by, or associated with Facebook.
Disclosure:
This giveaway is provided to you by Amber Bracegirdle of Bluebonnets & Brownies. The book, jar, and ingredients were purchased by me. All opinions stated here are my own.
Links to Amazon contained within this post are Amazon affiliate links. If you click this link and then later buy something on Amazon, Bluebonnets & Brownies will make a few cents from your purchase.
[wpurp-searchable-recipe]Monster Cookie Mix & Desserts in Jars Giveaway – – – [/wpurp-searchable-recipe]