Sometimes, you just need something simple. And chocolate. And more chocolate. Mint Oreo Truffles aren't mind-blowingly complicated, or even all that original. A quick google search will show you all sorts of different versions of this treat.
The thing is.. I needed an excuse to buy Mint Oreos. I do my best not to bring stuff with High Fructose Corn Syrup in the house. I really do. I even tried the Newman's Own version of Mint Oreos, and hello toothpaste cookie! Blech.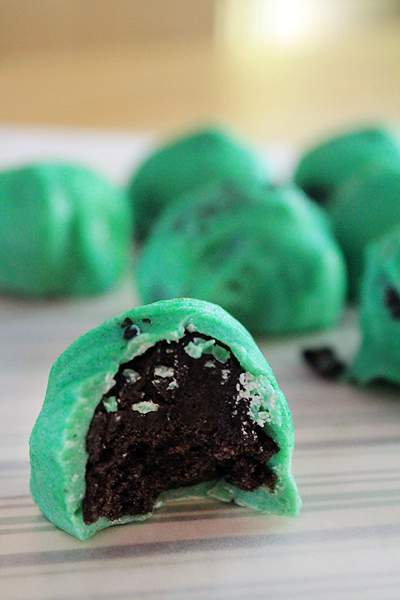 But Oreos are a weakness. And I wish they'd just take the HFCS out. Oh well – I guess it stops me from buying them too often. Well, except when I want to make Oreo truffles. I cannot tell a lie – we may have eaten two bags of Oreos before I finally made these truffles with the third.
At least that's three trips to the grocery store, three trips of trudging around, getting all annoyed and huffy with the dude in front of me that is taking up the whoooooole aisle while he decides between Cap'n Crunch and Just the Berries.
That should tell you, at least, that I really really wanted to make these for you! (And me.)
They're not the prettiest thing, because I'm simply not detail oriented enough to make them look like professional truffles. But they are easy if you don't care about getting perfect little bon-bons. And oh my, do they satisfy a craving!
I used a tray of Vanilla CandiQuik and some green gel food coloring to play off the mint in the Oreos, making clean up an absolute snap. But you could also use a couple bags of melted white chocolate chips instead.
Do you have a guilty pleasure snack?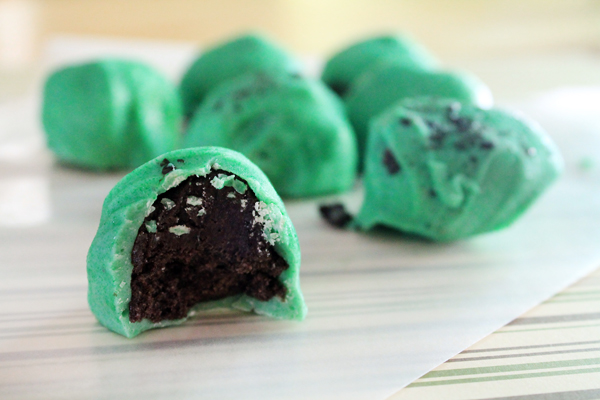 Mint Oreo Truffles
adapted from Chef in Training
makes about 40 truffles
Ingredients
1 package Cool Mint Creme Oreos
4 oz (half a block) cream cheese
White or Milk melting chocolate (CandiQuik trays or chips work fine here)
Wilton Gel Kelly Green Food Coloring*
*There are notes on the CandiQuik tray to not use water based food coloring because it can seize the chocolate, which means it doesn't melt nice and creamy. I assume they mean the kind you get to dye Easter Eggs, because Wilton Gel coloring worked fine. I don't know if Wilton's food coloring is water based or not, but my chocolate did not seize.
Directions
Toss all of the oreos, cream and all, into the bowl of a food processor and pulse until chopped finely. Remove a few tablespoons of crumbs if you want to garnish the top of your truffles with them.
Chop the cream cheese into 1″ squares, then add it to the bowl of the food processor as well. Pulse until all the cream cheese is mixed through.
Roll the Oreo mixture into 1″ scoops. I used a small cookie scoop for this. Place the scoops on a parchment-lined tray (no need to put space between each truffle), and when all the mixture has been used, pop the tray in the freezer for at least 20 minutes.
After 20 minutes, melt the chocolate to package specifications. If using chocolate chips, microwaving them in a glass bowl 30 seconds at a time, stirring after each addition until you have a smooth melted chocolate should do the trick.
Add a small amount of Kelly Green food coloring to the chocolate and whisk through, stirring so that there are no streaks. Keep adding small amounts until you get the color you desire. Remember that with gel food coloring, a little goes a LONG way.
Move all the truffles off your parchment-lined tray, but keep it nearby. Set up an assembly line for yourself: Oreo balls, chocolate, tray.
I used toothpicks to dip the truffles into the chocolate, but I don't recommend this. It was difficult for me to get them back out again! Either just use your hands (with gloves, if you prefer), or maybe a fork – lay the truffle on the fork, don't stab it – to dip into the chocolate. Cover the truffle on all sides and then place it on the tray to dry. Sprinkle with Oreo crumbs NOW if doing so, otherwise they won't stick later.
Work quickly, as the chocolate will eventually harden, and the truffles will eventually defrost. It should take you about 10 minutes from start to finish. Once done, I popped the truffles back in the freezer to make sure the coating was nice and hard.
Once done, they can be stored in the refrigerator. Ours lasted about a week before we ate the last one, and they were still fine at that point. You can also keep them in the freezer.

Amazon links within this post are created from an affiliate program. Bluebonnets & Brownies receives a small commission on products that are purchased through these links.[wpurp-searchable-recipe]Mint Oreo Truffles – – – [/wpurp-searchable-recipe]