Today is Mother's Day. I am not yet a mother, but three women who have shown me how it's done leave me no doubt that I will be a strong one when the time comes. And when I falter, they will be there to support me.
Who am I talking about? My mother, my nanny, and my sister. Today, my post is dedicated to them. They are three of the most precious women in my life, for a myriad of reasons. I hope by the end of this post, they know just how precious.

My mother has worked hard her entire life. She taught me the value of hard work, and that nothing worth having is worth having without the hard work to get it. Some of my favorite memories of my childhood, though, are when my mom allowed herself to be silly.
Family food fights, having a Friday night dinner of Haribo Gummi Bears and pigs in a blanket, or spending a weekend tubing down the Guadalupe. My mother is a fiercely proud mother, who expected the best from my sister and I, but was there with a helping hand when sometimes our best wasn't good enough.
My grandmother, my Nanny. It's almost hard for me to write about her, because so much of who I am is because of her. She gave us her love of adventure and really, of life. She and my grandfather used those summer RV trips to teach us about the world, about good manners, and yup – about cooking.
I'm certain I got my stubborn will (along with my green eyes and widow's peak hairline) from her. After all, this is the woman who married her husband in secret at the ripe age of 18, and then let the secret slip in a litany of curses and indignation when the unknown-to-her mother-in-law refused to let her borrow my grandfather's car.
She taught me that family is the most important thing in life, and the surest way to show your family that you love them is to take care of them – feed them, kiss their boo-boos, and offer a loan when your crazy granddaughter wants to go work for Disney World for a semester. She and my grandfather made my dreams come true more than once, and it's something I'm still trying to figure out how to thank them for.
My baby sister by 18 months, Chellee. We fought ever so much when we were little, culminating in a gigantic fight at ages 17 and 18 where my door ended up kicked off its hinges. Something changed that day. I'm not sure what, but suddenly we realized how much we loved each other. We've been best friends ever since.
I've never known a more caring, tender soul than my sister. She tears up at the thought of any injustice, but bawls at the idea of a child being wronged. She left a successful career as a graphic designer to follow her own dreams, and is now a labor and delivery nurse. She has more courage than anyone I know. She brought into the world two of the most gorgeous, beautiful, brilliant children I've ever met. She made me an aunt. How could I possibly explain to her what that means?
Mom, Nanny, and Chell – I wish I were home today to celebrate each of you as the wonderful mother you are.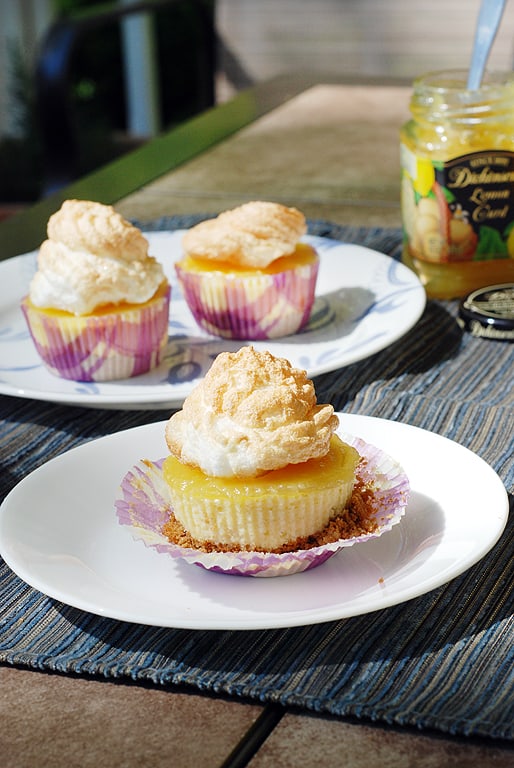 I called Mom yesterday to ask her what her favorite dessert in the world is. She answered quickly: cheesecake. Then I asked the same about Nanny. "Lemon Meringue Pie, without a doubt," Mom said.
Chell, I know your favorite is chocolate anything, but let's let Mom and Nan have this year's dessert. I promise to make something beyond chocolatey for next year.
Mom, and Nan, these Mini Lemon Meringue Cheesecakes are just for you.
Happy Mother's Day.
Love,
Am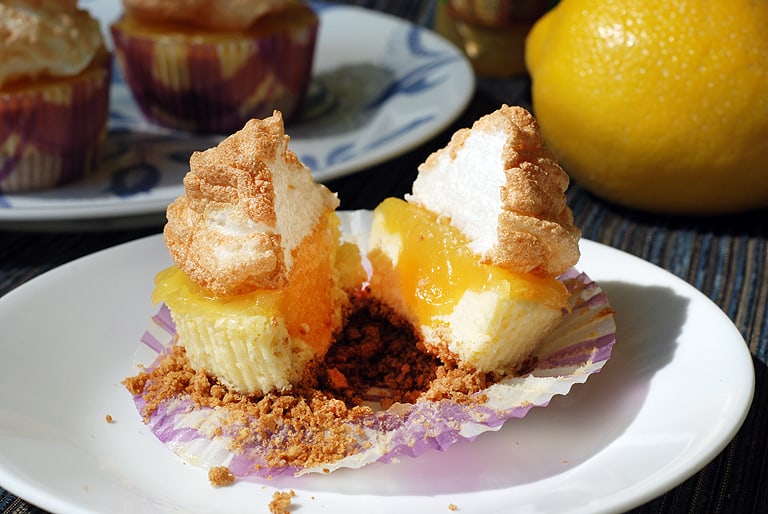 Mini Lemon Meringue Cheesecakes
Makes 6
adapted from My Baking Addiction
Ingredients
For the Cheesecake Bottoms
3/4 c. graham cracker crumbs
2 tbsp butter, melted
1/2 tbsp granulated sugar
3/4 tsp cinnamon
For the Cheesecakes
1 8 ounce block of cream cheese
1/4 c. granulated sugar
pinch of salt
1 tsp vanilla extract
1 large egg, room temperature
1 tbsp heavy cream
Lemon Curd
2 large egg whites
4 tsp granulated sugar
Directions
Preheat the oven to 350F. Line one 6 count muffin tin with paper liners.
In a small bowl, combine the graham cracker crumbs, sugar, and cinnamon, stirring to distribute evenly. Add the melted butter and continue to stir until the crumbs resemble wet sand. You'll see in the photo above, my crust got very crumbly. It is because I did not use enough butter. I have adjusted the recipe here for you to correct this.
Press about a tablespoon of the crumbs into the bottom of each paper liner, smoothing with the back of a spoon. Bake until set, about 5 minutes. Remove from the oven and allow to cool. Reduce the oven temp to 300F at this time.
In a medium mixing bowl, beat the cream cheese on a medium-high speed until light and fluffy, about 6 minutes. Beat in the sugar, salt, vanilla, and heavy cream. Beat in the egg, mixing until completely incorporated and smooth.
Spoon cheesecake batter into each paper liner to about 1/4″ below the liner edge. Bake for 20 minutes. Allow to cool to room temperature, then refrigerate for at least 4 hours. (I left mine overnight.)
You can make Jamie's microwave lemon curd, or you can purchase lemon curd at the grocery store (it's usually found in the jams and jellies section). Core each cheesecake, making a small hole in the middle of each one that stops before it reaches the graham cracker crust. You're really just making a well so that you can have more delicious lemon curd.
Preheat the oven to 350F.
Spread a thin layer of lemon curd onto the cheesecake, making sure to fill the well and make a smooth surface. Place in the refrigerator to keep cool.
In a medium mixing bowl on high speed, whip 2 large egg whites until they form stiff peaks – approximately 7-10 minutes. They should almost appear marshmallow like at this point. Add 4 tsp of granular sugar and mix again until fully dissolved. You can test this by rubbing a bit of the meringue between your thumb and forefinger. The meringue is done when you can't feel any sugar granules.
Line a baking sheet with parchment paper. Using a pastry bag with decorative tip, or a spoon, create mounds of individual meringue, roughly the diameter of your cupcakes, on the baking sheet.
Place in the oven for approximately 10 minutes, or until the meringues have browned to your liking. Remove and allow to cool for a few minutes, then slowly and carefully peel the parchment paper from the back of the meringue.
Top each cheesecake with its own meringue and enjoy!
This recipe was adapted to a smaller yield from Jamie at My Baking Addiction's Individual Cheesecakes with Orange-Cranberry Sauce. If you'd like to feed a larger crowd, simply follow Jamie's directions until you get to the step with the lemon curd. You'll need to increase the amount of egg whites and sugar for the meringue, but that's a simple math equation away, it scales easily to 24.

[wpurp-searchable-recipe]Mini Lemon Meringue Cheesecakes – – – [/wpurp-searchable-recipe]