Chocolate Mayonnaise Cake is the cake of my childhood. It's the chocolatey-est cake there is!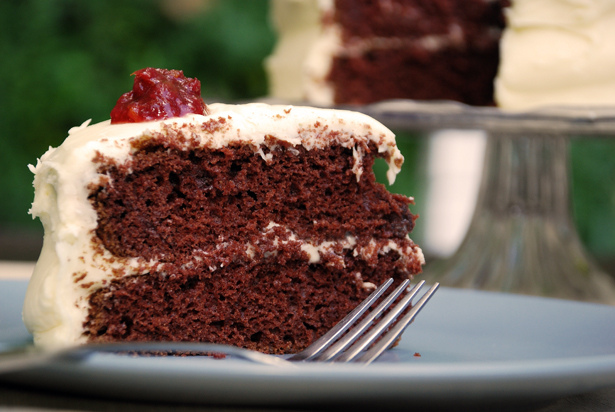 I know what you're thinking. Mayonnaise?! In cake? But I promise, it really is fantastic. A couple months back, I asked my Nan to pass me this recipe. It wasn't hers, it was my grandfather's. I hadn't eaten it since before he died, three years ago.
When I first made it after receiving the recipe, I had an epiphany. This is the reason that all other chocolate cakes I've tasted fall flat with me. This cake recipe defines chocolate cake for me.
Maybe because it was the chocolate cake of my childhood, or maybe because the mayonnaise and coffee marry to bring out the flavor of the chocolate in fantastic and unexpected ways.
All I know is when I'm craving chocolate cake, this is the recipe I will make, forevermore.
It's also great that this mixes together as easily as a cake mix. No need for a stand or hand mixer here unless you want to use one.
Frost it with your favorite icing. Gaga and Nanny always loved putting chocolate rum frosting over top, and that's still my favorite. But I used vanilla frosting in the photo because I had some left over from another recipe.
Chocolate Mayonnaise Cake
Ingredients
2 cups all purpose flour (for cupcakes, add 2 extra tablespoons of flour)
1 cup sugar
6 tablespoons cocoa powder – use a good quality like Scharffen Berger (for cupcakes, add 1 more scant tablespoon of cocoa powder)
1/4 teaspoon salt
2 teaspoons baking soda
1 cup mayonnaise – no substitutes
1 cup cold coffee – I used Green Mountain Coffee's Nantucket Blend
1 teaspoon vanilla
Directions
Sift together dry ingredients – set aside.
In mixing bowl combine mayonnaise, cold coffee and vanilla – add sifted dry ingredients, incrementally. Beat until smooth – scraping sides of bowl often. Pour into greased and floured 9 x 13 pan or 12 count muffin pan with paper cups. Bake in preheated oven 350 degrees. 25 to 35 minutes. Do not over bake.
Ganache Sauce
Ingredients
1 cup heavy cream
2 1/4 teaspoons unsalted butter
2 1/4 tablespoons cold coffee
1 pound semi-chocolate chips
chopped pecans for garnish
Directions
In heavy saucepan over medium heat put heavy cream, butter and coffee just to boiling point – Do not boil.
Remove from heat and add chocolate chips and stir with whisk until smooth. Spoon or pour sauce over individual portions of cake and serve. Garnish with chopped pecans and heavy whip cream
Alternatively, make your favorite chocolate icing. Now, add 1 shot of dark rum to it, and mix well. That's how we did it back in Texas.