Chocolate Mayonnaise Cake is the cake of my childhood. It's the chocolatey-est cake there is!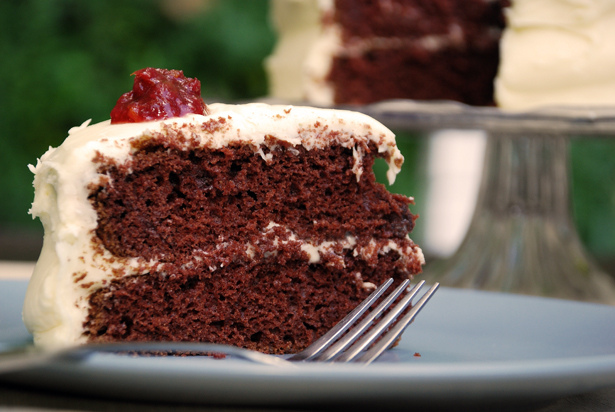 I know what you're thinking. Mayonnaise?! In cake? But I promise, it really is fantastic.
A couple months back, I asked my Nan to pass me this recipe. It wasn't hers, it was my grandfather's. I hadn't eaten it since before he died, three years ago.
When I first made it after receiving the recipe, I had an epiphany. This is the reason that all other chocolate cakes I've tasted fall flat with me.
This cake recipe defines chocolate cake for me.
Maybe because it was the chocolate cake of my childhood, or maybe because the mayonnaise and coffee marry to bring out the flavor of the chocolate in fantastic and unexpected ways.
All I know is when I'm craving chocolate cake, this is the recipe I will make, forevermore.
It's also great that this mixes together as easily as a cake mix. No need for a stand or hand mixer here unless you want to use one.
Frost it with your favorite icing. Gaga and Nanny always loved putting chocolate rum frosting over top, and that's still my favorite. But I used vanilla frosting in the photo because I had some left over from another recipe.