Is there anything better along-side some good barbecue or beef stew than a thick slab of warm cornbread, slathered with fresh butter? I'm going to guess the only thing might just be this maple cornbread.
I've been on a bit of a maple kick in recent weeks, well, a) because I am SO ready for Fall and Maple is just an autumnal flavor, but b) because one of my favorite Canadians ever, Aimee from Simple Bites, brought me pretty much a metric ton of Maple products when she came to visit in late July.
There's just something really great about a Canadian friend on your doorstep bearing Maple sugar and syrup, I assure you!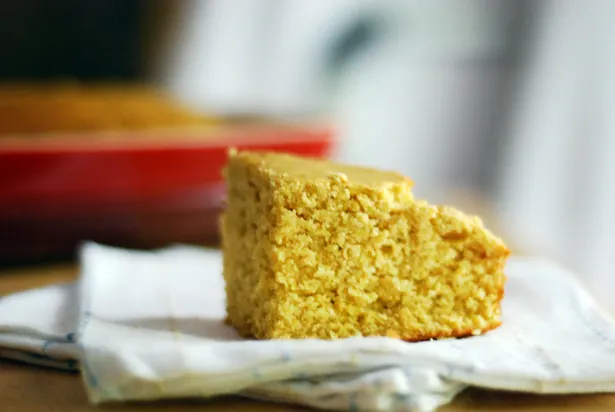 Maple syrup highlights the natural sweetness of corn in this bread without making it over-the-top, dessert-like sweet. When you add a little salted butter on top, it becomes that perfect combination of salty-sweet that makes your taste buds sing.
Some people say Southern people don't like sweet cornbread, but I think that's hogwash (or hogwarsh, as Nanny would have said). We like it plenty.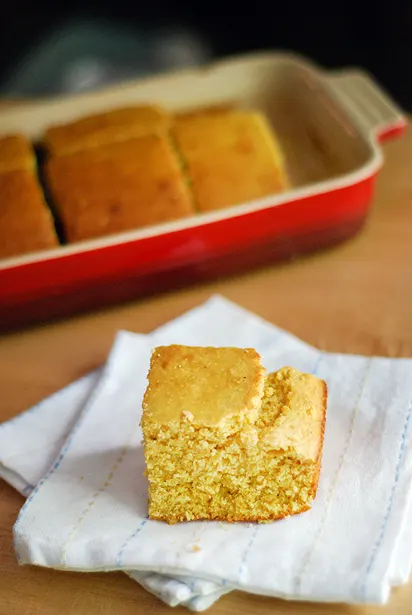 One of the things I love about a simple cornbread is how versatile it can be. You can bake it in whole pans, like I did for this recipe, or you can bake it in individual muffin tins for easy serving and freezing. You can add cheese, jalapenos, or even a can of fresh corn to liven up the texture. Or you can leave it simple.
Later this week, I'm going to show you a fun breakfast recipe using cornbread muffins that just might knock your socks off. You can use this recipe, or you can simply go with a box of Jiffy mix. But if you're really after something special, make this recipe. It's no harder to put together than the Jiffy box anyway!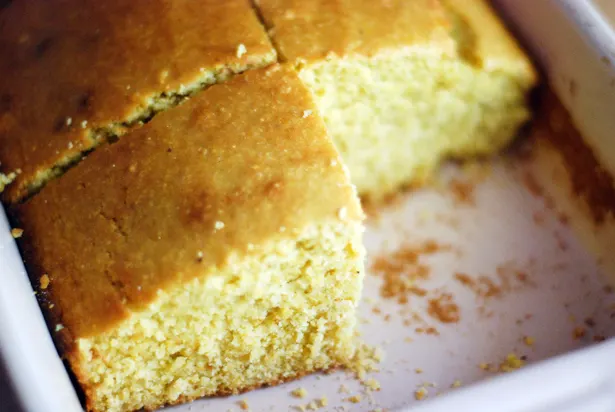 Maple Cornbread
Adapted from King Arthur Flour's Baker's Companion
1 1/4 cup King Arthur Unbleached All-Purpose Flour
1 1/4 yellow Cornmeal
1 tablespoon Baking powder
1/2 teaspoon Salt
1 cup milk
1/2 cup maple syrup
1/4 cup melted butter
2 large eggs
Preheat oven to 425F.
Spray muffin tin or small casserole dish (8×8 or 10×7) with cooking spray and set aside.
In a medium sized bowl, add the flour, cornmeal, baking powder and salt, whisking together until fully combined and aerated.
In a separate small bowl, add milk, maple syrup, and eggs. Whisk together until completely combined. Melt butter and allow to cool slightly so that it won't cook the eggs in the mixture, then add to the wet ingredients and whisk again.
Add the wet ingredients to the dry and stir until just combined.
Pour the batter into your chosen pan and then bake for 22-27 minutes, until golden brown. When pierced with a toothpick, the toothpick should come out cleanly.

[wpurp-searchable-recipe]Maple Cornbread – – – [/wpurp-searchable-recipe]