Who's ready for summer? See this girl, raising her hand right here? Yeah. I'm over being cold, I'm over taking a hot water bottle to bed like I'm 90, and I am definitely over looking at the chance of snow for the day.
Sure, I'm a whiner, I'll fully admit it. Some could say that NJ hasn't had nearly the hard winter we thought we would. But personally, I starting counting winter when we have the first freezing temps and snow, and that was way back in October, when we had no power from Superstorm Sandy. So yeah.. Winter? I'm over you!
I'm trying to chase away the winter blues by reliving one of our favorite trips in the past couple of years, to the Florida Keys. We had SUCH a blast driving from Boca Raton to Key West, and I can't remember anything quite so relaxing as wandering along the beach, a few chickens running around (yes, wild chickens!), sharing a frozen Key Lime Pie on a stick.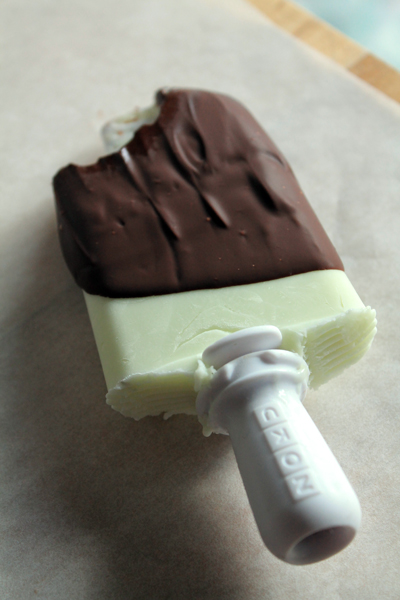 It was covered in a dark chocolate shell, and so perfectly refreshing on that hot day that it lives fresh in my memory nearly two years later.
Normally, I'm very much anti-chocolate-and-citrus, but there is something magical about the combination of lime and dark chocolate.
When yet another day of sub-freezing temperatures has me at my wit's end, I decided it was time for magic. Magic and Key Lime Pie.
Only, there's no room in my fridge for a whole pie, because I've got soups and stews taking up that real estate. I present to you my solution for winter doldrums and lack of fridge space: Key Lime Pie Yogurt Pops, covered in Dark Chocolate Magic Shell.
They're creamy, they're bright and full of lime, and they come together in mere minutes. If you're craving warmer climates, beach strolling, and the matching afternoon snacks, let these Key Lime Pie Yogurt Pops take you away to where palm trees sway and chickens roam free in the streets.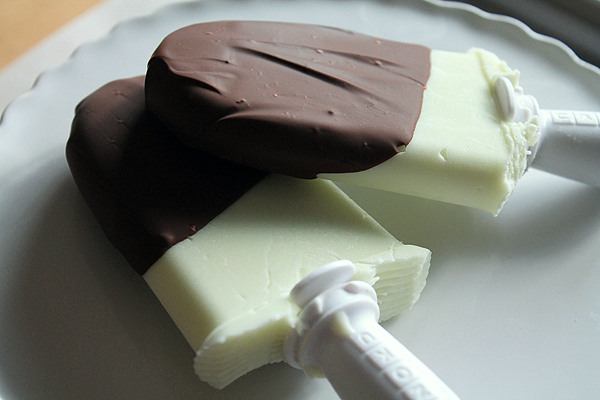 Key Lime Pie Yogurt Pops

with Dark Chocolate Magic Shell
makes 6 Zoku pops, or approximately the same in Dixie Cups
Ingredients
2 6 oz cups of Original Key Lime Pie Yogurt (I used Yoplait)
1/4 cup heavy whipping cream
1/4 cup granulated sugar
1 tablespoon Key Lime juice (or regular lime juice)
For Magic Shell
1/2 cup dark chocolate chips
1 teaspoon canola or vegetable oil
Directions
Measure 1/4 cup heavy whipping cream into a large measuring jug (mine was 2 cups). Add the contents of both pots of yogurt.
Whisk together until well mixed, then add sugar and lime juice and mix again until sugar is fully dissolved, about 3 minutes.
Pour Key Lime mixture into Zoku or any popsicle molds. Place in the freezer until frozen solid. About 10 minutes for the Zoku, about 2 hours for any other mold or dixie cup.
When the pops are fully frozen and you're ready to eat them, make the magic shell. Place 1/2 cup semi-sweet or dark chocolate chips in a microwave safe bowl and microwave 30 seconds at a time until the chocolate melts completely when stirred with a spoon. Remove from the microwave and add the teaspoon of oil, mixing it in completely with the chocolate.
Allow to cool just slightly, then dip each pop into the chocolate. Set aside on wax paper to allow to harden. Eat immediately and think of the Florida sunshine!

[wpurp-searchable-recipe]Chocolate Dipped Key Lime Pie Yogurt Pops – – – [/wpurp-searchable-recipe]