If you love to bake, I hope you know who King Arthur Flour is. I've waxed poetic on why their flour is some of the best in the business, and they're the only flour I use in my kitchen. Did you know King Arthur Flour has a blog too? The talented bakers at King Arthur Flour take to WordPress and post some pretty awesome recipes each week.
When PJ Hamel's Quick Beer Pizza Crust came through my RSS feed, I knew I had to make it. I've had years of pizza experience – worked for some famous chains and some family owned pizza restaurants all through high school. But it'd been a long time since I felt the pillow-y softness of perfectly proofed dough in my hands.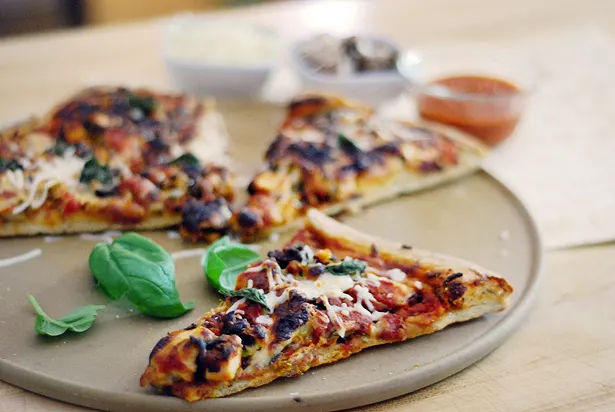 Kneading dough can be a fantastically cathartic experience. Making this pizza crust brought back all those friend-filled after-school-job days, the days when I first realized I simply loved making food for people.
The addition of beer in pizza crust is both inspired and insane. Insanity in that James and I could NOT stop eating it.
You can use any pizza toppings you'd like, but I highly recommend our choices: marinara sauce, leftover grilled curry chicken, diced small (we used a pre-marinated package from Trader Joe's), mushrooms, fresh basil, and lots of cheese.
Quick Beer Pizza Crust
From King Arthur Flour
Makes 1 large pizza or 2 smaller
Ingredients
4 cups King Arthur Unbleached All-Purpose Flour
1 tablespoon Pizza Dough Flavor, optional
2 teaspoons instant yeast
1 teaspoon baking powder
1 ½ teaspoons salt
2 tablespoons olive oil
12 fl oz room temperature beer (1 glass bottle)
Directions
Combine flour, pizza dough flavor (if using), instant yeast, baking powder, salt and olive oil in a large mixing bowl. Add beer and mix well to combine.
Knead the dough either with your hands or a mixer with dough hook. In the mixer, it should take about 7 minutes to knead. By hand is longer, but more satisfying. Knead the dough until you have a soft, smooth dough – it should hardly stick to the mixing bowl or your hands.
Form the dough into a round ball and allow it to rise for anywhere from 30 minutes to 2 hours. Flatten the dough on a flat surface to de-gas, then separate into 2 dough balls or leave whole if making a large pizza.
Preheat the oven to 450F.
If you have a pizza stone, this is the place to use it. If you don't, use a large round or rectangular metal pan. Cover with a little olive oil.
King Arthur does this a bit differently, but I went back to my old school ways from that after school job. I set the dough in a little corn meal – this allows it to come off the stone or pan a bit easier. Then, I fold one hand over the other until they form sort of a triangle. Press your hands into the edge of the dough, about 1/2″ inside the circle. Press into the dough lightly, forming the crust edge. You should be able to turn the dough as you press, making your way around the entire pie.
When the edge has been pressed, pick the dough up. Holding it so that the flat of your hand is in the center of the dough, pass it back and forth between your flat hands, allowing it to rotate as you do. This should stretch the dough evenly. When you think it's roughly the right size for your pan, turn the dough down onto it.
You may need to stretch a bit more to fit the pan, but do this while the dough is on the pan, pulling it gently towards the edges.
Place the dough in the oven, sans toppings, for 5 minutes. Remove it from the oven and top as you see fit. If you place the toppings under any cheese, you'll have a less greasy pizza.
Bake until the cheese and crust turn golden brown. This can vary by the amount of toppings you use, so just watch it closely.
To recreate our exact pizza:
Quick Beer Crust Pizza Dough
Marinara sauce
Diced grilled curry chicken
Sliced baby Portobello mushrooms
Fresh Basil leaves, torn
Shredded Mozzarella cheese
Italian Seasoning herbs
Dried Oregano
Parmesan cheese
Salt
Pepper
Follow directions for dough, placing on pizza stone or pan. Top with marinara, then evenly distribute chicken, mushrooms and basil on top. Cover with shredded Mozzarella. Sprinkle with Italian seasoning herbs, dried Oregano, Parmesan, Salt and Pepper to taste.
Bake until golden brown.

[wpurp-searchable-recipe]Quick Beer Pizza Crust – – – [/wpurp-searchable-recipe]