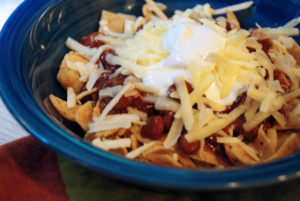 If you've seen or even heard of the television show Friday Night Lights, you might have an inkling as to how important local high school football is to Texan culture – especially South Texan culture. There are entire towns in South Texas where the *only* thing to do, talk about, or enjoy on a weekend night is the local high school football game.
I don't even like football that much (don't understand all the rules), but throughout my middle and high school days, I spent nearly every Friday night of the Fall out at our school district's football stadium, cheering on my school's team. (Go Raiders!)
In typical foodie fashion though, one of the things I looked forward to most was dinner comprised of snack bar food. The king of snack bar food at a San Antonio high school football game was and is Frito Pie.
There's not much 'pie' about it. It's the simplest thing in the world: Snack bar lady opens a lunchbox size packet of Fritos, adds chili and nacho cheese from the dispensers that are also used for the hot dogs, sticks a plastic spoon in the bag, and hands it to you with a fistful of napkins. Let me tell you something; nothing warms you and keeps you happy on a chilly Autumn night in San Antonio like a bag of Frito Pie.
I hadn't ever really experimented with making my own chili. I'm not really sure why, because it's deceptively easy. A few weeks ago, we were invited down to the Jersey Shore for the first time ever, to visit Nancy from Sensitive Pantry, and her husband, Andy.
If you follow Nancy's tweets (@SensitivePantry), you know that a) she's gluten and dairy free, and b) her husband Andy often makes his famous chili for dinner, as it's something quick and easy that she can eat and doesn't have to cook herself.
Andy made lunch for us that Sunday, cooking up a big dutch oven full of his famous chili. We enjoyed it with a lovely grilled salad, but I just knew that this chili was destined in our house for Frito Pie. He's a sweetheart, is Andy (truthfully so is Nancy!), and he willingly shared his recipe with me, so that I can share it with you. Thanks, Andy!!
Tell me, what are some of your hometown favorites?
Andy's Belmar Chili
Approximately 6 generous servings
1 tablespoon grape seed or vegetable oil
1 pound lean ground turkey
1 large onion, chopped
1 large green or red pepper, chopped
2 Jalapeño peppers, sliced
2 garlic cloves, minced
1 can (16 ounces) black beans, drained and rinsed
1 cans (16 ounce) pinto beans, drained and rinsed
1 can (16 ounces) red kidney beans, drained and rinsed
1 can (12 ounces) diced tomatoes
SPICE MIX
3 tablespoons Paprika
1 teaspoon Kosher Salt
1 teaspoon Cumin
1/2 teaspoon Thyme
1/2 teaspoon Oregano
1/2 teaspoon Cilantro (we used fresh, and upped it to 1 tablespoon)
Heat oil in a large dutch oven or soup pot over medium heat. Add turkey and 1 teaspoon of the spice mix, cooking until browned. Remove to a separate bowl with slotted spoon.
Add chopped onion, pepper and garlic to the pot and cook until tender, about 4 minutes.
Add all cans of beans, diced tomatoes, sliced jalapeños, and the rest of the spice mix to pot. (note: I also added 2 'cans' worth of water, as I didn't seem to have enough liquid). Bring to a boil over high heat, reduce heat to low, cover and simmer 20 minutes to blend flavors, stirring occasionally. Chili is even better the next day.
To make Frito Pie, layer approximately 1/2 cup of Fritos at the bottom of a bowl. Pour on chili, add shredded sharp cheddar and sour cream if desired. Eat with a spoon, preferably in cold weather while watching a local football game!
To make this dish gluten free and dairy free, omit cheese and sour cream. If you can tolerate goat cheese, I recommend Cyprus Grove Midnight Moon.
[wpurp-searchable-recipe]Frito Pie & Friday Night Lights – – – [/wpurp-searchable-recipe]