Independence Day is nearly here! Hooray for three day weekends, barbecues, and celebrating our Nation.
If James and I were in San Antonio this weekend, we'd be preparing for a weekend full of tubing, good beer, and of course, fajitas.
Do you know the history behind fajitas? Originally, skirt steak (what real fajitas are made from) was considered part of the "unusable" meat on a cow. By unusable, I mean that it couldn't be sold commercially because it was tough. So it was given to the cowboys, or Vaqueros, as part of their pay – along with plenty of other parts that housewives wouldn't buy. If you ever wondered where Barbacoa came from, now you know that too.

Fajitas are quick and delicious for any barbecue, and can be topped by just about any garnish you want. A recent poll on the Bluebonnets & Brownies Facebook page included guacamole, peppers and onions, and most interestingly – butternut squash or sweet potato cooked with garlic and cumin as favorite toppings!
I can't wait to try that last one. But most traditional to me are sour cream, cheddar cheese, crisp lettuce, tomato, and my favorite guacamole.
Make your Fourth of July into a taco party – throw some Fajitas and tortillas onto the grill, set out the condiments, and let your guests go to town.
Below is a simple marinade for your Fajitas. We marinate for at least 4 hours around here, and then grill to medium. Remember to cut across the grain after allowing the meat to rest to make the steak easier to chew in tacos.
My butcher didn't have skirt steak, so I substituted flank steak, which comes from a similar area on the cow. You can do the same if you wish.
Happy 4th of July, Friends!
I hope your holiday is filled with love, laughter, and lots of fireworks!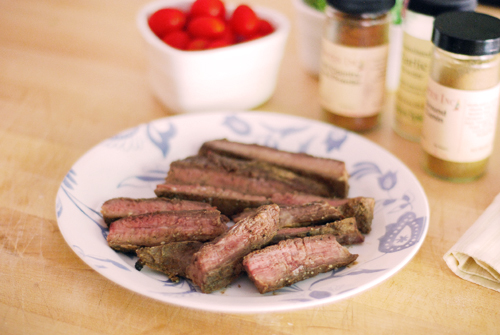 Fajita Marinade
For 4
1 lb Skirt or Flank Steak
Kosher Salt
Freshly Cracked Black Pepper
Cumin
Garlic Powder
Chili Powder
1/2 cup soy sauce
Worcestershire sauce to taste
Place steak in a casserole dish or baking tray with lip. Sprinkle liberally with salt, pepper, cumin, garlic powder, and chili powder on each side. This is entirely to taste. I go light on the chili powder, but heavy on the garlic powder and cumin.
Sprinkle each side with Worcestershire sauce, about 2 tablespoons for each side.
Place steak in a ziptop bag, cover with 1/2 cup of soy sauce. Roll bag, removing as much air as possible, and zip closed.
Leave in the refrigerator for at least two hours, but up to 24.
Grill to medium or medium rare. Slice against the grain. Enjoy with flour or corn tortillas, and plenty of fresh vegetable garnish.

[wpurp-searchable-recipe]Fajitas – – – [/wpurp-searchable-recipe]