James and I are huge fans of brinner. This hybrid of breakfast and dinner, brinner typically means we're having bacon and eggs or breakfast tacos around 8 p.m.
One of the highlights of brinner for me is that typically it takes little to no effort to accomplish, and we're always left feeling happy and full.
I spotted this recipe for "Grandma Mack's Breakfast Delight" on Sargento's website, and I knew we'd be having it soon, and we'd definitely be having it in the evening hours.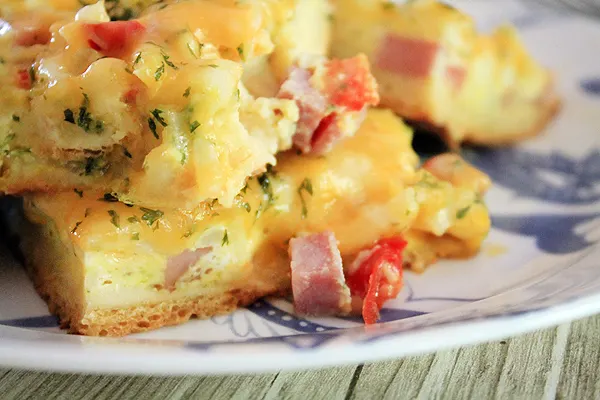 I'm not sure who Grandma Mack is, but I could kiss her. I really love how simple this casserole dish is, and the texture and flavors were not unlike the Panera Bread Soufflés I made last June.
If you're cooking breakfast (or brinner) for a crowd, Grandma Mack's Breakfast Delight will definitely do what it says on the tin. The fluffy eggs and deliciously bubbly cheddar jack on top are great on their own. But then you add that slightly crunchy, extra buttery crescent roll layer, and this is brinner perfection.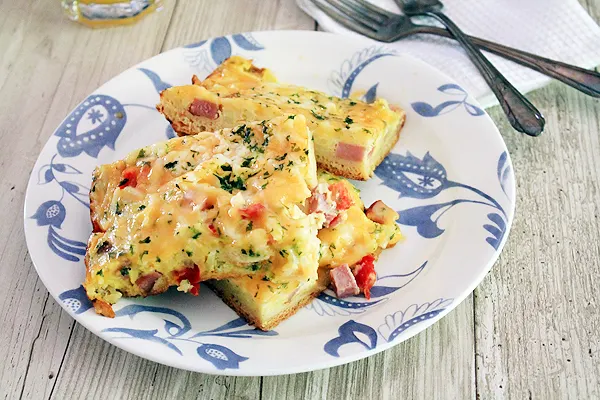 Much like an omelet, Grandma Mack's Breakfast Delight is customizable. I upped the ante by adding garlic and onion powder, fresh red pepper, and parsley.
What would you add to make Grandma Mack's recipe your own?
Grandma Mack's Breakfast Delight
adapted from Sargento
Serves 4-6
Ingredients
1 tube (8 oz.) refrigerated crescent rolls
2 cups cubed ham (I used two individually wrapped ham steaks)
2 cups frozen hash brown potatoes
1 red bell pepper, diced
6 eggs
1/2 cup milk
1 teaspoon garlic powder
1 teaspoon onion powder
salt and pepper to taste
1-1/2 cups (6 oz.) Sargento Fancy Shredded Cheddar Jack Cheese
1 tablespoon dried parsley or 2 tablespoons fresh parsley
Directions
Preheat the oven to 375°F.
Spray a 9″ x 13″ baking dish with cooking spray, then roll out the entire tube of crescent rolls and place it in the bottom of the dish. Do not tear the pieces apart – instead, pinch them together anywhere they seem to gap.
Dice the ham steaks into 1/2″ x 1/2″ cubes and then spread them evenly over the crescent roll dough. Add an even layer of the frozen hash browns next.
Follow with any additional toppings you fancy. We added fresh bell pepper to half the casserole because James is a fan, but I'm not.
In a medium bowl, whisk together the eggs, milk, garlic powder, onion powder, salt and pepper until well beaten.
Pour the egg mixture over the casserole. Top with Sargento Fancy Shredded Cheddar Jack Cheese, and then sprinkle parsley over the top.
Bake for 40 minutes, until eggs have set, cheese is bubbly, and when sliced, there is no liquid in the casserole.
Enjoy with orange juice, or a glass of white wine at brinner!
[wpurp-searchable-recipe]Grandma Mack's Breakfast Delight – – – [/wpurp-searchable-recipe]