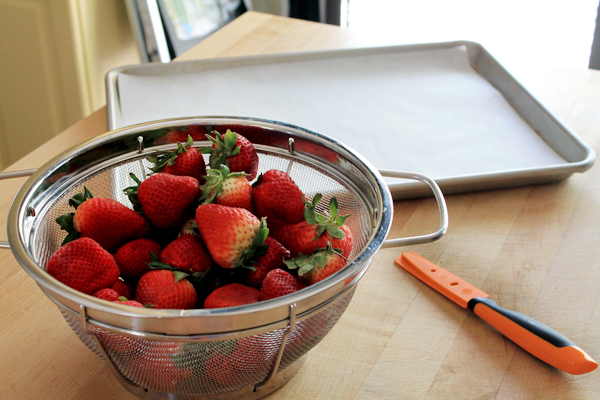 Flash freezing is one of those things that, once you know how to do it, you're going to do it with everything.
And you're probably going to want to go out and buy a bigger freezer. I know I did.
Flash freezing might sound technical, but it is a really simple process. You can flash freeze pretty much anything you want, from meats and poultry to fruits and vegetables – even cookie dough.

The secret to flash freezing is making enough space in your freezer for a jelly roll pan to rest comfortably for at least an hour.
Spring harvests are nearly upon us. You're going to want to know how to flash freeze so that you can buy pallets of your favorite fruits and vegetables, and have them year round for a fraction of the cost.
So I'll show you now how to flash freeze strawberries. This process applies to any berry. If you want to flash freeze something like zucchini, make sure you slice it or chop it into the chunk size you'd most likely use straight from the freezer bag.
Always make sure that you spread the pieces of what you freeze into one even layer. You may have to repeat this process multiple times to process all the produce you have, but freezing in a single layer is vital to avoid clumping, extra moisture, and eventual freezer burn.

Start by washing and drying the strawberries. Then hull or remove the stems of the strawberries. This step isn't technically necessary, but you should always remove anything on the item that you wouldn't want to use straight from the freezer in your cooking.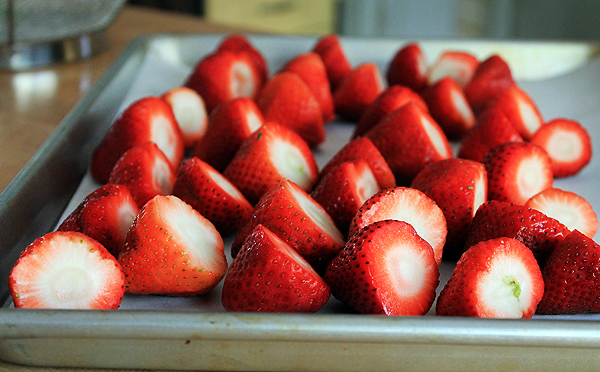 Spread the strawberries out on a parchment lined jelly roll pan or cookie sheet. It's okay if the strawberries are a little bit damp from the washing, but they should not be soaking wet.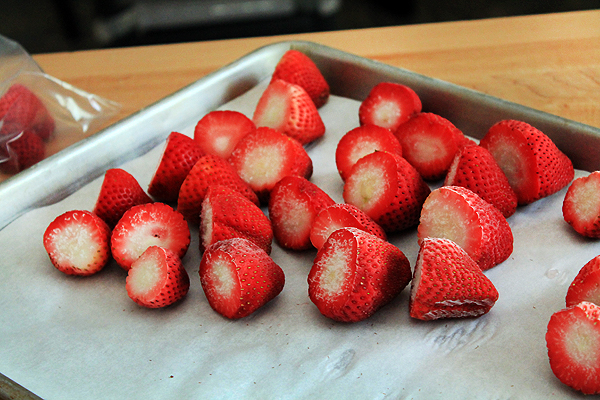 Place the strawberries in the freezer and allow them to freeze until they're solid, at least an hour.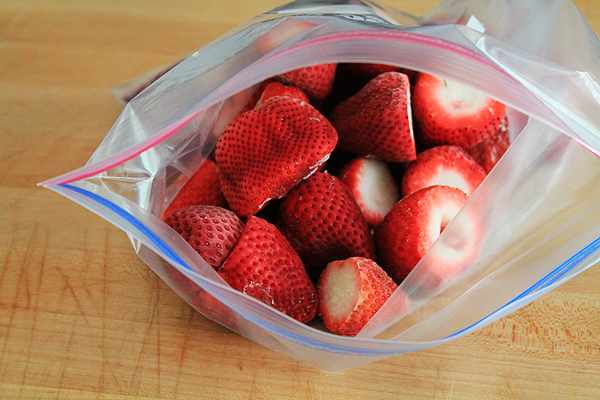 Once the strawberries are frozen solid, remove them from the freezer. Place the strawberries one by one into a ziptop freezer bag, and store in the freezer until ready to use.

You might be asking yourself why we take this extra step of freezing the items on a tray first. Flash freezing prevents items from sticking together in the freezer, and also helps prevent freezer burn.
I use this technique all the time on cookie dough too. Dish up the dough into perfectly formed scoops using a cookie scoop. Spread them out on a parchment lined baking tray, and freeze just like the strawberries. Once they've frozen, you can place them in a ziptop bag and put them back in the freezer.
You can bake them directly from the freezer, adding an extra minute or two to the baking time. And, because you're not locked into making dozens at a time, it's much easier to portion control yourself and bake only 1 or 2 cookies instead of 24! [wpurp-searchable-recipe]Nuts & Bolts: Flash Freezing – – – [/wpurp-searchable-recipe]