Cranberry Pumpkin Spice Scones combine my favorite flavors of Fall into one delicious treat. I eat them for breakfast and tea time, and you should too!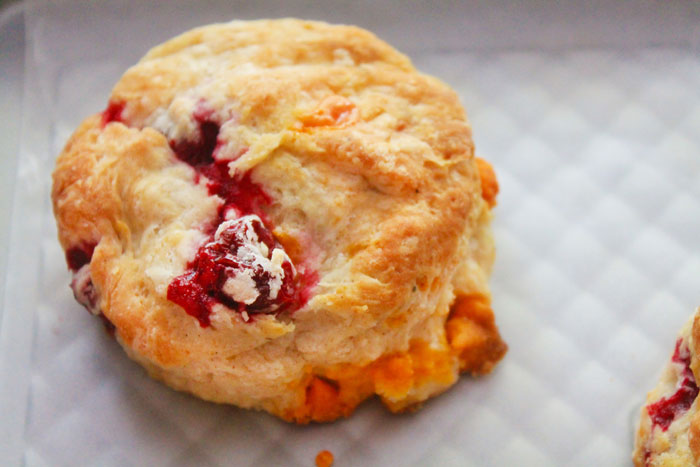 You know, I've come to realize that I miss baking. More often than not, I let the kid and the job come first, which of course, they should. But every mama needs a little "me" time, and my me-time really needs to be spent baking more often. Take these scones, for example.
I hadn't made scones in absolutely ages. Then I picked up these sweet little Pumpkin Spice chips from Target (oh, Target. Just shut up and take all my money!), and knew they had to go in something epically delicious.
In the past couple of months, I've had another thing taking up my time – physical therapy. Back in September, Evan and I fell in a pot hole (thank goodness, he was fine). I, however, fractured my ankle in two places, tore a ligament, and have a pretty deep bone bruise.
Between hobbling on crutches, then a giant black boot, then an ankle brace and PT three times a week, I feel like I sort of lost all of September and October, and just sort of barely held on.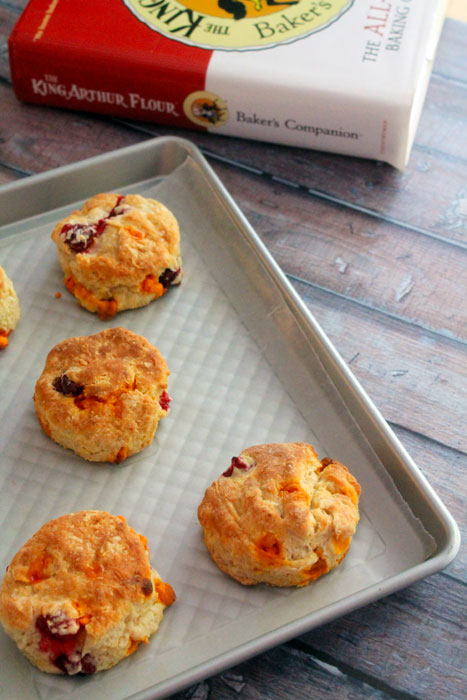 Through Evan's birthday party, traveling back and forth to Austin for a (fabulous) conference, all of it seemed ten times harder because of my dumb foot.
I'm glad to say that I'm finally on the mend, and moving towards having a minute to breathe, and maybe even a minute to BAKE.
These scones came about because my dear friend Paola was kind enough to help me with EJ a few days a week. "Baking scares me," she said. "Cooking is easier," she said.
I set about to prove her wrong, and I hope I did. Scones, like biscuits, are one of the easiest things you can make when it comes to baking. So long as you've got some frozen butter, you're halfway there.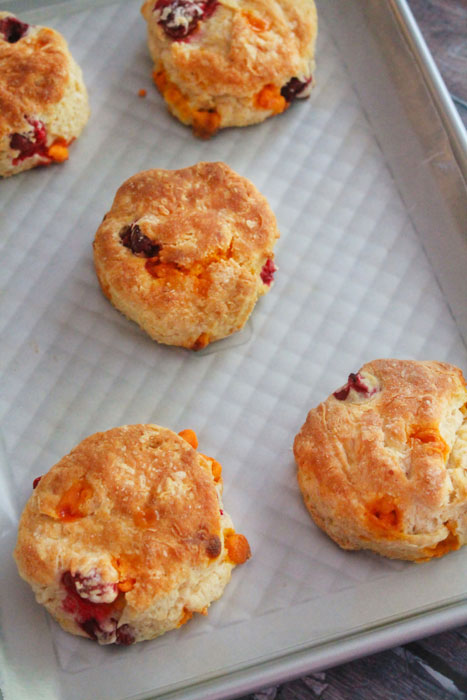 We added fresh cranberries because they're one of my absolute favorite berries to bake with, especially this time of year – though if I'm honest, I'll happily bake with them in July. Baking transforms fresh cranberries.
They get sweeter, and they burst forth with their tart, tangy flavor in an irresistible way.
The basis for this recipe comes from the King Arthur Flour Baker's Companion All Purpose Baking Cookbook. (That's an affiliate link – Amazon will give me a few pennies if you buy something from them after clicking it.)
I highly recommend having this book in your collection if you like baking even a little bit. There are so many tips, tricks, and solid recipes. It's a tome worth having.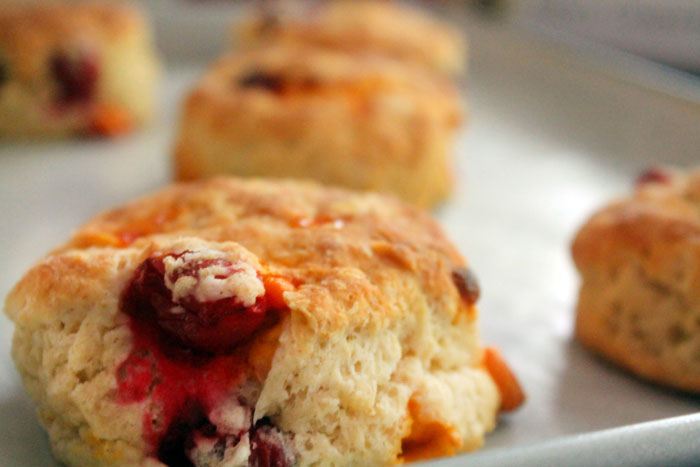 If you can't find the Pumpkin Spice baking chips, feel free to swap in any type of chips you like. White Chocolate Chips would be lovely.