On Saturday, my nephew David turns 5. Five years ago, my husband and I had just disembarked from a cruise ship, and barely made it through customs (where cell phones are not allowed) when my phone began to ring. I answered it to hear both my mother's tears, and Davey's first cries too. There I stood, in the middle of a sidewalk at New York City's cruise pier, crying my eyes out.
Four months later, I met Davey for the first time. We gathered at Canyon Lake, Texas, a place that my sister and I spent the majority of our childhood summers, spring breaks, and long weekends. Chellee and Jeremy walked out of their cabin, and put a little baby wearing only a diaper into my arms. He promptly threw up on me.
I have been in love with that kid since day one. Both of 'em, really. But this post is all about Davey. He's funny. He's smart. He feels things so deeply, sometimes he cries just because he can't imagine spending the weekend without his mom and dad several months down the road. He has to have things in twos, just like his daddy – you can't just give him one cookie or crayon. He's gotta have one for each hand. He thinks his Uncle James is hilarious and also talks kinda funny. Poppa is his best friend in the entire world, and someday, he's going to be a musician and a cowboy. Oh, and maybe a soccer and basketball player too.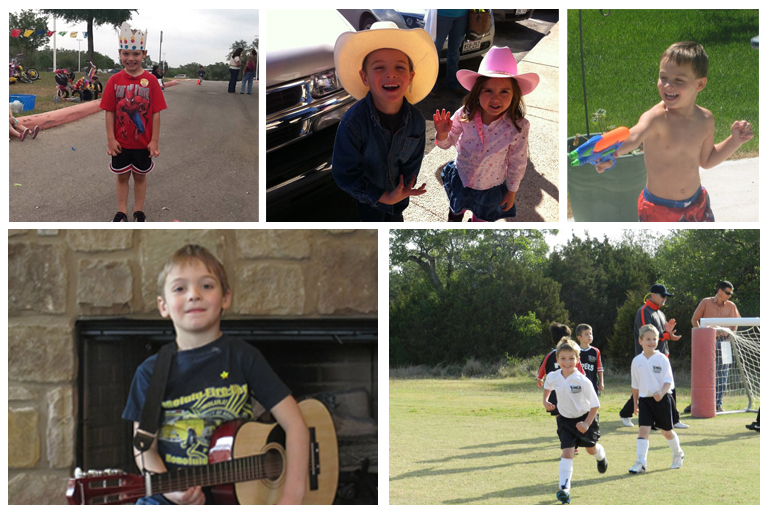 Davey's favorite color is green. When I picked up these coconut M&Ms and realized they only come in green, white, and brown, I knew he would love cookies made with them. The other day on the phone, he told me he saw a coconut at the store, and he wanted to buy it! I love how adventurous he is, with food and with life. These cookies went into the mail to Davey in time for him to get them for his birthday party.
Happy Birthday, Davey!
Love,
Aunt Amber & Uncle James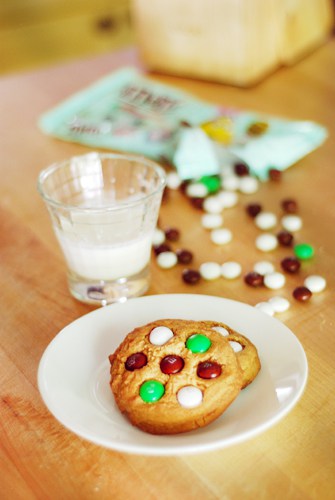 Coconut M&M Cookies

Makes approximately 18 cookies
Adapted from Joy of Baking
2 1/4 cups all purpose flour
1 1/2 tsp baking soda
1 tsp Ceylon cinnamon
1/4 tsp salt
1 c. (2 sticks) butter, room temperature
2/3 cup granulated white sugar
2/3 cup firmly packed light brown sugar
1 large egg
1 large egg yolk
2 tsp pure vanilla extract
1 cup Coconut M&Ms
Preheat oven to 350F.
In a medium bowl, combine flour, baking soda, cinnamon, and salt. Whisk to combine well and aerate.
In a mixing bowl, combine butter and sugars, mixing on high speed until light and fluffy. Add egg and incorporate fully before adding egg yolk and mixing again until fully combined. Add vanilla and mix again.
Add flour mixture in increments and mix on low speed until fully mixed in. Do not overmix.
Place parchment paper on two baking sheets. Using an ice cream scoop, scoop approximately 1/4 c. sized dough balls onto each baking tray. The cookies will spread a bit, so make sure to only put 6 per tray.
Bake for approximately 15 minutes or until golden brown.
When you remove the cookies from the oven, press 6-8 Coconut M&Ms into each cookie. Allow to cool, and then store in an airtight container. Or zip lock bags surrounded by packing peanuts in a box for the mail to someone you love!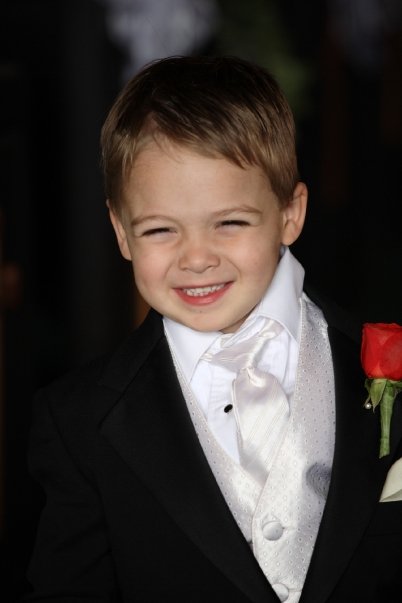 One last photo. I die.[wpurp-searchable-recipe]Coconut M&M Cookies – – – [/wpurp-searchable-recipe]