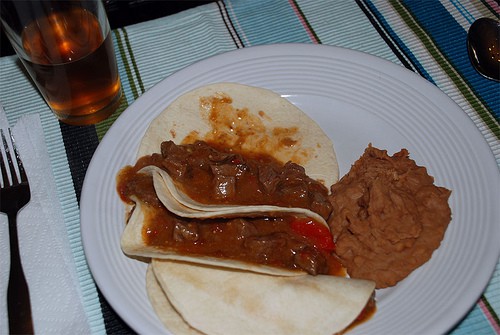 Carne Guisada (car-ney gee-sada) is a thick Mexican beef stew, typically served in flour tortillas, which, by definition, makes a taco. For future reference – food inside tortilla = taco, regardless of the variable fillings.
You can have it on its own, or topped with cheddar cheese and sour cream. Where I come from, it's a perfectly acceptable breakfast, lunch, or dinner food. Many a San Antonian will tell you its an excellent hangover cure. So will my British husband!
I've had Carne Guisada from many a Mexican or Barbecue restaurant in Texas, but this particular recipe comes to you from the SAFD, the honorable San Antonio Fire Department.
J.J., my brother-in-law, is a fireman down there in Texas, and this is a recipe that frequents the firehouse table.
I stayed at my sister and brother-in-law's house when I was recovering from surgery, and secret sweetheart that he is, J.J. made this recipe for me.
He says we're not allowed to call it Carne Guisada, because it is such a bastardized recipe that most Mexican citizens would go blech! when they see the recipe. So instead, we call it Carne G.
But I promise you, it tastes the same. And it looks the same.
And it's downright sinfully delicious.
It's also one of these recipes that is very loosey-goosey. It's going to be difficult for me to give you absolutes on the spice measurements, because honestly, it's all to taste.
When you make it, you can make it as spicy as you want, or as smokey as you want with the cumin, or, you can do incredibly strange things like my friend Maggy that came to dinner, and request POLLO G – yes, that's right, this recipe made with chicken.
It was a first for me, but definitely pretty tasty. I still maintain Maggy is a weird-o. Good thing I love her anyway.
Ready?
The Players: Beef, Golden Mushroom Soup, Rotel Diced Tomatoes with Green Chile, Red Pepper, Onion, Cumin, and Garlic Salt
A few words about the ingredients before we go any further:
1) It doesn't matter what cut of beef you use, other than don't use hamburger. Sirloin to stew meat, the world is your beef oyster.
2) If you live somewhere that you can't find Golden Mushroom Soup, that's okay. Guess what makes it "golden"? Beef Broth. So just get regular cream of mushroom soup, and mix in about a cup of beef broth.
3) If you live somewhere where you can't find Rotel, get a can of Diced Petite Tomatoes and one single jalapeno. Cut open, de-seed, and chop the jalapeno.
4) I used chopped frozen onion, only because I forgot to get a whole one. Use 1 whole onion for this recipe.
5) Spices – Cumin and Garlic Salt are important, but if you want to kick things up, feel free to add chili powder, black pepper, etc.
Now, back to what we were doing..
First, chop your beef into bite size (about 1×1 inch) pieces. And if you're a weirdo called Maggy, do the same for your chicken.
Now, on a different cutting board (cross contamination is bad, mmmkay?), slice your pepper into strips, and chop your onion (or you know, pour them from the bag).
(Upon reflection, cutting red pepper on a red cutting board doesn't transfer well to photo. Whoops.)
Here, a better shot where you can see them.
Before we get started cooking this, a quick note on procedure. If you're in a hurry, brown the meat as I'm going to show you and throw into a stew pot on medium heat. If you're not, and you have a slow cooker, just throw it all in and leave it for a few hours. If you're in between, like I was, you'll brown the meat, AND use a slow cooker.
Pour about a tablespoon of oil in a heated frying pan. I used Olive Oil, but you can use vegetable oil, it doesn't matter. When the oil is nice and hot, add in your beef to brown.
Now take that garlic salt..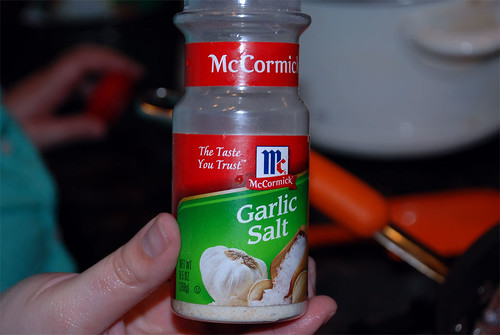 And give the meat a liberal sprinkling. This is entirely to taste. But if I had to take a guess, I'd say it was about a teaspoon, maybe two.
Now add in your chopped onion.
And stir occasionally to ensure even browning.
Now add in your red pepper strips and repeat the process of stirring so that they too can cook through.

(Ignore that rogue pepper under the pan. Slippery little sucker!)
In either your separate stew pot, or your slow cooker, start adding in your cans of soup. For 4 lbs of beef, I used 3 cans of Cream of Golden Mushroom soup. If you can't find this soup, like I said earlier, add about a cup of beef broth at the same time.
Then add to your soup your can of Rotel, or your can of petite diced tomatoes and jalapeno.
And then stir it all together.
Next, we're going to add the KEY ingredient to Carne G's flavor: Cumin. Cumin is also known as Camino. It has a smoky flavor, and can be added to lots of different dishes to give them a unique flavor.
I added about a palmful, which, according to Rachel Ray, is roughly a tablespoon. Again, this is to taste, so if you loooove Cumin, add more. Entirely up to you.
At the same time, add more garlic salt, directly to this mixture. Again to taste, but I'd say roughly 2-3 teaspoons.
At this time, you can also add chili pepper, dried red pepper, black pepper, or any other seasoning you might fancy.
Stir.
Now add in your meat, onion, and red pepper mix, and stir.
Whoa baby.
Now, you want to let this baby simmer. We left it in the slow cooker for about 2 hours on high.
If you added the meat, onion, and peppers directly to the mixture without browning first, you probably want to let it cook for at least 4 hours.
On the stovetop, you're probably looking at half an hour. It's all about how quickly you want your food done.
If you want to start this first thing in the morning on low, by dinner time, you're going to have melt in your mouth Carne G. It's just all in your patience level.
If at any point you feel the stew is a little thin, feel free to add flour to thicken.
It should be said that these tacos are a messy affair, but you don't want thin gravy here.
When it's ready, heat up some tortillas in the microwave, or my preferred method, wrapped in foil and in the oven. Add a spoonful of Carne G to the tortilla, and fold.
We paired our tacos with refried beans, and you could also side them with a salad. They're also good just on their own.
And do like Maggy does, adding some sour cream, alongside an ice cold beer.
Oh yeah, it was good food, people.
Let me know your results!