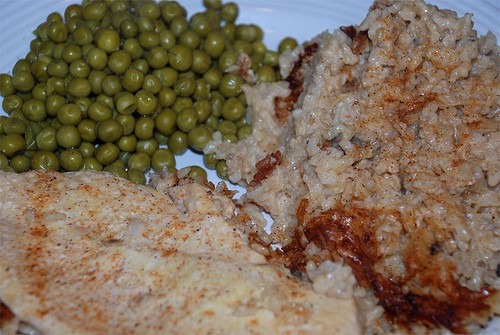 So, if you've ever met my dad and spent any significant amount of time with him, you learn two things pretty quickly: 1) He's a musician. 2) He LOVES to eat.
Funny enough about a guy who loves to eat, he couldn't cook a lick when my parents got married. He literally struggled to boil water, according to my mother.
While my sister and I were growing up, my dad didn't do a lot of dinners. He'd make us lunch, no problem, and breakfast, woah baby, could he do breakfast.
But there were one or two dishes that he mastered for fall back in case my mom was late getting home from work. One of those was tuna casserole, and the other is the dish I'm going to show you today – Chicken and Rice casserole.
Chicken and Rice casserole is by far Comfort Food #1 in my books. It's easy, it's filling, it's full of flavor, and you really just can't go wrong with it.
The Players: Chicken breast, Cream of Mushroom Soup, Milk, Seasoning Salt, and Minute Rice. Yes, really, that's it.
Once you've gathered your ingredients, spray some cooking oil in a casserole dish, or spread a thin layer of butter if Pam-like substances are not available to you.
Pour/spoon your soup into the casserole dish, but do not throw away the can!
This sucker's going to be your measuring cup. Really. Talk about no mess! By the end of this recipe, you'll only have a casserole dish and two dinner plates to clean.
Now fill your can with rice. You can use white rice or brown rice, it doesn't matter. We use brown rice around these parts because we're trying to maintain a slightly healthy lifestyle (if you ignore my previous posts, it might be true!). It is important that you use Minute Rice (of any brand) – because it's already partially cooked. Completely uncooked rice will take hours to cook through in a casserole.
Once you've poured that can of rice into the casserole dish, make sure to scrape it out for all straggling rice using a spoon, spatula, or spoonula.
Now fill your can 1/2 way with milk. It doesn't matter what kind of milk you use, skim to full fat. Add this to the rice and soup in the casserole dish.
We keep lactose free in the house because we don't use much milk, and lactose free lasts foreeeeever. It's more expensive, but at least I'm not throwing away milk every week when it spoils.
Note: For my British friends – I assume you'll use Heinz cream of mushroom, which is not condensed soup, like Campbell's. Therefore, either omit the milk, or half it (so a 1/4 can here, instead of 1/2). You want this dish to be moist, but not liquidy.
Here's what it looks like before stirring.
And after stirring.
Now, friends, let's talk about seasoning. McCormick's make something called Season All. And it really does season all. I use it in everything. I sprinkle it on sliced tomato and cottage cheese. It's a great addition to flour for fried chicken. It is AMAZING in chicken noodle soup. And it is what MAKES Chicken and Rice casserole.
When we lived in England, I actually brought back like 9 bottles of the stuff when I was home for a visit, and by the time we left 18 months later, I was down to one.
EDIT: My brilliant friend Matt has just found out that not only does McCormick have a presence in the UK (they're Schwartz! Who knew?!), they sell Season All there. This would have been good information a few years ago. Tesco sell it, and you can find details here.
It's a mixture of Salt, Chili Pepper, Black Pepper, Celery Seed, Onion, and Paprika. I've listed them in order from the bottle, in case you want to try to make your own version of it. If you can find 'Poultry Seasoning', it's probably not far off. It's also comparable to Lowry's, but I think Lowry's is a LOT saltier.
So take this lovely seasoning, and sprinkle it all over your rice mixture – a nice dusting. Probably about 2 teaspoons. Then use that spoonula to stir it through until it appears to be evenly mixed in.
Now take your two chicken breasts, and lay them on top of the mixture.
Sprinkle them with a little more seasoning, and then push them down into the rice mixture.
Guess what? You're done. Cover this baby in foil, cook it for 45 minutes at 425°F, and then serve and enjoy.
If you want to get super fancy, about 20 minutes before the end of cooking time, you can remove the foil and sprinkle the contents of a packet of Lipton Onion Soup over the top of the casserole. I didn't have any to hand, so I didn't do it this time. But it makes a nice addition.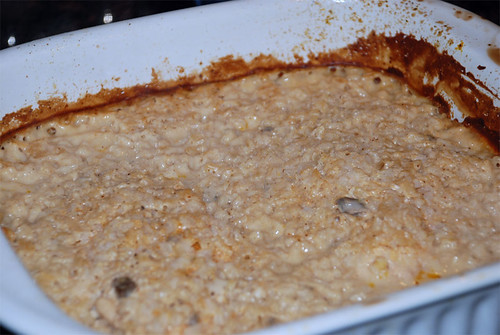 When this baby comes out of the oven, here's what you're going to have: 2 fully cooked chicken breasts, incredibly moist and tender because they've been surrounded by the rice/milk/soup mixture, and a ready made side dish in the amazingly creamy and flavorful rice. Throw in something green – we did peas – and you've got a very satisfying meal.
When I was a kid, this meal was often paired with green beans and cheese. And yes, it's exactly what it sounds like. Green beans, covered in melted velveeta. Yum. We don't eat things like that in this house though, mostly because James hates cheesy sauces, and I can't eat a full can of green beans with cheese on my own. Hehe.