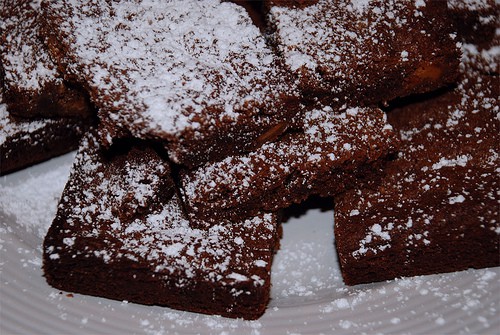 Brownies themselves are the stuff of lunchroom bake sales and hot July afternoons, paired with an ice cold glass of fresh lemonade.
But I'll tell ya, you don't need no stinkin' box to make brownies. It's just as easy to make brownies with all the pantry standards you already have in stock.
And then there's butterscotch. Heck yeah. It's the stuff dreams are made of. But combine it with chocolate, woooh boy – you've got yourself a new kind of wonderful.
For this entry, I used your bog standard 8 x 8 baking pans, but if you want something truly special, check out this little beauty. Whoever thought that sucker up is a GENIUS, I tell you! (I wish it had been me.)
So let's get started, shall we?
Here are the players: Butter, Sugar, Vanilla Extract, Eggs, Cocoa, Flour, and Butterscotch chips. Instead of butterscotch chips, you can use any add in you like – chocolate chips, chopped walnuts, or hell – go crazy and do raisins, craisins, or dried cherries.
You're also going to need a big mixing bowl, a wood spoon or one of those spoonula things Rachael Ray is always going on about, and two 8 x 8 baking pans.
They can be glass, tin, or aluminum. Doesn't matter, I promise. You also might grab some cooking spray, but you know, you could also play on the wild side and not bother with it. Your call.
We're going to start with 2 sticks of butter, about 230 grams if you're going by metric. You want to stick that butter in the microwave (in the big bowl) for approximately 3 minutes (less if you're in the UK – you have higher wattage).
You might think I came up with that figure arbitrarily, but no! You see, we're renting a place with a really fancy kitchen. The microwave has an interactive display, and a button that says 'melt butter', and actually asks me how many sticks I want to melt.
See? I told you it's fancy. So yeah, the microwave told me to melt the two sticks for 3 minutes. And that's what I did. When you've done that, it should look like this:
Now here's the thing – I like chewy, but firm, brownies. So I didn't melt the butter completely. But if you want to, go right ahead. Just microwave it for a little longer. It won't ruin them, I promise.
Now we're going to add 2 cups of white sugar (480 ml). Just pour it on over. Isn't it pretty, falling into the bowl like that? I happen to have a great cameraman, and he's cheap… he works for brownies.
Good thing we're making brownies. Hopefully he'll work for banana bread too, because that's the next recipe on the agenda.
Now you're going to stir and mix and 'cream' the butter and sugar together until it looks like this. It's alright if it's a bit lumpy.
You're using hand power here, so it should be lumpy. You can use a hand mixer if you want, but you won't use it for anything past this stage, so I don't really feel it's worth it.
The reason for this is that overmixing brownies makes them tough. Hand mixers most certainly do that. Whereas using a spoon and good old fashioned elbow grease mixes just right, and doesn't dirty about a thousand things.
So far, if you're keeping count, we've only used 1 spoon and 1 bowl. On to the next step, kiddos.
Now we're going to take those 2 eggs, and crack 'em right into the butter sugar mixture. I just happen to use organic, free range eggs.
But you don't have to. Just whatever floats your boat.
I don't think it makes a difference to the recipe, really, but it makes me feel better to know all those little chickens are allowed to run wild and free and feel the wind through their l'il feathers on a daily basis.
Where was I.. right, the eggs. So, you crack those suckers into the bowl, and get to mixing again.
Stop stirring when it looks like this:
Now we're going to add 1 tablespoon of vanilla extract (15 ml). You can add more or less if you like. I just happen to like a lot of vanilla. Don't go lower than 1 teaspoon (5 ml).
Stir it up some more. Look for that gorgeous golden color… colour (as my husband has just corrected me).
Now we're going to add in the cocoa. You need 1/2 cup of cocoa powder (120 ml). Pour it in. Don't be shy. Then get to stirring.
Oh my.
Now we're getting serious. About now is when I remember that you should preheat the oven to 350 degrees fahrenheit or 180 degrees celsius.
Alright, my lovelies, time to add the flour. You need 2 cups of white flour (480 ml). Whatever is in the pantry. Mix them in, 1 cup (240 ml) at a time.
This is after the second cup:
Stir until it looks like this – not incredibly well mixed, but certainly combined.
This is where I tell you about my cute photographer again. Check out this photo of me adding in 1 cup (240 ml) of butterscotch chips. They're flying through the air like yummy little raindrops!
Now mix them through, please!
And now, my friends, we are ready to take this lovely chocolatey specialness and bake it into something even more special: brownies!
So grab those two 8 x 8 pans. This is where you see what kind of cook I really am. You see, I only got married a couple of years ago, and we're a couple of poor kids.
We don't have the cash to go blowing on the super nice stuff. So prepare yourself. What you're going to see here is my beaten up tin pan, and a glass casserole dish.
They both work, the consistency of the brownies doesn't change, but the ones in the glass pan needed slightly longer to cook. You too can be ghetto fabulous!
That, my friends, is an oft-used, well loved brownie pan. Feel free to spray the pans with Pam at this point, before you add the batter.
And here's what they both look like once you have used one of Rachael Ray's fancy spoonulas to spread out your brownie batter.
Hopefully by now, your oven is fully preheated. Cus I told you with enough time to spare, didn't I? I'm sure I did.
Pop those pans in, and bake for roughly 18-20 minutes, or, like I said, a little bit longer for glass pans. Probably about 25-30 minutes for those guys.
A really good way to check if your brownies are done is to stick a knife, or toothpick if you have them handy, into the center of the pan. Pull it out again.
If the knife or toothpick comes out clean, they're done. If the batter clings to the knife or toothpick, give it a while more.
Just keep checking back if you aren't sure – or you forget to set the timer AND look at the clock when you put them in, which my husband will tell you I do ALL THE TIME.
When your oven timer dings, do your very best to let these babies cool – for a good 10-15 minutes. I know it will be difficult, but please try.
Then cut into squares, whatever size tickles your fancy. Speaking of fancy, look at these bad boys.
And yes, I did go there with the powdered (icing) sugar. I learned to do this from some catered party I went to along the way. It just makes every day brownies look so sophisticated.
If you'd like to do this, just take about a tablespoon (15 ml) of powdered (icing) sugar, dump it into a sieve, or a wire collander, and gently tap it over your plate of brownies. That gives them this lovely snowy look.
And this is what happens when the photographer takes his payment.