I've been baking a lot of cookies lately. Don't really know why. I'm that kind of baker.. I get into a mood, and I'll continue baking in a certain 'genre' until I'm bored with it.
Don't get me started on the "Summer of Scones" last year. I may have been classified as 'obsessed' by my husband.
One cookie I always have on hand around here are Jamie's Rolo Cookies. I'm not ashamed to admit that my husband's favorite cookie isn't a recipe of my own making. Rolos happen to be his favorite chocolate candy, so combining said candies with cookies = pretty much his most favorite thing ever.
One thing that this recipe of Jamie's taught me – any and all cookie doughs get better when you let them get really cold again before you bake them. It's been an exercise in patience, and not one that I really relished.
But at the end of the day, who wants all the effort of baking a cookie, only to end up with a mediocre cookie? Or even a good cookie. If I'm going to the trouble to bake it, I want it to be a great cookie.
Since I started making these, there's been another little side effect. I no longer see the grocery store candy aisle as just the "land of the forbidden". Now, I see it as an aisle full of tasty ways for me to bump up recipes, like the Peanut Butter Snickeroos I made using Peanut Butter Snickers.
Of course, candy stuffed cookies can't be an everyday treat. That would be blatantly unhealthy. Right?
That's where the genius of this recipe comes in. Because the dough gets refrozen after shaping, you can simply store the pre-made dough balls in a freezer safe ziptop bag, and bake up one or two cookies at a time, whenever you need a treat.
The way I see it, if Pillsbury and Toll House can do it, so can I. And without all the extra preservatives.

The secret to making candy stuffed cookies lies with the freezer as well. Simply freeze whatever candy you want to bake inside the cookie dough so that it doesn't turn into a gooey mess when baked.
Personally, I love Dove chocolate. It's one of the nicer "everyday" chocolates you can find, and James and I are convinced that they're the same thing as Galaxy chocolate in the U.K., which was always one of our favorites.
Dove makes these little squares, called Promises. The milk chocolate Promises are absolutely magical. Almost like a chocolate fortune cookie, each Promise holds a little message on the underside of the wrapper. And it's just the right amount of chocolate for a pick me up, or for fitting inside a chocolate chip cookie!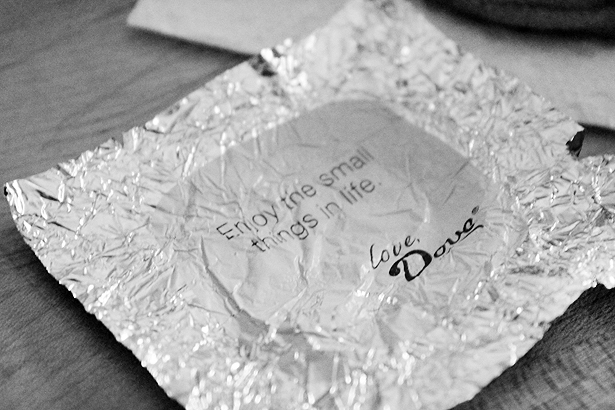 Enjoy the small things in life. Like cookies.
For these cookies, I tried both Milk Chocolate Dove Promises and Hershey Bliss White Chocolate pieces. I preferred the solid milk chocolate (an oddity for me, anyone will tell you I'm normally a white chocoholic), but I also have plans to try the Hershey Bliss Peanut Butter & Milk Chocolate pieces too.
Jamie's original recipe makes about 30 cookies. I make them a little larger, and always bake from frozen, so I've adjusted the recipe accordingly.
These aren't just James's favorite cookies. One of my more recent visits home, I made these for my sister and her family. We baked up a half dozen, and I left the rest of the prepared dough balls in her freezer. She baked up a couple at a time as treats for the kids or herself, and said it was like the gift that kept on giving long after I'd gone back to New Jersey.
You could make these cookies with all sorts of candy combinations. I'm thinking the white chocolate squares would be better with a little oatmeal and dried cranberries mixed into the batter instead of milk chocolate chips.
I'd love to hear what cookie combinations you'd like to try.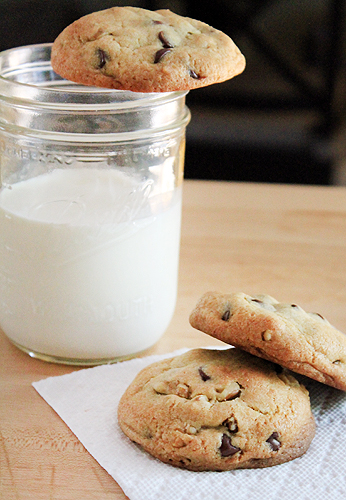 Candy Stuffed Cookies
Adapted from My Baking Addiction's Rolo Stuffed Cookies
makes 26 medium-large cookies
Ingredients
26 Milk Chocolate Dove Promises or the chocolate square of your choice, frozen for at least 2 hours
1 1/2 cups butter; softened
1 cup granulated sugar
1 cup packed brown sugar
1 tablespoon vanilla
2 eggs
3 3/4 cup all-purpose flour
2 teaspoons baking soda
1 teaspoon kosher salt
2 cups semisweet chocolate chips
3/4 cup chopped pecans
Directions
Preheat oven to 375F. Unwrap candy from wrappers and put them back in the freezer.
Combine flour, baking soda, and salt in a medium bowl and whisk together to combine and aerate.
In a large mixing bowl, combine softened butter and both sugars until light and fluffy using a stand or hand mixer on medium-high speed. Add in vanilla and eggs and beat again until light and fluffy.
Add in flour mixture and mix on low speed, stopping to scrape the sides of the bowl often until flour mix is completely incorporated.
Mix in chocolate chips and pecans by hand.
Remove the candies from the freezer. Line a baking sheet with parchment paper and set up an assembly line: candy, cookie dough, baking tray.
Scoop out large tablespoons of dough using a cookie scoop or regular spoon. Roll the dough into a ball using your hands, and then press a frozen candy into the center of the dough and roll it again until the chocolate piece is completely covered by the dough. Place the dough ball on the baking tray.
Once all dough has been rolled into balls and placed on the tray, place the tray back in the freezer for at least 20 minutes.
At this point, you can bake up the entire batch (6 cookies at a time – they're large!) or bake a few and package the rest into a gallon sized freezer top bag to bake at will.
6 cookies takes approximately 17 minutes in a 375F oven. Cookies should be golden brown and puffy. Remove from the oven, allow to cool slightly on the pan, and then remove to a cooling rack.

[wpurp-searchable-recipe]Candy Surprise Chocolate Chip Cookies – – – [/wpurp-searchable-recipe]