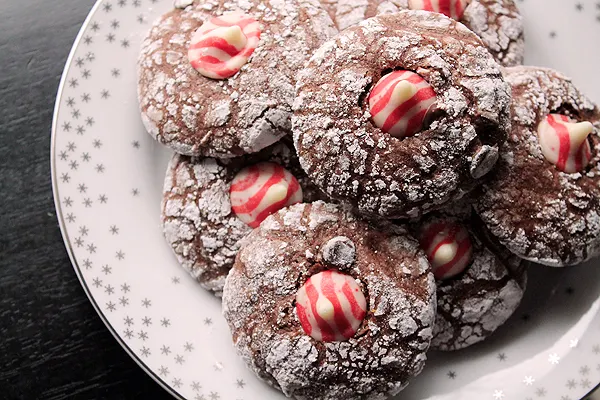 The idea that it's December 2nd astounds me.
It probably shouldn't. We're a family that puts our tree up the day after Thanksgiving (more for the convenience of a 4 day weekend and having extra hands around, but still), and the Christmas decorations have been decking these halls for a solid week.
But when I look at my work calendar, my editorial calendar, and the plans we have throughout the month of December, I'm kind of wondering how we're actually going to fit it all in.
I'll be honest right up front and state that in a few cases, the way I'm going to fit it all in is to let a few shortcuts help me along the way.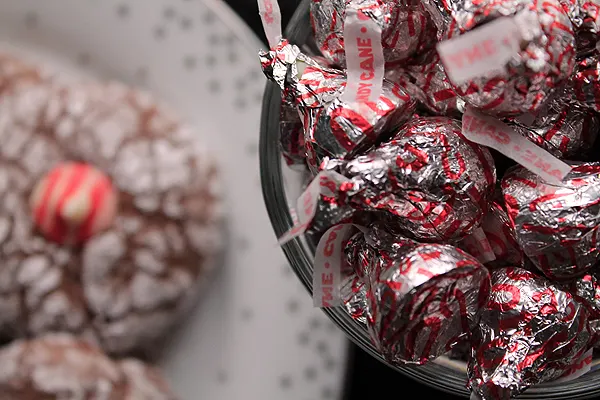 Take these delectable Candy Cane Crinkle Cookies. Everyone loves a crinkle cookie, right? They're oh-so-simple to make, but they really pack a punch visually.
Side by side with a standard chocolate chip or shortbread, and I'd choose the crinkle cookie every time.
In this case, I've used the Double Chocolate Ghirardelli Brownie Mix as my shortcut to crinkle cookie perfection, and topped each one with a Hershey's Candy Cane Kiss as it exits the oven.
I don't know about you, but I wait all year for Candy Cane Kisses. They are my favorite from the Kisses line. I may or may not dedicate a portion of our freezer to excess bags of these babies so that I can enjoy them all year long.
You should probably know now that you'll be seeing a lot of peppermint and chocolate variations on B&B over the next month.
It is my absolute favorite winter flavor combination, and I simply can't get enough of it. From Peppermint Bark Cheesecake to these cookies, I am addicted. You'll be seeing peppermint paired with chocolate – both milk and white – a lot around here.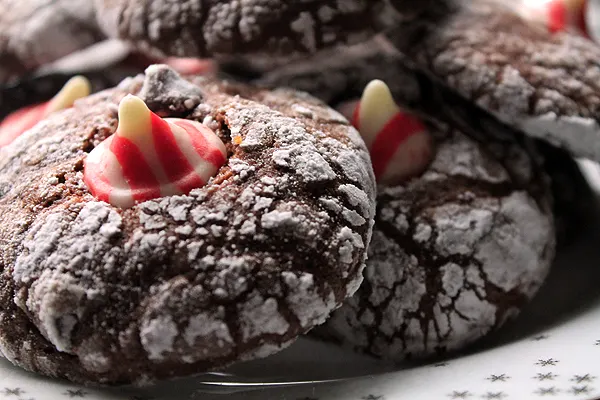 How about you? Ready for it to be December? What's your favorite Winter flavor combination?
Candy Cane Crinkle Cookies
makes approximately 30 cookies
Ingredients
1 box Ghirardelli Double Chocolate Brownie Mix
1 1/4 cup all-purpose flour
3 eggs
1/3 cup vegetable oil
1/4 cup granulated sugar
3/4 cup powdered sugar, reserved
Directions
Preheat oven to 350°F. Line a baking sheet with parchment paper and set aside.
In a large mixing bowl, add brownie mix, flour, eggs, oil, and granulated sugar. Mix well with a wooden spoon or spatula until you have a stiff dough.
Place the powdered sugar in a separate small bowl. Using a medium cookie scoop, portion out the dough, rolling one dough ball at a time in the powdered sugar. Coat the dough ball completely, then place it on the baking sheet.
Dough balls should be 2″ apart on baking sheet. Bake for 11-13 minutes.
While the cookies are in the oven, unwrap one Hershey's Candy Cane Kiss for each cookie. As soon as the cookies are removed from the oven, push one Kiss into the center of each cookie. Allow to cool for about 3 minutes on the sheet, then remove the cookies to a cooling rack.
Keep in an airtight container for up to 3 days.

[wpurp-searchable-recipe]Candy Cane Crinkle Cookies – – – [/wpurp-searchable-recipe]