Let's face it. As much as the holidays are cheery and wonderful, they can also be quite stressful. If you're anything like me, you've got lists upon lists, and then you misplace one, and everything falls apart.
More than ever, I think this time of year it's important to set aside a few minutes to collect yourself, ignore those lists, and take a breath.
I do that by stopping for a hot drink and a cookie in the afternoon. Lately, my hot drink of choice is one of the creamy, comforting k-cup packs from the Café Escapes line.
When we first bought our Keurig, Café Escapes only had Milk Chocolate Hot Cocoa, and then Chai Latte. Soon came Dark Chocolate Hot Cocoa (my favorite!) and Cafe Mocha.
The newest in the line, Café Caramel and Café Vanilla, are highly addicting. They're not too sweet, and perfect for when you want something creamy and delicious, without the power of a full blown cup of coffee.

The line has come a long way since our introduction to Keurig and Café Escapes way back in 2007. I love that the folks behind Café Escapes continue to innovate and find delectable new ways to brighten up my holiday coffee break.
Remember that it's important to give yourself the gift of peace during this crazy season. Stop, take a breath, drink a Café Escapes Dark Chocolate Hot Cocoa (with whipped cream!), and enjoy a moment for yourself.
Also enjoy a 15% discount on all Café Escapes from now until December 4th on Green Mountain Coffee.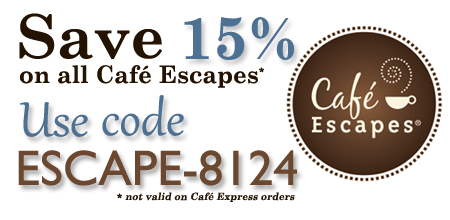 Treat yourself, or your favorite Keurig owner!
Disclaimer: I am a compensated Keurig K-Cup Ambassador, and this post is written as part of that program. All opinions about Green Mountain Coffee and Keurig K-Cup packs are my own. Some photos are provided by Green Mountain Coffee.[wpurp-searchable-recipe]Green Mountain Coffee K-Cup Ambassador: Caf̩ Escapes РРР[/wpurp-searchable-recipe]