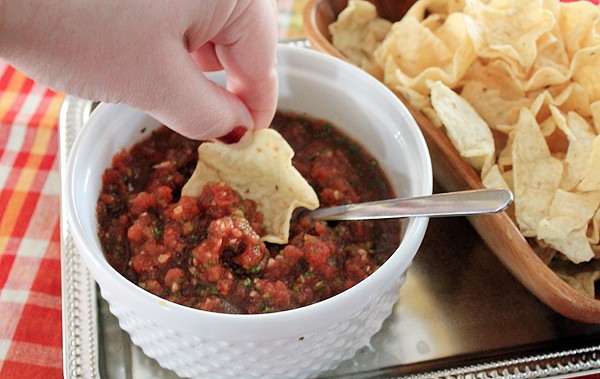 I could dive right in to that bowl, you know. Head first into Flavortown.
The simplicity of this recipe belies the effort that went into its creation. My mother has perfected this recipe with years of experimentation. Everyone that's ever tasted it says she should jar and sell it.
So I publish the recipe here with her permission, and the expectation that no one else will try to jar and sell it. I can completely excuse you wanting to. Just don't actually do it, okay?
So let's talk a little bit about taste buds, texture, and flavor.
Even though I grew up in a city where Mexican food is as normal at every family's table as fried chicken and mashed potatoes, I never had a palate that could tolerate much pepper.
Two things I'm still ridiculed for every time I go home: I don't dig iced tea, and I'm a wimp when it comes to peppery food. Notice I didn't say spicy.
I'm down with spicy for flavor's sake. Spicy for pepper's sake? Not so much. Truly think it can ruin a dish.
You'll notice that this salsa is more a puree than the chunky stuff sold at stores, or even as seen on other food blogs. I don't have a problem with those types of salsas, not at all.
But I will go on record as saying, any hole-in-the-wall, authentic, Abuela-owned Mexican restaurant you walk into in San Antonio, Houston, or even Austin and Dallas these days, does NOT have chunky salsa.
My parents have been frequenting just such a restaurant for the last 12 years, a place called Casa Real. It's behind a mall, and next to a Chuck-E-Cheese. Seriously. But the owners are there every night, and they know my parents by name.
And you can get a HUGE plate of food (I recommend the sour cream chicken enchiladas) for approximately $6.95.
When my mom decided she wanted to learn how to make salsa, she asked the owners of this restaurant for help. Believe it or not, they were enthusiastic about helping her learn.
I think she even took a few samples to them to taste, to get an idea of how she could improve. She started out with all the fancy stuff you see on other blogs – onions, lemon or lime juice, basil and garlic soaked tomatoes, etc.
And the best advice she got from the restaurant manager was this: Keep it simple.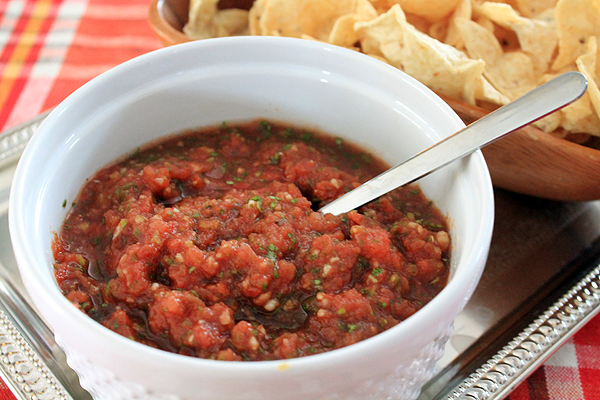 So we're keeping it simple, lovies. At this point, I can literally make this salsa in my sleep. I make it for every party we host, and nearly every party we go to. Plus the husband loves it. Except he gives me grief when I don't put as much jalapeno in it as he'd like.
But that's the great thing about this recipe. You like super spicy salsa? Add 4 jalapenos instead of 2! Your call (and tastebuds), baby.
Within a few minutes, you'll have a yummy, garlicky, savory-spicy salsa that can be served with chips, poured on tacos, burgers, or used in other dips (think 7-layer).
Once you've taste tested, if you feel you'd like a little more heat, add more black pepper or jalapenos and pulse a few more times. You really can add in more of whatever you want here, to make it your own.
I personally think it's pretty spectacular just following this recipe. But like I said, James likes it hotter.
And here's an uber-yummy trick I learned from my sister's mother-in-law. For a party, place a block of cream cheese on a deep plate. Pour salsa over said block of cheese.
Dip chips into salsa, slicing off bits of cream cheese at the same time. I'm sure you're thinking 'What the hell is she talking about?'. Promise you. If you like cream cheese and you like salsa, you will LOVE them together.