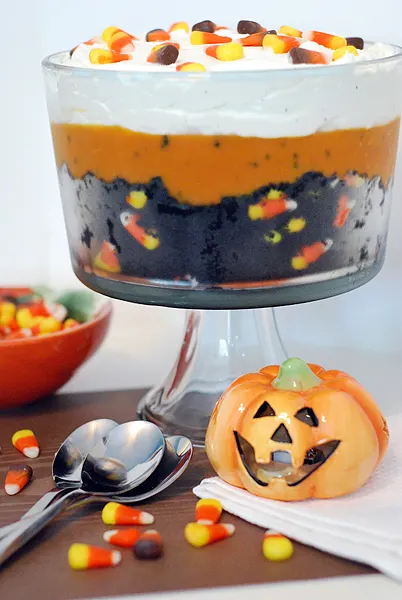 When I was a kid, my grandparents threw the most epic Halloween parties. They always dressed to the nines.
I remember one party had Nanny dressed in full clown makeup, with a curly bright blue wig and giant shoes, while Gaga chose to go as a Bela Lugosi-style vampire, complete with giant collared cape.
The next year, they chose the roaring 20s for their combined costume, Nan as a flapper and Gaga as a Big Band conductor.
They loved the excuse to to dress up and have fun. Because of that, Halloween has always been one of my favorite holidays.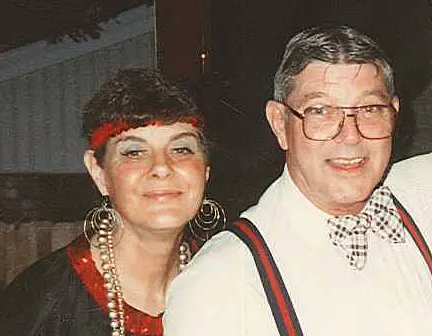 Nanny and Gaga sure knew how to throw a party!
October is for fun and kid-friendly Halloween ideas, featuring festive things like black food coloring.
I immediately thought of Nanny and Gaga's Halloween parties when trying to come up with a fun Halloween post.
Oh, how Nanny would have loved to help me think of a dessert!
Luckily, all it took was one brainstorming session with The Brit to know I was making some sort of trifle, a traditional English dessert that kids love because while it looks so pretty when finished, you get to destroy it when you serve it.
What could scream Halloween more than Black Velvet Halloween Trifle?
Using a traditional Red Velvet Cake recipe, I created Black Velvet Cake instead.
McCormick Black Food Color was perfect for this – the color I achieved after baking was well and truly jet black. I couldn't have been more pleased!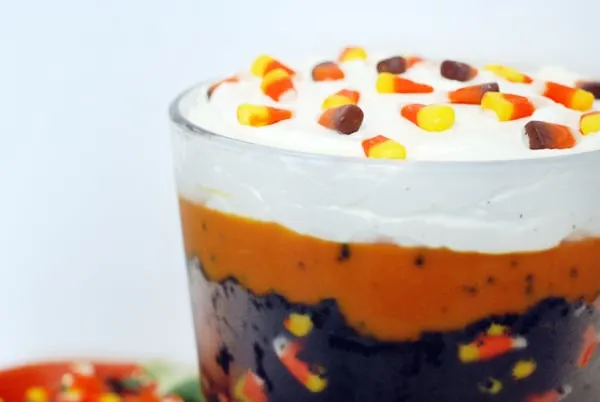 After the cake was baked, cooled, and crumbled into bite size pieces in the Trifle bowl, I mixed in Brach's Candy Corn.
The bright contrast of orange, white, and yellow candy corn against the black velvet cake could not be more Halloween-errific.
I covered the crumbled cake with butterscotch pudding made just the perfect shade of Halloween orange with McCormick's red and yellow food color, and then just before serving, whipped up some homemade whipped cream to layer on top of the pudding.
Garnishing the whipped cream with a few more candy corn provided the perfect effect.
Black Velvet Halloween Trifle is a feast for your fun-loving eyes.
Each layer is vivid and visible via the trifle glass, and so much fun to dig into!
The Brit actually declared this the best trifle he's ever eaten – I think because butterscotch pudding and black velvet cake pair so well together.
Whipped cream just rounds out the experience, and the candy corn provides a lovely little festive surprise every few bites.
Kids of every age will delight at seeing Black Velvet Halloween Trifle adorn your Halloween party table.
Make sure though, that you let the littlest hands dig in first – nothing says fun like tearing apart a picture-perfect, creamy, chocolatey trifle.