I'm chasing a white whale, I know it. But my Ishmael is clearly the perfect bakery muffin. I've got the texture down pat. The pancake mix is really what does it. However, I am still searching for that exquisite domed top, the high rise of those Panera Bread behemoths.
I've got a few more tricks up my sleeve that you'll see in the coming weeks. I hope you don't get tired of my experiments! I'm not there yet, but I have managed to make some pretty spectacular muffins along the way.

The Banana Red Walnut muffins you see on your screens are no exception. If you've never seen red walnuts, try to find them. I happened upon them in the produce aisles of my sister's favorite H-E-B (that's the main grocery store chain in San Antonio). The skin of the walnuts is such a vibrant crimson, I wanted to save one and paint a wall in my house the same color!
The flesh is still starkly white, and they taste no different than any other walnut. Just crisp and crunchy, and the perfect nutty note for these muffins.
You may call me crazy, but when I make banana nut muffins, I prefer not to mash up the bananas. I love the intense flavor that comes from leaving the bananas in whole chunks, diced in small pieces.
If mashed up bananas really float your boat, don't let this recipe deter you. Simply mix the mashed bananas into the wet mixture before adding the flour. Or try it my way and add the bananas at the end, the way you would chocolate chips or the walnuts. (Side note: chocolate or butterscotch chips would be an excellent addition here.)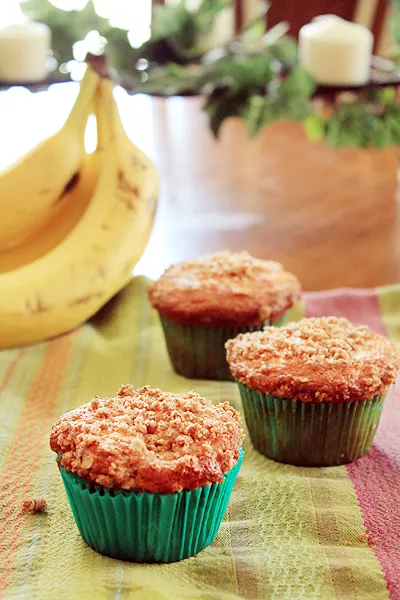 My brother-in-law shared these Banana Red Walnut Muffins with his fellow firefighters a few days ago, and I'm told they were a hit. If you're inspired, take a batch of these to your nearest fire station. I've never met a firefighter who didn't love to eat. Especially sweet things!
Firefighters do so much for us, when we're at our darkest – I'm pretty sure your local station would be blown away if you thank them before you need them.
Banana Red Walnut Muffins
Makes about 16 muffins
Ingredients
For the Muffins
1/2 cup (1 stick) room temperature butter
1 cup granulated sugar
3 eggs (room temperature)
1 teaspoon vanilla extract
3 cups pancake mix (I used Pioneer Baking Mix)
2 teaspoons baking powder
1/2 cup 1% milk (You can use whatever you have on hand)
2 ripe bananas, sliced in half length-wise and then diced into 1/2″ pieces
1 cup chopped Red (or regular) Walnuts
For the Crumb Topping
5 tablespoons all purpose flour
2 tablespoons rolled oats
1 tablespoon brown sugar
1 tablespoon granulated sugar
1 teaspoon ground cinnamon
2 tablespoons melted butter
Directions
For the Muffins
Preheat the oven to 400F.
Combine butter and sugar in a large mixing bowl and cream on high until light and fluffy. Add the eggs, and mix again until eggs are fully incorporated and mixture is again light and fluffy. Add vanilla extract and mix again.
In a medium bowl, combine pancake mix and baking powder. Whisk to combine and aerate. Add pancake mix to the butter-sugar-egg mixture approximately 1 cup at a time, mixing well to incorporate after each addition.
Add milk and mix again. You should have a fairly light and thick batter.
Dice bananas, and toast walnuts if desired. Stir into the batter by hand so as not to break down the banana chunks.
Line a muffin tin with paper liners. Spray the muffin tin and papers lightly with baking spray, then fill each muffin well as full as you like. The fuller the well, the larger the muffin (obviously), but since you have sprayed the pan with cooking spray, don't worry about the muffins sticking if they overflow the well.
Set aside while you make the crumb topping.
For the Crumb Topping
In a small bowl, add flour and oats. Stir with a spoon to evenly distribute. Add brown and granulated sugar and stir again, and finally the cinnamon. Mix well with a spoon to make sure all ingredients are evenly mixed in.
Melt butter in the microwave in a separate bowl, then pour over the crumble mixture. Stir aggressively until the mixture begins to create large "crumbs".
Drop tablespoons of the crumb topping down onto each well of batter in the tin. You will have leftover crumb topping, but you can save this for future use. Just put it in a ziploc bag and toss it in the freezer.
Place the muffin pan in the oven and immediate turn the temperature down to 325F.
Bake for approximately 25 minutes, until muffins are golden brown.
Allow to cool, remove from pan, and devour!

[wpurp-searchable-recipe]Banana Red Walnut Muffins – – – [/wpurp-searchable-recipe]