It's that time again, time for a Secret Recipe Club reveal!
This month I was assigned Itzy's Kitchen, written by Erica, mom to the most adorable baby girl, Kaylin, and an English Bulldog named Frank. My pal Maegan would be so in love with Frank!
It didn't take me long to settle on a recipe. With a title like Waffles of Insane Greatness, how could I not?!

Make sure you also check out Erica's recipes for German Potato Salad (a family favorite when I was growing up), Ghirardelli Sea Salt Double Chocolate Cookies and this Fancy Schmancy Citrus Tart. All are now on my list of must makes!
You may have noticed my waffles aren't your typical Belgian squares with deep wells for syrup holding. You may or may not have caught on by now that I'm a bit of a Disney fanatic. After a semester working there, and a lifetime of visiting, it's fair to say I have a bit of an obsession.
I don't let it take over the house though. You'll find little spots throughout our house with a touch of Disney magic. Like this waffle iron. I can't tell you how happy it made my Sunday morning to have Mickey staring up at me from my plate.
After reading Erica's recipe, I knew that this recipe would be the perfect application for the pot of apple cinnamon Chobani Greek yogurt in the fridge. The little chunks of apple were a pleasant surprise throughout the waffles. James couldn't get enough of them!
If I had anything to do differently, it would have been to add some toasted walnuts or pecans to the batter. My dad used to make walnut and pecan waffles all the time for us when I was a kid, and they're still my favorite to this day. I wasn't too sure how James would take to them though, so I left them out this time around.
You could use any flavor of Greek Yogurt as inspiration here. I'm pretty sure Black Cherry or Pomegranate would also be mind-blowing. Think of all the possibilities for a Mother's Day breakfast in bed to remember!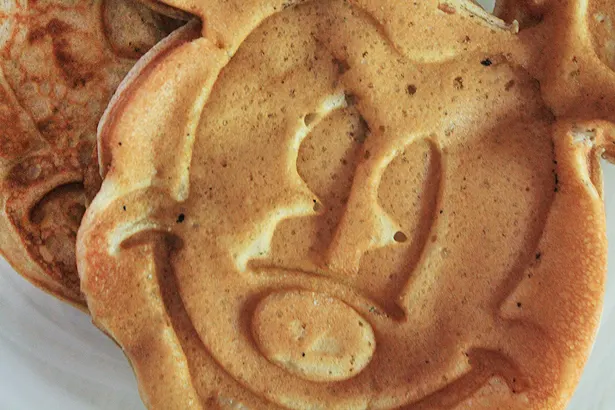 Thanks, Erica, for a fabulous recipe. We'll be making these waffles all the time!
Apple Cinnamon Waffles
adapted from Itzy's Kitchen
Makes 4 to 5 large waffles
Ingredients
3/4 cup all-purpose flour
1/4 cup cornstarch
1/2 teaspoon baking powder
1/4 teaspoon baking soda
1/2 teaspoon ground cinnamon
1/2 cup organic skim milk
1 6 oz cup of Apple Cinnamon Chobani Greek Yogurt
1/3 cup vegetable oil
1 egg
2 tablespoons granulated sugar
1 teaspoon vanilla extract
Directions
In a large bowl, combine flour, cornstarch, baking powder, baking soda, and cinnamon. Whisk together to combine and aerate.
Add the milk, yogurt, oil, egg, sugar, and vanilla extract directly to the flour mixture. Mix again with the whisk until all the ingredients are thoroughly mixed and incorporated, and you have a smooth batter.
Cover the bowl with plastic wrap for 30 minutes.
After 20 minutes, heat your waffle iron. Allowing it to go through its heat cycle a couple of times will ensure crisp waffles.
Erica was able to get 4 Belgian waffles out of the batter. I was able to get 5 Mickeys. 🙂

[wpurp-searchable-recipe]Secret Recipe Club: Apple Cinnamon Waffles – – – [/wpurp-searchable-recipe]