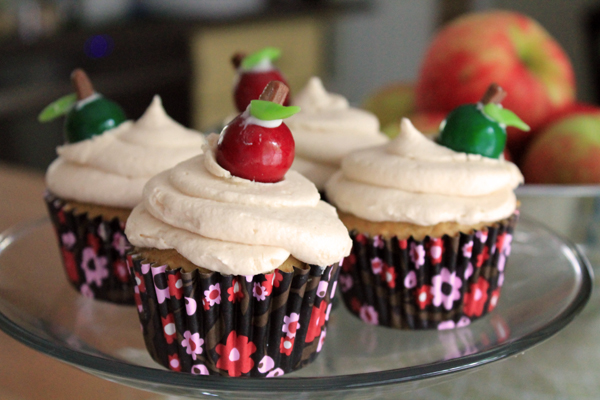 One of the greatest gifts that has come from being a food blogger is the wonderful number of absolutely lovely people I now call friend. Kristan from Confessions of a Cookbook Queen is one of those friends.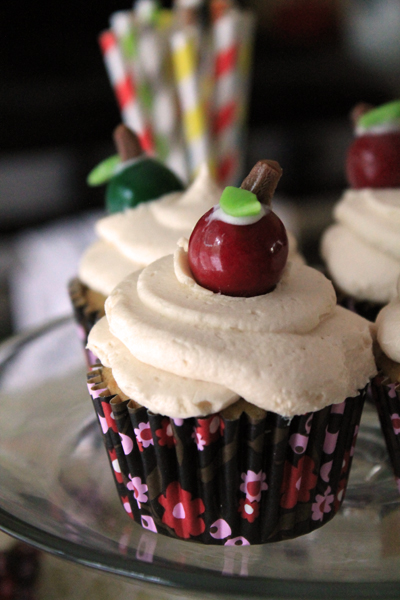 My favorite thing about Kristan is her hilarious sense of humor. Every single post Kristan writes has me laughing out loud. The videos on YouTube of her pranking her son, Jon David, literally had me crying real tears. When I grow up, I want to be a mom just like her.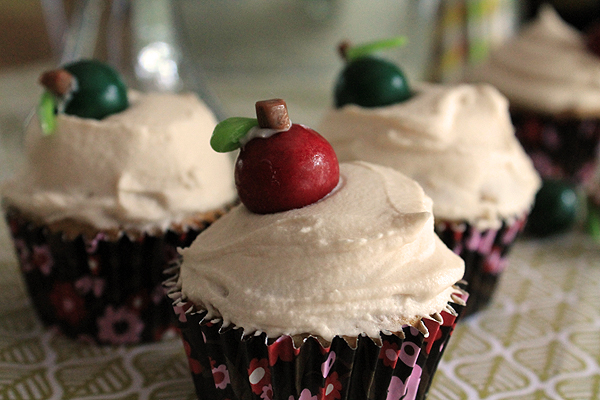 Today we celebrate our Cookbook Queen, and her beautiful baby girl due to arrive in about four weeks. I can't wait to meet little Miss Ava Lucille, or as her mama is already calling her, Lucy. If there ever was a woman who loved sparkle and spice, and needed a little girl to share that with, it's Kristan.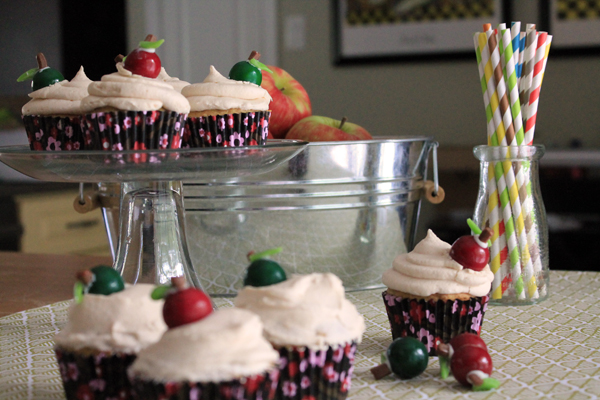 Kristan, I made these Apple Cider cupcakes for the newest Apple of your Eye. I did everything I could to channel your creative genius, using as much candy as I could to create a cute little topper for each cupcake. I hope I did you proud.
I am so happy for you, my friend. Congratulations to you and Jess, and Jon David too!

Apple Cider Cupcakes

with Salted Caramel Frosting
Makes 24 cupcakes
Ingredients for the Cupcakes
One 15.25 oz Pillsbury Golden Butter Cake Mix
1 cup Apple Cider (I used Green Mountain Naturals Apple Cider)
1/3 cup butter, room temperature
3 large eggs, room temperature
2 tablespoons apple pie spice
Directions for the Cupcakes
Preheat the oven to 350°F and line a muffin tin with cupcake liners. Spray the pan and liners very lightly with cooking spray.
In a large bowl, combine cake mix, apple cider, butter chopped into chunks, eggs, and apple pie spice. Stir vigorously or mix until just combined with a hand mixer on medium speed.
Distribute the cake batter among 24 cupcake wells. Bake for 20-22 minutes, or until the cupcakes spring back when lightly touched with a finger.
Allow to cool completely before frosting.
Ingredients for Salted Caramel Buttercream
1 "stick" or cup of butter flavored vegetable shortening
1 stick or 1/2 cup of unsalted butter
5 cups powdered sugar, sifted
1 tablespoon pure vanilla extract
6 tablespoons Salted Caramel Sauce (I used CC Made)
2-4 tablespoons heavy cream
Directions for Salted Caramel Buttercream
Whip butter and vegetable shortening together until well mixed and light and fluffy. Sift the powdered sugar, then add one cup at a time, mixing after each addition.
Scrape the bowl down after each addition. When all the sugar is completely mixed in, add the vanilla extract and salted caramel sauce and mix them in.
Add heavy cream, one tablespoon at a time, until frosting reaches desired consistency.
Ingredients for Apple toppers
24 red and green gum balls
1 large tootsie roll
1 green airhead candy
white candy melts
Directions for assembling Apple toppers
Unwrap each of the gum balls and set them on a paper towel.
Use sharp, clean scissors to cut slices of tootsie roll, and further cut into 24 small, square "stems". Set aside.
Use scissors to cut 24 leaf shapes from the green airhead candy and set aside.
Heat a handful of white candy melts in a small glass bowl, 30 seconds at a time, until when stirred with a spoon, the melts turn into a paste.
Use a toothpick to dab a bit of candy melt onto the gumball, then place a stem and leaf in the melted chocolate. The candy melts act as a bit of glue to hold the stem and leaf on the gumball.
Set each "apple" back on the paper towel, and allow it to set for at least 20 minutes.
After the cupcakes are frosted, place one apple in each cupcake.
Cupcakes can be refrigerated for up to 2 days.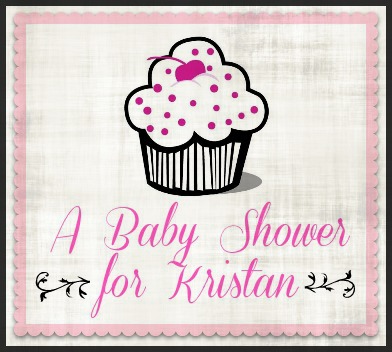 Cookies and Cups | Zebra Cake Cupcakes
The Hungry Housewife | White Cupcakes
She Wears Many Hats | Pretty in Pink Party Marshmallows
Two Peas and Their Pod | Dark Chocolate Raspberry Cupcakes
Bluebonnets and Brownies | Apple Cider Cupcakes with Salted Caramel Frosting
My Baking Addiction | Sugar and Spice Cupcakes
Picky Palate | Pumpkin Brownie Cupcakes with Vanilla Bean Buttercream
Blooming on Bainbridge | Twinkie Cupcakes with Pink Cherry Frosting
Food For My Family | Pomegranate and Lime Olive Oil Yogurt Cupcakes
Bakingdom | Homemade Twinkie Cupcakes
Sprinkle Bakes | Princess Torte Cupcakes
Glorious Treats | Sweet Baby Cupcakes with Easy Fondant Toppers
Sweet Sugarbelle | Damask Cookies
Buns In My Oven | Maple Cupcakes with Maple Frosting
Dine and Dish | Neapolitan Cream Filled Cupcakes
Chocolate and Carrots | Whole Wheat Chocolate Cupcakes
Bake at 350 | Little Pumpkin Cupcakes
Living Locurto | Baby Shower Printables[wpurp-searchable-recipe]"Apple of Your Eye" Apple Cider Cupcakes with Salted Caramel Frosting – – – [/wpurp-searchable-recipe]