It's time for another Fritos Friday! My favorite day of the week by far. This week, Casey from Good. Food. Stories. brings you Fritos Ballpark Toffee. I seriously cannot wait to make this for us. It sounds like my kind of thing, that's for sure. Thanks, Casey, for joining me in Fritos Friday!
---

When Amber instituted this new but already beloved tradition of Fritos Fridays, I knew there was no way I could hold back from contributing. I'm writing a cookbook on homemade junk food, for pete's sake. My genetic makeup is about 50 percent marshmallow cream and frying oil at this point.
And when she told me that Fritos are sold at minor league ballparks throughout Texas — in fact, they're the Official Snack of Minor League Baseball — I knew exactly what I'd create.

Marrying a baseball guy, as I've done, means devotion in so many ways—one of which is a lifetime of ballpark eating. This isn't as bad as it sounds.
Ballpark food has become impressively diverse (and even healthy at times) over the past decade, so there's no reason to grab a hot dog and call it a day unless you're in Chicago, in which case make mine with extra sport relish, please. I've eaten crab rolls while watching the San Francisco Giants, pierogies at PNC Park, and more Korean fried chicken, Shackburgers, and chicken molé tacos than I can count at Citi Field, home of the Mets.
Between the cups of chowder floating around Fenway Park and the crab cakes coming in from the harbor at Camden Yards, let's not lose sight of the classics: in Texas, those are Fritos, but as the song reminds us, there's also peanuts and Cracker Jack.
With these flavors in mind, here's a confection with all the oh-so-American elements of a good seventh-inning treat, along with a splash of beer for kicks. (Come on, we're at a ballpark! Of course there's beer involved!)
I make—and eat—a lot of toffee and brittle, but the addition of Fritos turns this into a truly MVP recipe. Bringing in those curly corn chips' greasy crunch and slightly sweet grit makes potato chip brittle look minor league by comparison. (Baseball season runs through October, so more than one batch might be in order.)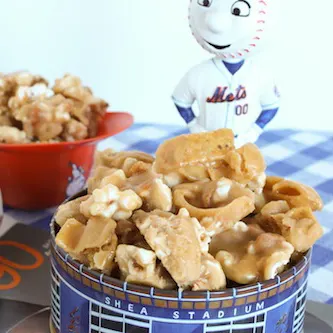 Fritos Ballpark Toffee
Prep time: 5 minutes
Cook time: 30 minutes
Makes approximately 1 pound
Ingredients
2 sticks unsalted butter, cut into chunks
1 cup granulated sugar
1/2 cup lager beer
1/4 teaspoon kosher salt
2 cups freshly popped unsalted popcorn
1 cup Fritos
1/2 cup honey roasted peanuts
Directions
Place a greased piece of parchment paper or a Silpat on a jelly roll pan.
In a large, heavy pot or Dutch oven, melt the butter and stir in the sugar, beer, and salt. Bring to a boil over medium-high heat, stirring with a silicone spatula until smooth. The liquid will turn frothy and foamy as it boils; don't fret, just stir it down a bit.
Continue to boil, stirring occasionally, for about 20 minutes or until the mixture turns from buttery yellow to pale cream to deep golden. If you have a candy thermometer, it should register 300 degrees Fahrenheit.
Remove the pot from the heat, immediately stir in the popcorn, Fritos, and peanuts, and then spread the toffee out on the prepared baking sheet. (Be extremely careful when working with molten sugar!) Allow to cool completely before breaking into bite-sized chunks.

[wpurp-searchable-recipe]Fritos Friday: Fritos Ballpark Toffee – – – [/wpurp-searchable-recipe]