A while back, I happened upon an NPR sponsored radio show, Hidden Kitchens: Texas, narrated by Willie Nelson.
Listening to talk radio is not normally my thing, but I was intrigued by the description: "the Texas experience through food and the stories of people who find it, grow it, cook it, sell it, celebrate with it, and write about it".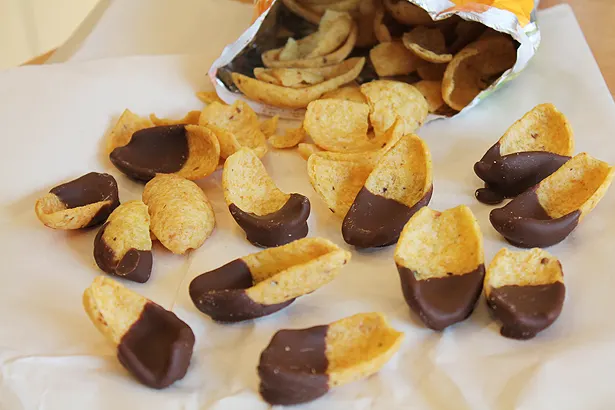 As I listened, flashes of old ice houses around San Antonio, taco restaurants that are still open today, it was all brought to life by Willie's voice.
One part of the show that totally captivated me was the interview with Kaleta Doolin, the daughter of C. E. Doolin, the founder of the Frito (and later, FritoLay) Company.
She spoke of her mother and grandmother creating recipes using fritos, of her dad thinking fritos were a perfect food, and of him bringing home fresh bags, straight from the fryer (but before they'd had salt added – he was actually vegetarian, and quite health conscious).
You may not realize that Fritos are a San Antonio creation. While C. E. didn't invent fritos (originally fritas – spanish for "little fried things"), he did recognize their genius, and purchased the patent and materials from the original maker for $100.
One recipe Kaleta mentioned during the broadcast is quite simple, but also quite ingenious – Frito Jets. Fritos dipped in milk chocolate and then cooled.


Frito Jets do not appear in the book Kaleta wrote last year, but there are tons of other fantastic recipes. I'll be featuring some of them here on B&B because I am smitten. Check out Fritos Pie: Stories, Recipes and More for yourself, you'll see what I'm talking about.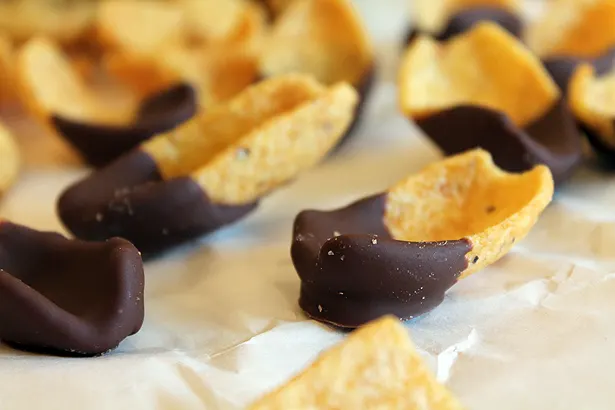 Frito Jets are a fantastic party food, and I won't lie – it took all the will power I possess not to scoff the entire tray in one sitting.
Fritos are a weakness at the best of days, but dipped in chocolate? Oh. My.