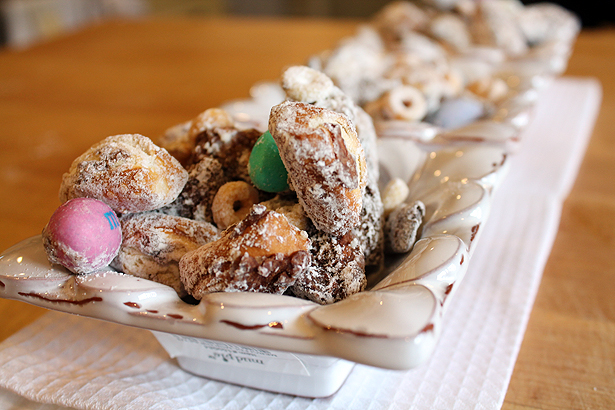 Easter in our family has always meant a day spent together with good food, card games, and Easter egg hunts. We're not an overly religious family, so any religious holiday has typically been spent just appreciating each other as a family and being thankful that we have each other.
I hope that it's obvious from this food blog, one of my favorite ways to love my family is to make them yummy food. While I was in San Antonio, my sister and I became kind of obsessed with Peanut Butter Cheerios. Then I started seeing commercials for that new chocolate-filled Krave cereal, and I instantly knew that the two had to be put together somehow.
I don't know about you, but I love love love snack-y foods. Crunchy, sweet and salty? I'm in. (See: Frito Jets) Peanut Butter Cheerios and Double Chocolate Krave cereal just naturally lend themselves to party mix. I decided to create a Chex Mix-Puppy Chow hybrid with them.
Riffing off the Reindeer Chow appearing on blogs around Christmas, I thought it would be fun to make Easter Bunny Bait to convince that little guy to leave extra chocolate eggs for all of us good boys and girls.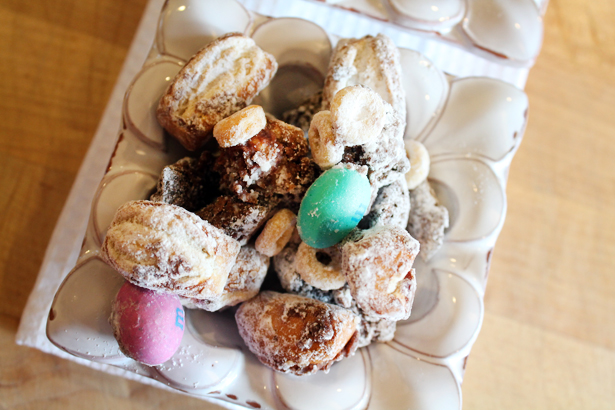 As the English say, this Easter Bunny Bait is incredibly "moreish". Meaning you want to eat more and more and more of it.
In addition to the peanut butter Cheerios, double chocolate Krave cereal, the mix includes sourdough pretzels, Easter M & Ms, chocolate peanut butter nut mix, more chocolate and peanut butter, and the whole shebang is covered with powdered sugar, like Puppy Chow.
I could have eaten the whole bag, but luckily I came to my senses and sent it to work with James. Happy Spring, my friends! Enjoy the sunshine and lots of peanut butter and chocolate.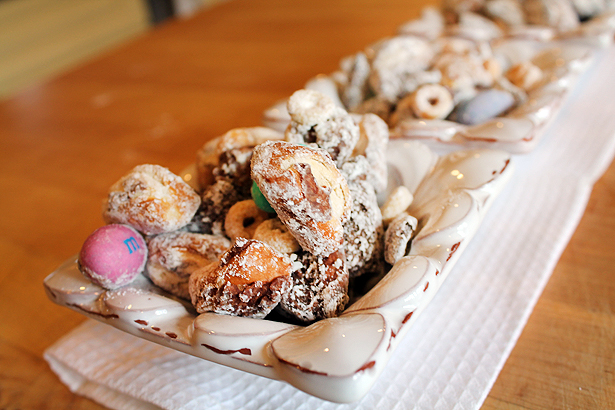 Easter Bunny Bait
fills a gallon sized ziptop bag
Ingredients
2 cups Peanut Butter Multigrain Cheerios
2 cups Double Chocolate Krave Cereal
2 cups Sourdough Pretzel Nuggets
1 11.5 oz Emerald Sweet & Salty Dark Chocolate Peanut Butter Mixed Nut Blend
1 10.9 oz package of Speckled Eggs M&M chocolate candies
1 cup of Nestle Chocolate and Peanut Butter chips, melted (or 1/2 cup each of your favorite chocolate chips and peanut butter chips)
1 tablespoon half and half (if needed)
Approximately 3/4 cup Powdered Sugar
Directions
In a large bowl, combine Cheerios, Krave Cereal, Pretzel nuggets, and nut mix. Toss with your hands to evenly distribute all the ingredients.
In a microwave safe bowl or measuring cup, melt the peanut butter and chocolate chips 30 seconds at a time, stirring after each time. Eventually the chips should melt into a smooth consistency that can be poured. If they do not (mine seized up), add a tablespoon of half and half and microwave for another 30 seconds. Stir again, and you should have a smooth sauce.
Pour the sauce over the dry ingredients and stir gently to coat all of them. Once you feel all the cereal is well coated, add the M&Ms to the mix and toss to distribute.
Add the powdered sugar to the bowl and toss again until all of the ingredients are well coated.
Pour the mix into a gallon ziptop bag and refrigerate until the chocolate coating can set.
Will keep in the ziptop bag for at least a week, if it lasts that long!

[wpurp-searchable-recipe]Easter Bunny Bait – – – [/wpurp-searchable-recipe]