It's my favorite day again: Fritos Friday! I swear, I will eventually move away from pushing Fritos into candy and dessert applications, but right now, I'm really having fun with it.
Fritos Chocolate Crunchies are no exception. The idea comes directly from Kaleta Doolin's book, Fritos Pie, but I have no idea if this recipe is even remotely similar to hers, as somehow my copy of the book has disappeared in our unpacking-from-Texas process.
I'm sure it will turn up again, but in the meantime, I decided to wing it. Hello delicious! The only thing I might do differently is to use all milk chocolate in future, as I think the dark chocolate can overpower the Fritos slightly, and you really want them to shine here.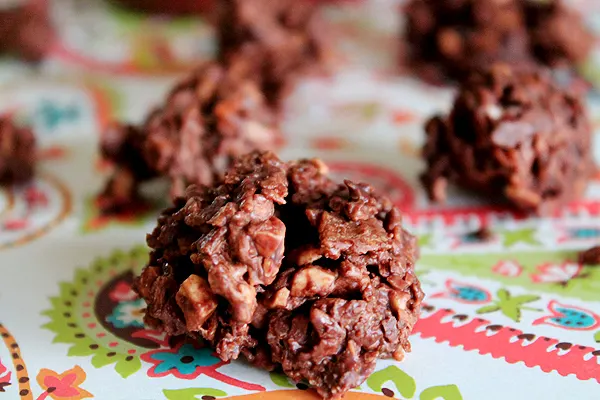 Make Fritos Chocolate Crunchies using the small Oxo cookie scoop and you'll have perfectly poppable nibbles. They'll be great on a game day table, your Easter table, or as a Birthday Party treat. They'd also be fabulous as the garnish on top of a chocolate cupcake with vanilla frosting.

The other bonus is that these munchable little bites come together with just the microwave, a couple of bowls, and a spoon. You don't need much else.
Just make some space in the refrigerator for a parchment lined baking tray so they can set, and you can call yourself a candy making fool.
Happy Fritos Friday, y'all!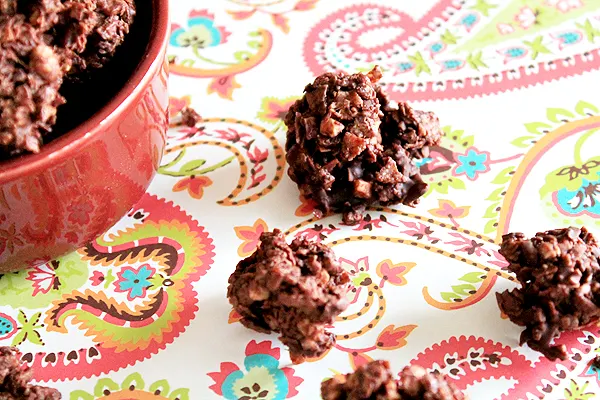 Fritos Chocolate Crunchies
makes approximately 40 small "crunchies"
Ingredients
3 cups Fritos, crushed
3/4 cup Heath Bits o' Brickle toffee bits (optional)
1/2 bag of sweetened Coconut, toasted
3 oz Semi Sweet Baking Chocolate squares (I used 62% Scharffen Berger Chocolate)
1 cup Milk Chocolate Chips
2 tablespoons Unsalted Butter
1/2 bag of large Marshmallows
Directions
Line a baking tray with parchment paper, and make sure you have room in the refrigerator or freezer for it. Preheat the oven to 350F.
Using a gallon ziptop bag and a rolling pin, crush 3 cups of Fritos. Start by pounding, but then simply roll the rolling pin over the bag until you have somewhat fine pieces.
Pour crushed Fritos into a large bowl and add the Heath toffee bits.
Place sweetened coconut onto the parchment lined baking tray in an even layer, spreading it as thin as you can. Bake in the oven for 10-15 minutes, until most of the coconut has a golden brown appearance. You'll need to check it often, and stir it with a spatula to get even color. Watch it closely, as coconut goes from un-toasted to toasted quickly, but it takes a while for it to get there.
Once coconut is toasted, pick up the parchment paper it's on and dump it into the large bowl with the Fritos and toffee bits. Stir to combine evenly. Place the parchment paper back on the baking tray, as you can reuse it for cooling the candies.
In a microwave safe bowl, place the baking chocolate and chocolate chips. Melt 1 minute at a time in the microwave, stirring after each time, until all the chocolate is completely melted. Add the chocolate to the Fritos mixture and stir with a spatula until all of the mixture is coated in chocolate.
In a second microwave safe bowl, place the butter and marshmallows. Heat for 1 minute in the microwave. Remove the bowl from the microwave and continually stir until the butter and marshmallows form a smooth sauce. Pour this into the Fritos and chocolate mixture.
Stir, stir, stir the Frito-chocolate-marshmallow mixture until the marshmallow is evenly distributed, almost like Rice Krispie Treats. The mix will not be as sticky or stuck together as Rice Krispie Treats, but will appear similar.
Using a small cookie scoop sprayed with cooking spray, scoop the mixture into small balls onto the baking tray lined with parchment paper. Place each ball about 1/4″ apart. The balls may appear very "loose", but will come together in the refrigerator.
Place the tray in the refrigerator for at least 20 minutes to allow the chocolate to completely set. Keep refrigerated until ready to serve.

[wpurp-searchable-recipe]Fritos Friday: Fritos Chocolate Crunchies – – – [/wpurp-searchable-recipe]