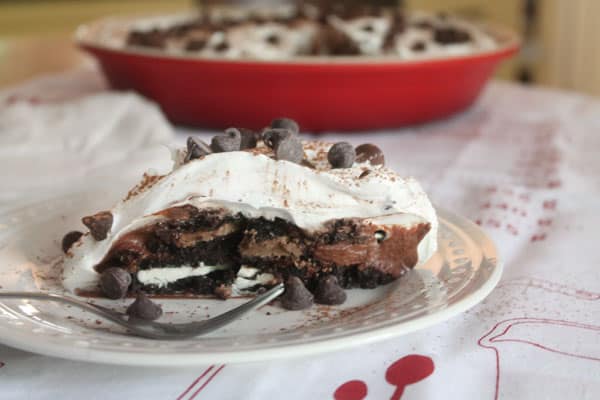 Dear Internet: I have made a refrigerator pie to end all refrigerator pies. Meet Double Black Diamond Pudding Pie. Layers of Newman's Own chocolate sandwich cookies soaked in dark and dangerous coffee, rich chocolate pudding made with more of that coffee, and luscious whipped cream are topped with dark and milk chocolate chips.
When left to sit overnight, this pie turns into something really special. You should know by now that most of what appears on this site eventually ends up in my husband's office to share the wealth of consumption. But this Double Black Diamond Pudding Pie? James refused to take it to work. Flat out refused. He said it was too good, and he wanted it all for himself.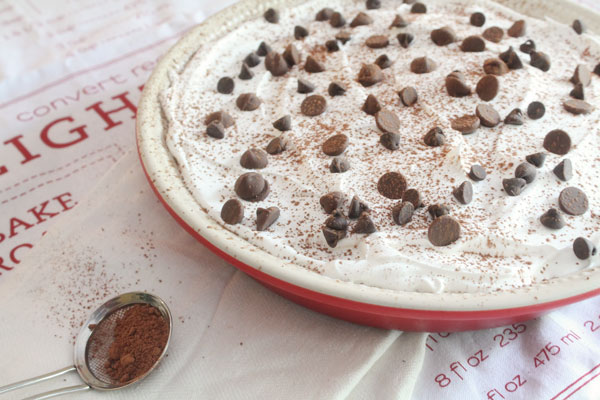 The name for this pie comes from the coffee blend used in the recipe, Green Mountain Coffee's Double Black Diamond. Double Black Diamond is extra bold. When I say extra bold, I mean it. This is coffee that I think could easily stand stead for espresso. It'll wake ya up, that's for sure!
The recipe for this gorgeous pie is hanging out over on Green Mountain Coffee's blog. But before you head over there, make sure you check out my giveaway. Double Black Diamond gets its name from the most difficult skiing trails in Vermont. Double Black Diamond trails are known to be only for true experts and lovers of skiing. The same goes for this coffee.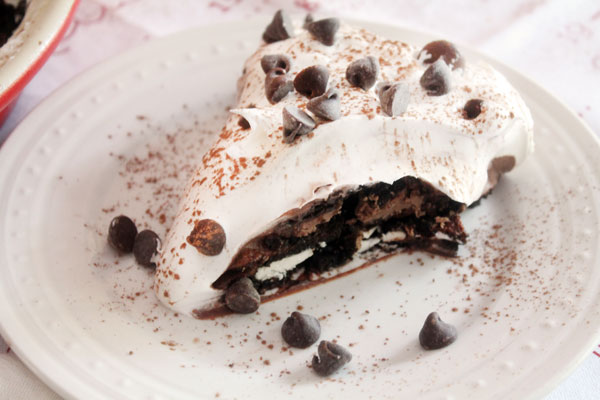 Double Black Diamond Pudding Pie
Ingredients
1 3.8 oz box Devil's Food Instant Pudding mix
1 cup heavy cream
1 1/2 cups Green Mountain Coffee Double Black Diamond Extra Bold, cold and divided
22 Newman's Own Creme Filled Chocolate Newman-O's Cookies
22 Newman's Own Chocolate Creme Filled Chocolate Newman-O's Cookies
1 8 oz tub frozen whipped topping, thawed or 2 cups heavy cream, whipped until fluffy with 3 tablespoons granulated sugar and 1 tablespoon vanilla extract
1/2 cup semisweet chocolate chips
1/2 cup milk chocolate chips
cocoa powder for garnish (Optional)
Instructions
Brew a 12 oz cup of Double Black Diamond Extra Bold coffee and refrigerate until cold.
When the coffee is sufficiently cooled, make the pudding: In a medium bowl, whisk together pudding mix, heavy cream and 8 oz (1 cup) cold coffee, leaving 1/2 cup coffee to the side.
Whisk together until pudding solidifies, about 5 minutes, then refrigerate while you assemble the other ingredients.
Line a 9" pie plate with 22 cookies. I used all vanilla cream filled on one layer and chocolate cream filled on another, but you are welcome to alternate if you wish.
When the first layer of cookies is in the bottom of the pie plate, spoon a bit of cooled coffee over each one, taking care not to use all the coffee, as you will need it for the second layer of cookies too.
Layer half of the pudding on top of the cookies.
Place a second layer of 22 cookies on top of the pudding layer, then spoon coffee over each of these.
Layer the rest of the pudding on top of these cookies, then place in the refrigerator for at least 20 minutes, covered with plastic wrap.
When ready to serve, you can top with either frozen whipped topping that has been thawed, or homemade whipped cream. However, if you're using whipped cream, you must make sure the pie is going to be eaten the day you top it. If using whipped topping, the pie will last several days in the refrigerator, covered, and can be eaten over those days.
Layer whipped cream or whipped topping over the pudding, then sprinkle with milk and semisweet chocolate chips (or stick to just one kind if that's all you have on hand), and garnish with cocoa powder.
Serve immediately, or, if using whipped topping, you can make the pie at least a day in advance. The pie will only get better as it sits.