If you haven't already, please make sure you check out the Red Cross of Central Texas Raffle that I'm holding. You could win amazing prizes from Keurig, KerryGold, Chicago Metallics, Scharffen Berger Chocolate, and Miss in the Kitchen!

Who doesn't love a good taco salad? I don't know if they're very authentic, but you can certainly find them on the menu of most Tex-Mex restaurants I've been to back home.
Usually, the tortilla bowl is deep fried to crispy perfection. I remember when I was younger, my mom had one of those specific tortilla fryers.
It looked a little something like this, and the tortilla bowls that came out of it were tasty, but terribly unhealthy and the house smelled like frying oil for *days* afterwards.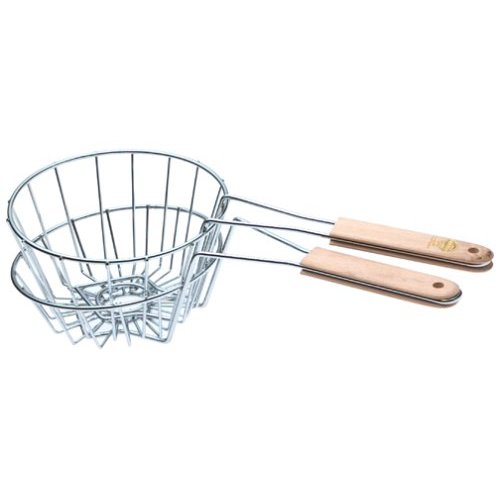 Image Courtesy of Amazon.com
Recently, Chicago Metallics asked me to be one of their Partners In Baking. As part of that, I got to choose a few pans that I'd like to develop recipes with. The other day, I posted my Nanny's Kahlua Pie, which I baked using their adorable Pie Cup Set. The other specialty pan that caught my eye immediately was the Large Tortilla Shell Set.
How could I not fall in love? Perfectly crisp and delicious taco bowls for taco salads, anytime I want, without deep frying?
One thing you must know about me by now is that I truly believe you don't need brand names like Old El Paso to bring Tex-Mex to your kitchen.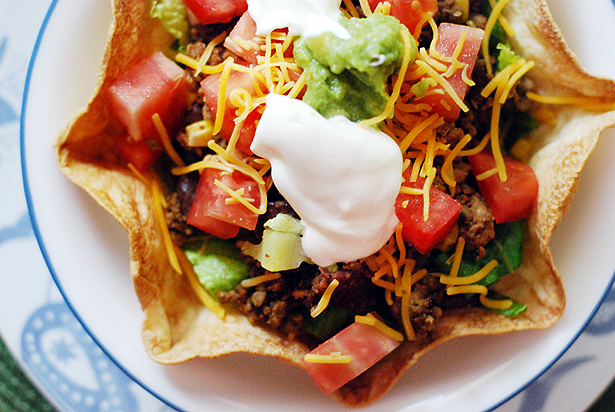 I've put together the simplest of taco seasonings for you. You can use ground turkey, chicken or beef, whatever takes your fancy. We used turkey because it's much better for you than ground beef, and we truly can't taste a difference when it comes to highly spiced dishes like Taco Salad or Bolognese Sauce. You can use this spice mix for any taco, enchilada, empanada, or taco salad creation that you'd like. You will never resort to an Old El Paso spice packet again. I promise.
We hadn't had taco salads in years – probably the last time was at a restaurant in San Antonio when we were dating. But I am in love with these Chicago Metallic Tortilla Shell pans. To get the crispness I wanted, I placed large tortillas in each pan, pressing down and into each crevice to make sure the tortilla took form. I lightly sprayed each tortilla with cooking spray, and baked them in a 350F oven until they were golden brown – about 15 minutes.
You can also make your shells ahead of time and keep them in an airtight container or bag. Just throw them back in a hot oven for a few minutes to reheat.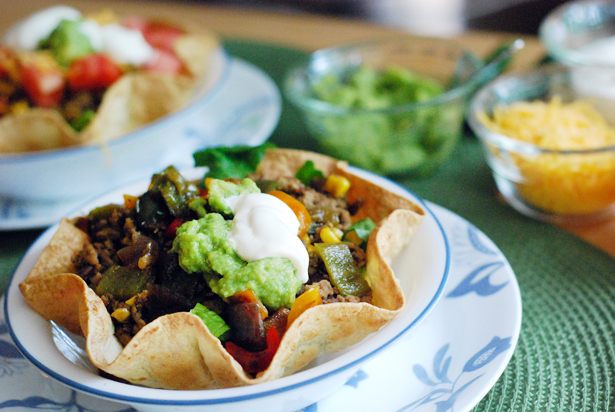 Come join The Salad Social at TidyMom sponsored by The Olive Council's Add Some Life!
Turkey Taco Salads
for four
Ingredients
1 tablespoon cooking oil
1.5 lbs ground turkey (our store carries pre-packaged 1.3 lb packages. This is fine.)
1 15.5 oz can light or dark organic kidney beans
1 8 3/4 oz can organic sweet corn
1 teaspoon garlic powder
1 tablespoon cumin
2 teaspoons chili powder
1/4 teaspoon ground red pepper
1/8 teaspoon cinnamon
1 teaspoon onion powder
1 teaspoon kosher salt
4 large tortillas, baked or fried into shells
Red onions, and red, green, and yellow peppers, cooked to personal choice for garnish
Fresh tomatoes, lettuce, sour cream, shredded cheddar cheese, and guacamole for garnish
Directions
Bake or fry tortilla shells and set aside.
Combine garlic powder, cumin, chili powder, ground red pepper, cinnamon, onion powder, and kosher salt in a small bowl. Mix well to combine.
Heat oil in a large saute or frying pan. Add turkey and spice mixture. Stir often, until ground turkey is completely browned. Add beans and corn directly to turkey without draining. The liquid in each can will provide a small amount of "gravy" so that the taco meat does not dry out. It also adds flavor and richness. Continue to cook until beans and corn are also heated through.
If you wish, use a separate pan and additional oil to brown red onions and various colored peppers to mix in with the taco meat. My husband loves this, I do not – so I cook them separately. If you wish, you could cook them in the same pan as the ground turkey, but the peppers and onions should be added to the pan first, and allowed to brown and sweat down before adding the ground turkey, beans, and corn.
Allow ground turkey to simmer on low while you prepare the garnish: chop lettuce and tomato, shred cheese, and ready your bowls for assembly.
Line the bottom of each taco shell with a layer of lettuce. Add taco meat mixture directly on top, then peppers and onions if desired, followed by the fresh vegetables, cheese, guacamole, and sour cream if you choose.
You can also simply add lettuce and taco meat to each shell, and create a buffet of toppings for your guests to choose from and assemble their own taco salads. Delicious and fun!

Disclosure: As a Chicago Metallics Baking Partner, I was provided with the Large Tortilla Shell Set for free to experiment and cook with. I was not monetarily compensated in any way, and the views expressed here are my own, from my own experience with the Tortilla Shell Set.
[wpurp-searchable-recipe]Turkey Taco Salad – – – [/wpurp-searchable-recipe]