When you become pregnant, you learn all sorts of vernacular you might never have been privy to otherwise. For example, did you know that when parents choose not to find out the baby's gender via sonogram, they've officially joined Team Green?
Yeah, me neither. But, you learn something new every day.
The Brit and I were not graced with the patience nor the will to wait the full nine months to find out the gender of our upcoming offspring, so we found out this morning at approximately 8 a.m.
Boy or Girl, you ask?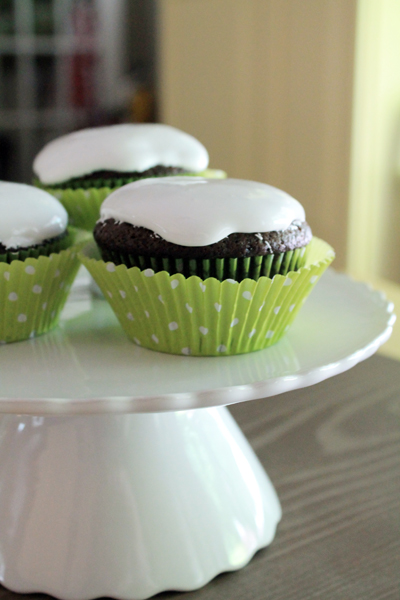 For the answer to that, we have to bite into a cupcake.
This recipe is my grandfather's. Made many times, Chocolate Mayonnaise Cake is still my very favorite cake, and I can't wait for this little nugget to grow up eating it on special occasions.
James and I thought it would be neat to do a "gender reveal party" here on my blog, since the majority of the people we love and would have at such a party are far-flung all over the globe.
Not wanting to make a full two dozen cupcakes, I took a note out of Christina's book and reduced the recipe down to just 4 cupcakes. I can tell you right now, I will be making this revised recipe repeatedly. My favorite cake, anytime I want, without ever wasting a morsel or gorging myself silly. Perfection.
So, let's take that bite.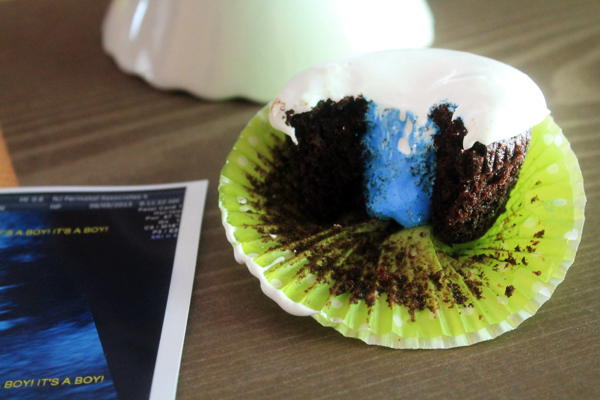 Coming October 2013: Baby Boy Bracegirdle! We're officially on the Blue Team!
Chocolate Mayonnaise Cupcakes

for Two
adapted from Gaga's Chocolate Mayonnaise Cake
makes 4 cupcakes
Ingredients
1/2 cup plus 1 1/2 teaspoons all purpose flour
1/4 cup granulated sugar
4 1/2 teaspoons unsweetened cocoa powder
1/8 teaspoon salt
1/2 teaspoon baking soda
1/4 cup mayonnaise
1/4 cup medium roast coffee, cooled
1/4 teaspoon vanilla
Directions
Preheat oven to 350°F.
In a small bowl, combine flour, sugar, cocoa powder, salt and baking soda. Whisk to combine, aerate, and break up any cocoa powder clumps.
In a small measuring jug, combine mayonnaise, coffee, and vanilla. Stir until all are well combined and liquid-y.
Add wet ingredients to the dry and stir until just combined.
Line a 6 count muffin tin with 4 cupcake liners, leaving the middle two wells empty. Spray the tray and liners lightly with cooking spray. This keeps them from sticking to the cake.
Using a large cookie scoop (mine is 3 tablespoons), place one scoop full of batter into each of the 4 lined wells.
Bake for 19 minutes, or until when pierced with a toothpick, it comes out clean. Watch closely and do not overbake!
Frost however you'd like – I used a simple jar of marshmallow fluff, tinted with gel food coloring, for the filling and frosting.

[wpurp-searchable-recipe]Team Green No Longer! – – – [/wpurp-searchable-recipe]