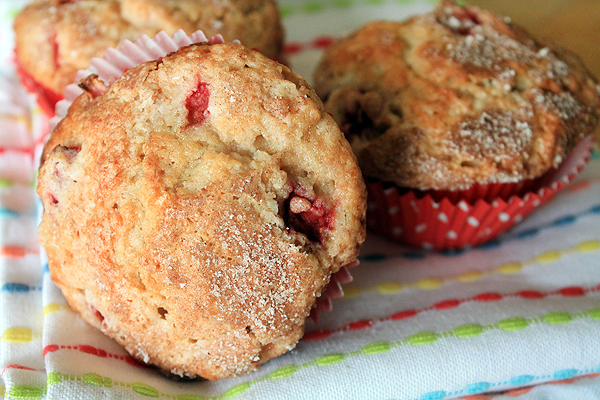 This weekend I got a hankering for some muffins. Fluffy, filled with fruit and spices, and exactly the kind of breakfast to make me smile all week long. Strawberry Clementine Muffins were born.
Last year, James and I went to Nashville for my cousin David's wedding. I was dying to visit the famous Loveless Cafe, but we just couldn't fit it into our uber-packed pseudo-family-reunion weekend. So, I did what any cookbook addict would do – I picked up the Loveless Cafe Cookbook from the airport gift shop!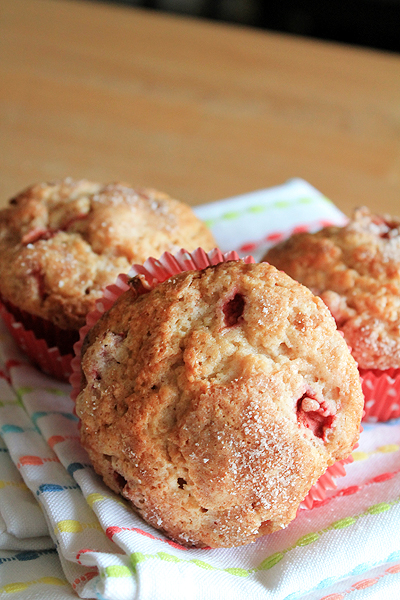 While the original recipe calls only for strawberries, I've got an entire box of Cuties taking up space on my countertop. I love to eat them, but I've also been looking for ways to use them in cooking. Why not throw them into a muffin?
I'm pretty sure we should all be doing this from now on, because whoa. Not only do Clementines add a fabulous tang, these are perfectly moist muffins. Chunks of fruit stud the batter, making every bite more delicious than the last.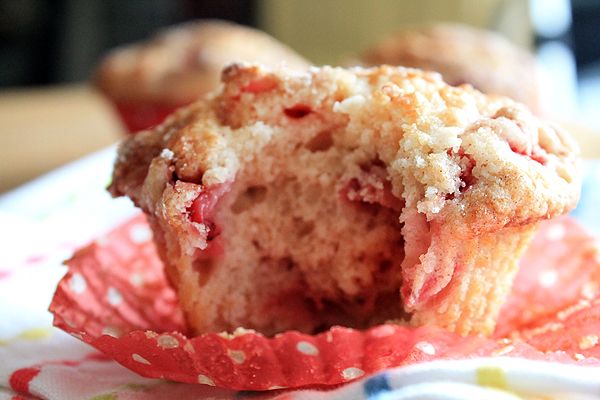 These Strawberry Clementine Muffins are sure to make your morning commute happier, I promise. Try 'em on for size.
Strawberry Clementine Muffins
makes 12 regular muffins or 6 "Texas sized" muffins
Adapted from Southern Country Cooking from the Loveless Cafe: Fried Chicken, Hams, and Jams from Nashville's Favorite Cafe
Ingredients
1/2 cup (1 stick) unsalted butter, melted and cooled
1 1/2 cups sugar, divided
1/4 teaspoon salt
2 large eggs, room temperature
1 teaspoon vanilla extract
2 1/3 cups unbleached all purpose flour
2 teaspoons baking powder
1/4 teaspoon nutmeg
1 teaspoon cinnamon, divided
1 cup roughly chopped strawberries
1 Clementine orange, sectioned and roughly chopped
1/2 cup buttermilk
Directions
Preheat oven to 375°F. Line a standard muffin tin with cupcake liners or spray with cooking spray and lightly flour.
Melt butter in a measuring cup in the microwave, about 1 minute. Stick should be completely melted. Stir, then add to a large mixing bowl. Allow to cool for about 5 minutes. Once the butter is cool, add 1 1/4 cups of sugar, salt, eggs, and vanilla to bowl and whisk briskly to combine.
In a separate smaller bowl, combine flour, baking powder, nutmeg and 1/2 teaspoon of cinnamon together. Use a dry whisk to combine and aerate. Pour the flour mixture on top of the butter mixture, but do not stir.
Chop strawberries and orange segments into small, roughly 1/2″ chunks. Add to the flour mixture, then fold the whole mixture together a couple of times. The mixture will be very crumbly. Do not overmix!
Add buttermilk to the bowl, then gently fold again until the buttermilk is just absorbed in the batter,, then use a large cookie scoop to fill 12 muffin cups. Overfill the cups more than you would cupcakes, you will get large fluffy muffins.
Bake for approximately 29 minutes, until the muffins spring back when touched and are lightly golden brown.
Allow to cool slightly in the pan, then remove to a cooling rack and allow to come to room temperature.
Perfect as an afternoon snack with a cup of tea or breakfast with a strong cup of coffee.

[wpurp-searchable-recipe]Strawberry Clementine Muffins – – – [/wpurp-searchable-recipe]