Believe it or not, a lot of the time, I don't use recipes. I let the ingredients guide me. Case in point: the delicious creation you're feasting your eyes on just above these words. After a trip to Trader Joe's, I had a new bottle of Marsala wine. I'd never really cooked with it, though I always enjoy eating food created with it. Armed with Marsala inspiration, I thought I would start with the bog standard, Chicken Marsala. But a grocery miscalculation left me with no suitable chicken in the house. What I did have was a whole heck of a lot of pork loin chops, and some button mushrooms.
Enter the crock pot. I know, I know, I've been cooking a lot with this thing lately! But honestly, if you're not already on the slow-cooker train, you *should* be. It helps you to avoid the Ramen Blues. My favorite thing about slow cooking is just how little preparation it takes to make something truly masterful.
Like I said, this meal wasn't really "planned". Basically, I threw the protein, veg, wine, and stock into the slow cooker and let it fly. And fly it did. When the pork was so tender it fell apart, I removed it from the slow cooker, and then added a bit of cream and sour cream to the stock and mushrooms, and thickened it with a roux. Everything went "back into the hot tub", as Rachael Ray likes to say, after the pork had been pulled. And then it was all layered on top of spiral pasta, and accompanied by simple crisp steamed green beans.
James and I both loved it, hoovering this all-new comfort food in like it was going out of style. But I can always tell if a recipe should make it here to the blog based on James's "Coworker Envy" meter. You see, a lot of them don't cook, or have partners who cook. So whenever James goes in with leftovers, he gets the once over. Sometimes the twice over. And if it smells really REALLY good, he gets the "Hey… what IS that?". With this meal? One coworker said "You should marry her." He said, "I already did!", and the coworker said, "I know. Do it again.". Hah.
Come join the fun at the My Baking Addiction and GoodLife Eats Holiday Recipe Swap sponsored by Holland House.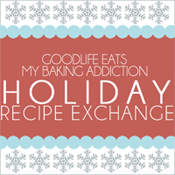 Pulled Pork Marsala Stroganoff
serves 2-4
4 pork loin chops
1 package of button mushrooms
3 cups beef broth
1 cup Marsala wine
1 chopped onion
4-6 smashed garlic cloves
Kosher Salt & Pepper to taste
For sauce:
1/4 c. heavy cream or half and half
1 cup sour cream
butter and flour for roux
Throw all ingredients except cream and sour cream into slow cooker, leave on low for 4-6 hours. When pork is tender enough that it falls apart when you spear it with a fork, remove from crock pot and allow it to rest for a few minutes. Using two forks, pull at the pork so that it comes apart in shreds.
Pour broth-wine mixture and mushrooms from crock pot into a large skillet on the stove, medium heat. Add cream and sour cream, stirring to combine. Make a roux by melting approximately 4 table spoons of butter in a separate skillet, and then adding approximately 1 tablespoon of flour. Using a flat whisk, stir the roux until it creates a slight bubbly paste. Pour this into the Stroganoff sauce, increasing the heat and stirring until thickened. Add pork and continue stirring.
In a separate pot, boil enough pasta for the number of people eating. Highly recommend egg noodles, spiral or bowtie pasta – something chunkier. Even penne would work. When pasta is done, drain and plate. Cover with Pork Marsala Stroganoff, and add parsley for color and flavor.
Reheats beautifully.

[wpurp-searchable-recipe]Pulled Pork Marsala Stroganoff – – – [/wpurp-searchable-recipe]