Whoa Mama. Can I tell you how excited I was when these babies first came out of the oven? Never in my life have I baked something that looked identical to what I would find in the neighborhood bakery, or even a Starbucks (I mean, come on, have you seen their quality control?).
A while ago, James and I found Andes baking chips on one of our shopping jaunts. He was all about the regular Andes chips. But me? I was giddy with the red and white peppermint chips. How festive can you get?
When I spotted this recipe over on my friend Annie's blog, With Sprinkles On Top, I knew exactly how I wanted to use those Andes peppermint chips.
But you don't know my husband and his chocolate. So first we had to do a milk chocolate/regular Andes chip version. Then I got to make mine, with white chocolate chips, and peppermint chips. People, they did NOT disappoint. I've given them out as Christmas presents already, and I'll be making more before the big day is here. They're super duper easy, and gorgeous, especially if you use an ice cream scoop so that you end up with saucer sized cookies that even Starbucks would be proud to sell.
Come join the fun at the My Baking Addiction and GoodLife Eats Holiday Recipe Swap sponsored by Scharffen Berger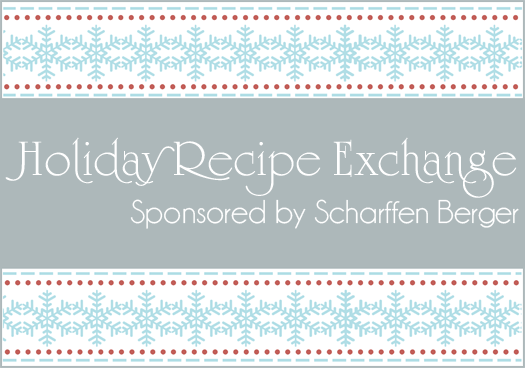 Dark Chocolate Candy Cane Cookies
18 to 36 cookies, depending on size of scoop
1 cup butter, softened
1-1/2 cups white sugar
2 eggs
1 tablespoon vanilla extract
2 cups all-purpose flour
2/3 cup Hershey's Special Dark cocoa powder
3/4 teaspoon baking soda
1/4 teaspoon salt
1 ½ cups white chocolate chips
½ cup Peppermint Andes chips
When I made these, I used 1 cup white chocolate chips, and 1 cup Peppermint chips. But I found that if I got a cookie with a lot of peppermint chips in it, the peppermint became a little overwhelming, especially if you were enjoying the cookie with a cup of hot coffee (and who wouldn't be?). So I've dialed that ratio back a bit here. It should also be noted that the chips I'm talking about from Andes are basically white chocolate chips, with peppermint flavoring.
Preheat oven to 350F.
In a large bowl, beat butter, sugar, eggs, and vanilla until light and fluffy. Combine the flour, cocoa, baking soda, and salt; stir into the batter until the mixture is well-blended.
Mix in the two different chips. Drop using cookie or ice cream scoop onto ungreased cookie sheets.
Bake for 8-10 minutes for smaller scooped cookies, or 12-14 for larger scooped cookies, or just until set. Cool slightly on the cookie sheets before transferring to wire racks to cool completely.
Recipe adapted from here.

[wpurp-searchable-recipe]Dark Chocolate Candy Cane Cookies – – – [/wpurp-searchable-recipe]